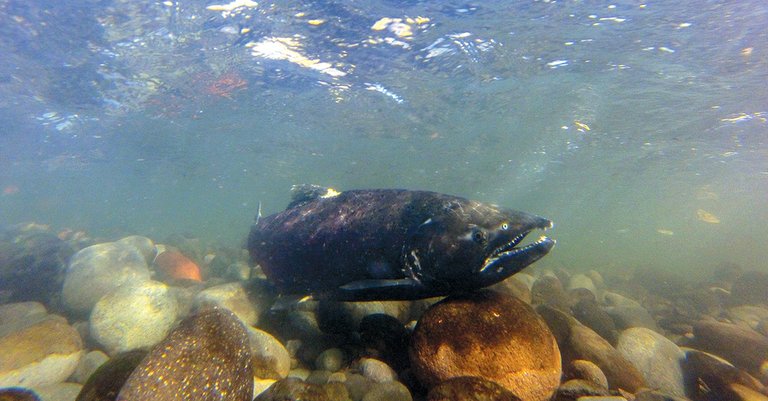 Wednesday, November 20, 2013
This year, fall chinook have returned to the Columbia River in numbers that astound sportsmen and fish biologists alike.
According to the fish counter at Bonneville Dam, 952,878 adult fall chinook have passed over the dam this year, well above last year's total of 350,065. The 2013 tally has also walloped the 10-year average for adult fall chinook at Bonneville Dam, listed at 388,693.
Those walking on the pedestrian bridge down by the mouth of the Hood River in recent weeks have been treated to the incredible sight of legions of fall chinook wriggling in the water to spawn, and soon after, die.
The sight of the squirming salmon brings great joy to Rod French, district fish biologist for the Oregon Department of Fish and Wildlife in The Dalles who monitors the chinook, which are listed as threatened.
"We're ecstatic about it," he said of the fall chinook run. "We've had some phenomenal returns."
French said the tributaries of the Columbia have been "teeming with fall chinook," and noted the counts on the Deschutes River were "excellent" and exhibited a high population of wild fish as opposed to hatchery fish.
On the Hood River, it's harder to tell just how well the run has gone. French said ODFW doesn't have any traps on the Hood for counting fall chinook, so the number of returns is unknown. ODFW used to count fish that went over Powerdale Dam, which was located approximately 4.5 miles up the Hood, but the dam was removed in 2010.
Moreover, French noted the fall chinook present in the Hood "could be a high percentage of hatchery fish," due to the proximity of the U.S. Fish and Wildlife's Spring Creek National Fish Hatchery across the Columbia in Underwood. He explained those hatchery fish have had a tendency to "stray" into the Hood and that hatchery fish are less fit and less resistant to disease than wild fish.
However, French said the run did look impressive on the Hood.
"Just in my observations in my 20 years, I haven't seen them in this density," he said of the fall chinook.
French explained that this year's prodigious run of fall chinook could be for a variety of reasons. According to French, more water has been allowed to spill over Bonneville Dam this year, meaning fewer chinook have to swim through the dam's turbines, ensuring a greater chance of survival. He added that good ocean conditions have also likely contributed to the sharp increase in numbers.
Whatever the case may be, French said this year's run makes him "cautiously optimistic" about the future of the species, but added that the "recovery is far from over."
"It's one year," he said. "We want to see it for many years."