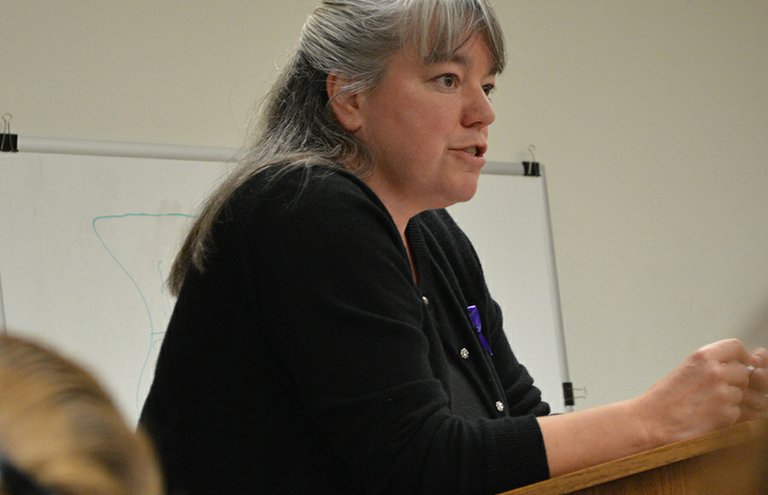 Wednesday, November 20, 2013
A county recommendation to cut hours from a deputy district attorney position was voted down by Hood River County commissioners during their regular meeting Monday night.
Commissioners voted 3-1 to allow the transfer of funds within the county district attorney budget in order to cover a shortfall that was unanticipated by the county.
According to county documents, the shortfall came from a change in a dispersal of Child Abuse Multidisciplinary Intervention funding received from the Oregon State Department of Justice. The money is used to fund the Columbia Gorge Children's Advocacy Center in Hood River — an organization that deals with incidents of child abuse — as well as the position of Deputy District Attorney Carrie Rasmussen, who is the child abuse prosecutor for Hood River County.
The change in the distribution of CAMI funds caused a shortfall of approximately $12,000 in the DA budget, which the county planned to remedy by cutting Rasmussen's position from four days down to three.
Hood River County District Attorney John Sewell spoke during the meeting and said he was aware of the shortfall and came to address the commission in June about the issue, "but the budget was passed and so here we are." He also stated that the county did not have the authority to make personnel decisions in his office, which Hood River County Administrator Dave Meriwether disagreed with.
"With all due respect, it's not your call," Sewell said.
Instead, Sewell recommended shifting available funds within the DA budget to cover the shortfall. He explained that extra funds had been freed up in the budget due to a member of his department having to take unpaid time off after exhausting all her vacation and sick days on her maternity leave. Sewell added that another member of his department had dropped a dependent from her health insurance, freeing up even more money.
Combined, Sewell believed it was enough money to cover or nearly cover the shortfall and noted his department often experienced a surplus at the conclusion of the fiscal year at the end of June. If the money wasn't enough, Sewell said he would furlough staff accordingly to make up the deficit.
County Finance and Budget Department Director Sandi Borowy said the money could be moved around if necessary, but cautioned that if someone changed insurance coverage at the DA's office — adding a dependent, for example — then another shortfall could be caused.
From the audience, Paul Cater and Cindy Green addressed commissioners about the importance of sustaining Rasmussen's position. Now adults, both identified themselves as victims of child abuse, and feared cases wouldn't be prosecuted if Rasmussen's position were reduced.
Commissioner Bob Benton said he understood the value of the position but felt it was unfair to not make personnel cuts to the DA's office after so many other county departments had seen their labor forces cut over the years. Benton made a motion to approve the staff recommendation of reducing Rasmussen's position, but the vote died due to a lack of a second.
A new motion was made by Commissioner Les Perkins to go with Sewell's recommendation, but noted he felt the same way as Benton about county staff reductions. Joplin seconded the motion, adding that it was Sewell's responsibility to manage his department's budget and said he was "accountable to the community" for doing so. Chair Ron Rivers also voted in favor of the motion.
Perkins added that this solution was only a short-term one and another discussion regarding funding for the DA's office would occur next year during budget planning.
"We're going to be back into this same issue in a few months," he said.