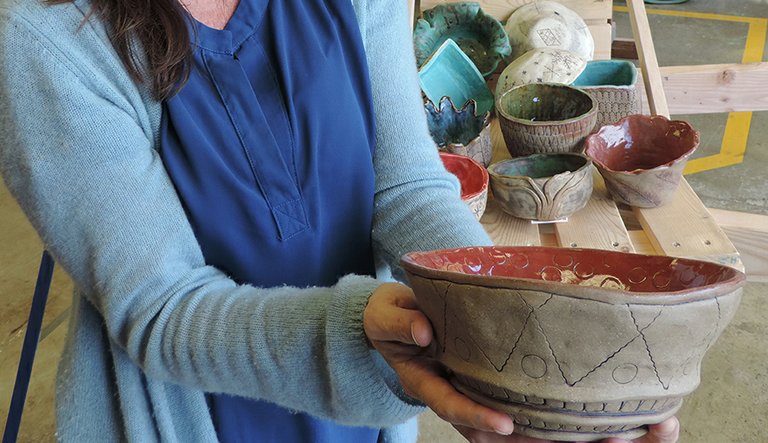 Wednesday, November 20, 2013
Soup's on, and every bite's delicious and every bowl is different.
The second-annual Empty Bowls benefit returns Thursday for Hood River FISH food banks.
Diners pay $30 for the soup-and-bread meal, eating from a unique hand-made ceramic bowl that they get to take home. Dinner will be at 6:30 p.m. in the Hood River Middle School cafeteria, following the final Gorge Grown Farmers Market event of 2013.
Anyone may attend, and select a bowl of choice. Chef Mark Whitehead of Cornerstone Cuisine is making the soup, just as he did in 2012; bread is courtesy of Blue Skies Bakery.
Whitehead will use as many ingredients as possible from Gorge Grown vendors.
The bowls are made by Hood River Valley area students, and "the caliber is excellent," said Shelly Toon Lindberg of Columbia Arts in Education. CGAIE is organizing the event along with Gorge Grown, Providence and HRVHS art teacher Amirra Malak. Her ceramics students created the bowls, earning credit for the project as part of the class curriculum.
"She has embedded this in her curriculum, to be done every year as a service learning project. It was fun last year and we're hoping we can get more folks out this year. It starts small and then it grows," said Paul Lindberg, capital campaign manager for FISH, and Shelley's husband of several months.
"This is a nice, simple event. It's not going to be a hard-sell fundraiser," he said. "This year I'm going to do a little more of a 'Here's where we are, and we really need your support.'"
All proceeds go to the FISH food bank building construction project. FISH is at $685,000 in its goal of $980,000 needed to construct a new community resources building just south of Hood River.
Paul Lindberg said that last week the project got good news from Oregon Community Foundation, which has come through with a $40,000 grant for the FISH project. Also last week, a local donor pledged $15,000 as a matching grant.
"We are about to hit the home stretch in the fundraising department," Lindberg said.
The FISH capital campaign was launched in December 2011. An architect volunteered his skills to create a design and a volunteer contractor donated his time looking over the plans.
"We wanted that expert view; someone other than us looking at what it will cost," Lindberg said. "We are fairly confident in those but a lot can change when you go out to bid." They hope to do that in January or February, and possibly break ground in March, with construction this summer and occupancy by the fall.
Two large fundraising pieces should be known by December: the outcome of grant applications to Meyer Memorial Trust, for $175,000, and the Collins Foundation, for $75,000.
"We've had good feedback from them so far," Lindberg said. "I'm optimistic; but there are no guarantees. They might come back and say they like our project but will give us half that, or it could be they will say 'not this year.'"
He noted that the project has so far received donations from 425 different donors, in amounts ranging from $10 to $100,000.

"The vast majority of it has come from local sources, who have really stepped up: individuals, local businesses, orchardists, churches and grants," Lindberg said. "It is amazing to me because one of the things that really does show support for FISH in the community is that while we were doing this and raising $620,000 there is actual FISH operations that have to go on and that is done with local donations, too."