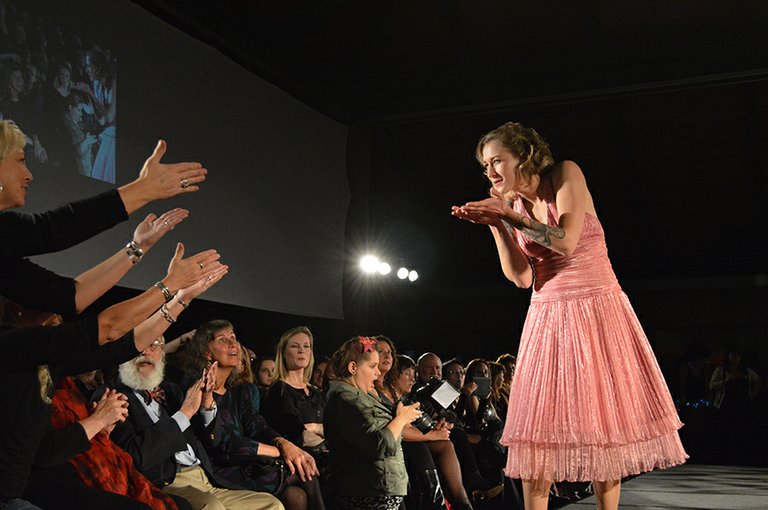 Wednesday, November 20, 2013
A sold-out crowd packed the Gorge Room at the Best Western Hood River Inn more than an hour before the house lights dimmed for the 17th Annual Hood River Christmas Project Gala Fashion Show on Nov. 15.
Their enthusiasm was rewarded with an energetic two-plus hour show highlighting Hood River hair salons, boutiques and specialty stores, all modeled — and in many cases designed — by locals.
Organizer and emcee Cathy Carter said that while final numbers aren't in yet, she believes the total raised is up from last year. Because donation envelopes come in throughout the month of December, it could go as high as $15,000. With around 600 families already registered — with more sign-ups to come — that money will make the holiday season brighter.
The Gala Fashion Show was the brainchild of Kerrits, an online equestrian wear company that had a retail business downtown where Melika now sits. Doug's Sports and Ananas joined them, and a small show with a small gathering was put on at the Hood River Hotel. Each subsequent year, the fashion show grew larger, until finally it outgrew the Hood River Hotel. The show has been staged in the Gorge Room at the Best Western Hood River Inn for the past 10 years.
Carter modeled for the show for three years before taking over the organizer role in 1999. "I'm a fundraiser at heart, and I think it's so important to do what we can to take care of our community," she said. "And coming from a fashion background, it's fun for me to have this unique and creative outlet to raise funds."
Cohost Gavin McAlpine has emceed every show since the Gala's inception in 1996.
Carter's goal for each fashion show is to add something new or interesting every year to spark interest and, in turn, raise more funds for the Christmas Project. Because the Christmas Project is entirely a grassroots effort and receives no government assistance, she keeps costs as low as she possibly can, which means suggestions from years past, such as a taller runway, aren't possible. Enter John Hardham of Light Wave Communications, who volunteered to put up two hanging screens that spanned the Gorge Room so that no matter where people were sitting, they would have a view of the runway.
"John worked so hard to put that up," said Carter. "That added to the excitement, being able to see. Every seat was a good seat."
Also new this year was a gift basket from Columbia Laser Skin Center filled with $600 worth of goodies. While the company usually does a make-over for the fashion show, this year they were unable to do so, but still wanted to participate in some way. Ticket sales raised more than their participation fee would have been, and the drawing (won by Katie Christopherson) also added interest to the evening.
Every year, too, the show gets more and more elaborate. Choreographed numbers are common. This year, 275 models participated, ranging in age from 4 to 86. "I try to accommodate as many people as I can," said Carter. "It's a fashion show, but it's about real people." All models are volunteers and included individuals as well as members of the Gorge Roller Girls, Hood River Dance Academy students, and the Hood River and White Salmon high school fashion clubs.
Although the show gets more involved, there is only one rehearsal, which takes place the day before the event. Carter works first with younger children, then members of the Hood River and White Salmon fashion clubs, and then with the rest of the models. If a business has a lot of choreography, she gives them a pre-rehearsal rehearsal to get a feel for the runway. With almost 400 people behind the scenes, that's an event in itself.
This year, models represented Foils Salon and Day Spa, Plenty, Doug's Sports, Ananas Boutique, Colony, Parts + Labor, Zella Shoes and Treasurers, Ruddy Duck, Bunny and Pear, Flow Yoga, Fifth Element Salon, Dream Street, Salon Visio and Melika.
Hood River Valley High Fashion Club member Alexa Lindley had her own show within the show, showing 12 of her own designs; other members also showed original creations. Even Lucy's Informal Flowers made a showing, with men modeling Christmas greenery and cumulating in a drawing for one of local artist Mark Nilsson's hand-painted glass ornaments.
Everyone went home with gifts. Ruddy Duck this year provided a reusable bag with merchant information and a variety of different — and random — merchandise and gift certificates from Fifth Element, Plenty, Salon Visio, Silverado, Romuls West, Pistil and Dakine. And models tossed gift certificates and items into the crowd as well.
"I think it was fabulous," Carter said of the event. "It was really relaxed, and 'fun' was the theme of this year. It was just fun."