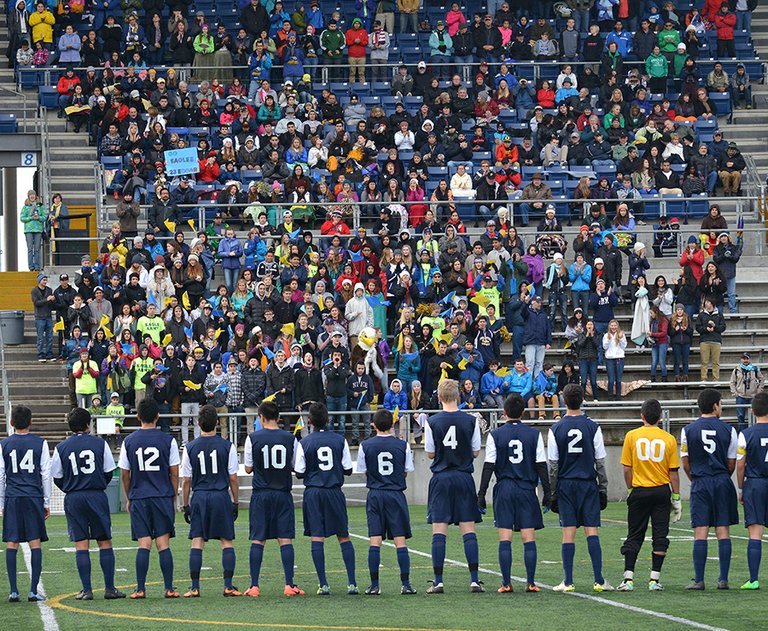 Wednesday, November 20, 2013
An impenetrable defense and two first-half goals proved enough for Summit Storm to claim the OSAA 5A boys state soccer championship Saturday over Hood River Valley High School. Although not the result the Eagles were hoping for, a trip to the state finals means mission accomplished for a goal the team set at the beginning of the season and is a benchmark for what promises to be a bright future for the boys program. For No. 2-ranked Summit, the win was the climax to a nearly perfect 16-1-2 season and brought retribution for getting eliminated in state semifinals the prior two years.
On Hillsboro Stadium's turf field, the 5A finals Saturday morning was played in mostly dry weather, with a light drizzle early in the second half that seemed to have little impact on the action or the sizable and vocal HRV fanbase that turned out. The two teams matched each other well for much of the first half until, with seven minutes remaining, Summit's Alec Fefferman took a through ball, outran the Eagles' back line and sliced a low-angled shot into the far corner past a diving Quieue Rudeda. With 1:20 remaining in the half, Alex Bowlin found the net again for Summit in similar fashion but on the right side of the field with a marksman shot.
The last-minute goal was a visible drain on the Eagles' confidence going into halftime, but the boys regrouped, came out poised and matched the Storm in the second half to keep the score 2-0.
"We came out better in the second; we just couldn't get our shots on goal like we needed to," coach Jaime Rivera said after the game. The team had flurries of attacks in both halves that were solid scoring opportunities, but the combination of stingy Summit defense and imprecise HRV attacks yielded nil for the Eagles.
While he stressed that it wasn't a reason for the outcome, Rivera said playing on a turf field did seem to affect the team's accuracy. "It seemed like our touches were just a little off in this game. The speed and distance on our passing and through balls was just a little off. Summit, on the other hand, (whose home field is turf) made very few mistakes the entire game."
Summit's defense marked its sixth straight shutout in the win. In the finals, that statistic was largely due to an offside trap that proved devastating for the Eagles' run-and-gun offense that utilizes upfront speed for fast breaks and through balls. In all, HRV had nine offside calls — many of which were extremely close — that interrupted threats to Summit's goal.
"Those calls really bogged down our offense," Rivera said. "We haven't worried about the trap all year and that has not happened to us all season. The boys wanted the goal and were in full-on attack mode. It's a bummer that so many scoring opportunities were nullified by those calls."
Rivera credited Summit for its precision and speed in being able shut down the Eagles' high-scoring offense, which ended with 69 goals — a tie for first with Woodburn — and had not been shut out all season.
"We were expecting Summit to play the ball in the air more and use their size advantage, but when we got out on the pitch it didn't seem like they were that much bigger, and we matched them very well physically," Rivera said. "Summit just played a very solid game. They were fast, they controlled the ball well and they made very few mistakes. In a game like that, one or two mistakes will really cost you."
Going into the playoffs with a No. 4 seed gave the Eagles the opportunity to play two championship games at home, which helped create a buzz of support from the community that built steam considerably by the finals, where several hundred fans filled the stands and cheered zealously for the boys.
"I'm so proud of our students and fans; we had a huge turnout for the last few games," said Keith Bassham, HRVHS athletic director. "The boys played a good game. They were determined and they played hard. It's not always about winning; it's about how you go out and display yourselves as student athletes. They set a goal and they accomplished it, despite obstacles they had to overcome to get there. I think it's a testament to what determination can do for a group of young men with a common goal."
"Having the Hood River community there cheering for us like that really helped take some of the sting out of the loss," said Rivera. "We said at the beginning of the season that we were going to make it to the state finals. It has been an incredible experience coaching a group of kids who did everything they needed to do, both at school and on the field, to accomplish that goal."
Rivera said sights will be set just as high next season. Although the team says goodbye to eight seniors (Quique Rueda, Joel Aberg, Brian Manzo, Fabian Munoz, Rogelio Lachino, Armando Hernandez, Jorge Lachino, Tuan Nguyen and Edgar Villegas), 11 juniors on this year's roster will mean a stacked lineup next season, and behind those players are guys moving up from a junior varsity team that lost only one game this season and a freshman team that went undefeated.
"HRV soccer is on the rise," Rivera said. "It has been for a while, but we're at the point now where we have the potential to be a top-four team every year if we can establish the right goals."