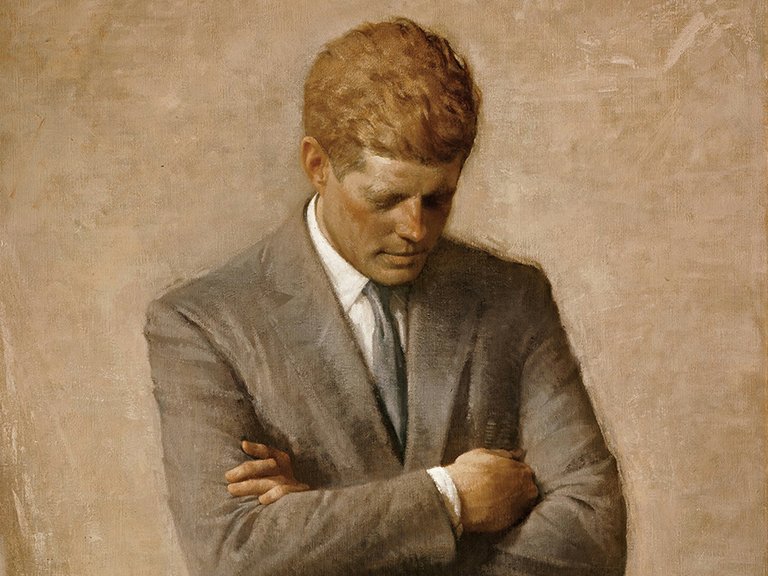 Saturday, November 23, 2013
"A moment of terror and passionate chaos."
These words from poet Robert Lowell capture the national mood after Nov. 22, 1963.
Dallas, Texas: President John F. Kennedy is assassinated while riding in a motorcade.
In 1963 Martin Luther King galvanized the civil rights movement with his "I Have A Dream" speech, and the nation's two nuclear superpowers made progress in arms control as the White House and the Kremlin agreed to place a communications "hotline" between the seats of power.
It was a time of national and global stress and strain.
No event of 1963 would compare to the catharsis of what happened Nov. 22. A life ended and a nation changed in that terrible instant in sun-lit Dealey Plaza.
Before the day is done, Lyndon Johnson takes the oath of office, with Jacqueline Kennedy in her blood-stained dress standing at his side. Earlier in the day the First Lady sat stoically in a folding chair just outside the hospital operating room.
Doubts and speculation about who killed the president and who or what was behind it are roiling in the media this autumn as the nation contemplates the 50th anniversary of the Kennedy tragedy.
Our question to readers was simple and direct:
"Where were you when you learned Kennedy had been shot on Nov. 22, 1963?"
Sixteen local residents told us their Kennedy Memories.
The memories came from the Gorge, Indiana, Germany, Indonesia, and aboard a submarine in the south Pacific. Local folk distinctly remembered Kennedy's death, where they were, how they felt, and what it means to their lives today.
— Kirby Neumann-Rea
The weekend was a blur
On Nov. 22, 1963, I was a college girl, attending a small Methodist university in San Diego County, Calif.
Students were required to attend on Fridays, for one unit credit, an all-school assembly in our gymnasium, known as Culture Forum, which usually included an address from President of the University, Dr. William C. Rust. (We often referred to him as "The Iron Man.)
Dr. Rust was addressing the entire student body from a podium on the gymnasium floor. Glancing out the large windowed wall of the front of the gym, I, along with many students, noticed a lone male figure, running down the wide steps from the street level, above the gym. As he got closer I recognized him and wondered how he dared to arrive late to Culture Forum with the entire student body watching him. Then, he threw open the door and ran directly to the podium, whispering the news to President Rust, which he, in a very dignified manner, relayed to us: "President Kennedy has been shot this morning in Dallas, Texas. He has been taken to the hospital." We didn't know the extent of his injuries, nothing about the details that would come out later.
Dazed and trying to keep up our hopes, we were in the dining hall for lunch before going on to afternoon classes, when the announcement was made that President Kennedy had indeed died. Afternoon classes were cancelled and that whole weekend was a blur ... we sat in front of televisions in the dormitories and watched over and over as the news repeated. On Sunday my boyfriend and I were on our way to church, as we felt compelled to do, for maybe we'd get some peace or some answers there. But we heard, on the car radio, that Jack Ruby has just shot Lee Harvey Oswald, presumed assassin of the President. That news intensified the feeling that the whole world was going mad!
Then, more TV watching as the body lay in state in the U.S. Capitol, and finally the funeral, with all the familiar images of the riderless horse, and little John saluting as his father's casket went by.
Though 50 years have gone by since those events, very few of the details have faded from my memory.
— Pennie Burns, Hood River
Submariners' condolences
I was stationed on-board the USS Wilhoite, DER-397 about 1,500 miles southwest of Oahu.
We were on a classified mission shadowing three Russian Missile trackers.
The ships were the Sibir, Suchan and Sakhalin.
The Russians were conducting long-range ICBM tests and our mission was to intercept and record all RF telemetry from the bird and the missile trackers in the impact area.
The Cold War was very real in 1963 and we had harassed the Russians for the previous three weeks by trying to disrupt their operation while gathering intelligence information.
I was a RD-2, Radarman, 2nd Class PO with special training to operate the intercept gear.
On Nov. 22, 1963, our ship received a radio message that President Kennedy had been shot and killed.
About 10 minutes later, we were sent the following "flashing light message" from the Sibir ... "Sorry about your great loss."
We were all struck not only about the speed the Russians were aware of Kennedy's death, but they had quickly sent us condolences.
— Dale Nicol, Hood River
'That's a bad joke'
As a reservist, I was at Fort Lewis, Wash., making up for a missed summer camp. Somebody came into our office area to announce "President Kennedy has been killed." My immediate response was to say "That's a bad joke." But I believed it enough to dash outside and turn on my car radio.
Naturally, rumors of activation started flying, but I was home in time to watch the funeral procession on TV.

— Dave Dockham, Hood River
'They lost one of their own'
My Kennedy story actually begins in fall 1960, when I was a political science major at Portland State. I attended one of his campaign speeches in Gresham at the height of his battle with Nixon.
Unfortunately, he had a very bad case of laryngitis and his speech had to be read by Oregon Congresswoman Edith Green. After his "speech," he stood in a reception line shaking hands with one and all. As I gently held his badly swollen hand, I looked him in the eye and was shocked by what I saw. Instead of the vim and vigor that I had expected, I saw weariness and physical pain. It was not until several years later that the extent of his illness and constant pain was revealed to the public.
I managed to say, "Good luck, sir," and he mouthed the words, "Thank you." Although I never got to hear him speak in person, the contents of what was read that day and other speeches by him afterwards had a great effect on me. I became a big fan of JFK.
Nov. 22, 1963, I lived in a garret in Heidelberg, Germany, and worked at a small factory on the outskirts of town. I was recovering from a bout of the flu and my illness and the pills I had taken made me very drowsy. So I went to bed very early, about 7 p.m., German time. A short time later, I awoke with a start and had a strange feeling that something had happened. Thinking back on it, I must have been woken by a shout or a scream. I was no longer sleepy so I made myself a cup of hot chocolate and tried to read a bit. But I could not shake the feeling that something was wrong.
I opened my window and looked out over the roof tops. All was quiet. Eventually, I went back to bed and slept. I had set my alarm clock so that I could get up extra early the next morning in order to get to the factory to take a hot shower before work began. I road my Vespa motor scooter though the dark deserted streets and encountered no one until I was getting dressed in the factory locker room after my shower.
Two guest workers from Greece came in and when they saw me they approached with very sad and concerned looks on their faces. "Kennedy todt," they said over and over again as they patted me on the arm and placed their hands on my shoulder. One of them had tears in his eyes. I knew enough German to realize that they were saying that Kennedy was dead, but it made no sense to me at all what they meant. I knew no Greek and they no English and none of us could speak German that well.
It was only when other co-workers came in with whom I could communicate that I finally was able to grasp what had happened. The workforce at the factory, which manufactured small parts for Volkswagen, consisted of Germans, Greek and Spanish guest workers and me, the only American. At some time during the day, everyone who worked there took time to come up to me and express their condolences.
Kennedy's death was not just a loss felt by Americans, but a loss felt throughout the world. The Germans in particular felt that they had lost one of their own and mourned his death almost as much as we did.
That evening, I met with friends at our favorite gasthaus. During our discussion of the day's events, a few expressed how proud they were to have been in Berlin and to have been in the huge crowd that listened to Kennedy's "Ich bin ein Berliner" speech. I had to admit that I had never heard him speak in person, but that I did at one time hold his hand in mine and looked into his eyes. That is something I have never forgotten.
It is also something that to me made his death just a bit more personal.
— Douglas E. Davee, Hood River
'The whole campus was stunned'
I was a student at Oregon State University on that date. I remember that a lady who entered the music classroom announced that the president had been shot. The class stopped immediately and questions were asked: Is he alive? Will be all right? Who did this? Where did this happen? I still remember thinking to myself: What does this mean for the United States? The whole campus was stunned. It seemed that there was a fog surrounding us for quite sometime. Every year at this time, I have flashbacks to this date in 1963.
— Barbara Menard, Hood River
Watching Cronkite
I was manning the desk at one of the branch libraries on the Indiana University campus in Bloomington, Ind., when the head librarian came running past heading for her office (in which there was a TV). She was clearly very upset and shouted something at me as she went by but I couldn't understand her. Concerned, I followed her to the office — where we were just in time to see Walter Cronkite announce the President's death.
— Glenn Harris, Hood River
The pain is still acute
On Friday afternoon, Nov. 22, I was a 20-year-old and 2nd classman (college junior) in a history class at the U. S. Merchant Marine Academy, Kings Point, N.Y.
The assassination of President Kennedy was announced over the PA system, and classes were immediately canceled. We were all in shock, and my classmates and I crowded into student lounges (the only TVs), to watch the terrible news.
Kings Point is one of the five U. S. service academies, and as civilian "cadets" within the Department of Commerce (at the time), we had a strong allegiance to President Kennedy, our boss. His murder was very hard to take. I've never been more saddened about a public official's death, and the pain I feel today is the same or even more acute than it was 50 years ago.
This past week, I've been watching all documentaries about Kennedy, but not the reenactments.
— Darryl Lloyd, Hood River
World takes sad turn
I was alive at the time, but not old enough to remember the events myself.
My late mother, however, always remembered that moment. She had been watching her favorite soap opera, "As the World Turns." She said that the character in the show, Grandpa Hughes, had just carried a tray into the living room when they broke in with the special report.
The next day was my fifth birthday. My mother, and the other parents, decided to hold my party as scheduled. They knew we kids were not aware of what had happened and would not understand having no party.
— Tom Hart