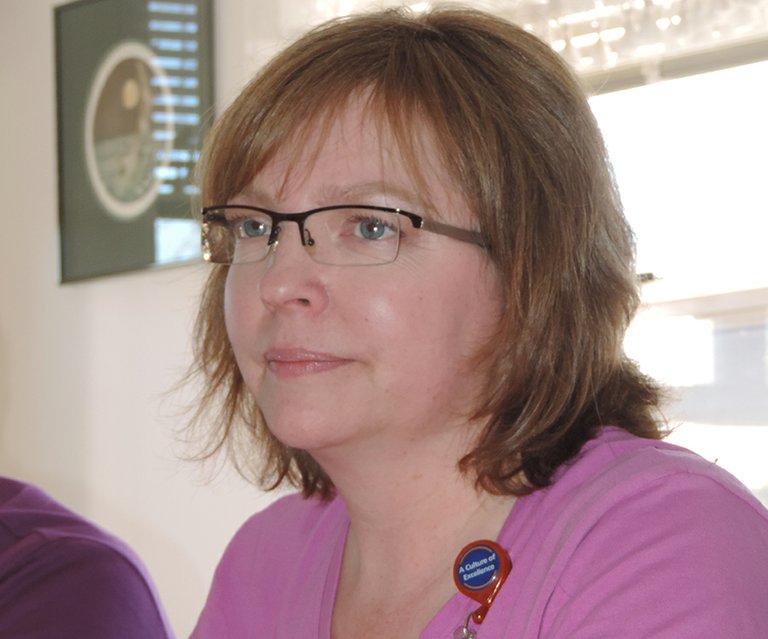 Saturday, November 23, 2013
Karen Lewis received a hearty round of applause when she began her job as activities coordinator at Providence Down Manor this September. Literally.
"My first day of work, I walked in here and my picture was on the front door," she said. "I come in and there's a big welcome poster, and the people who live here were in the lobby, and they started clapping."
The warm welcome made her feel right at home, although she's not surprised the residents went to such lengths to make her feel comfortable. Lewis noted that whenever a new inhabitant moves in, residents go out of their way to introduce themselves and show that person around.
"They're just very welcoming, and that's good when you've just moved in somewhere and you don't know anybody and it's a new environment," Lewis said. "That's how they treated me when I got here."
Providence Down Manor, located at 1950 Sterling Place in Hood River, is a residential community for people 62 and older. Lewis' job is to coordinate the wide variety of activities that take place each week, including book club, writer's group, crafts, movie and popcorn day, exercise class, swimming at the Hood River Aquatic Center, and yoga.
Yoga is a relatively new offering, said Lewis. Instructor Christine Shannon comes to teach "chair yoga," meaning all moves can be done from a chair. At first, everyone was just trying to figure out what it was, she said, and she encouraged them to come and see for themselves. It got such a great response that it is now on the weekly schedule.
In the writer's group, residents record stories about where they grew up, which are shared every three months with the entire complex. Some are even writing books.
Lewis also schedules day trips two times a week. This Tuesday, for example, a group took the bus to Baldwin Saloon in The Dalles.
"We try to do one trip where they get to go somewhere historic or do some shopping," she said. The other trip is called The Ride to Nowhere, where residents go on a surprise outing of the driver's choice. The driver takes them on a different route each time, she explained, as a way to get them out into the community and seeing new things.
In December, Lewis has planned a Christmas Lights to Nowhere trip, as well as several musical performances. Tom Horwitz will come for the "three-month birthday celebration," where those with October, November and December birthdays will be honored, as well as perform Christmas carols at dinner.
A youth group from Vineyard Church is coming, as are Gorge Strings, Harmony of the Gorge, and members of the First Baptist Church.
All of the performances will be at or around dinner or in the evening, said Lewis, allowing residents to sit back, relax, and enjoy the music.
For Lewis, working with residents is the best part of her job. "It's like a big community here, " she said. She strives to find activities that are enjoyable, inspiring and fun, and also practice fine motor and cognitive skills.
This has not always been her career path, however. She went back to school after her youngest son went to college, having previously worked at a bank. She spent a year at Clark Community College before transferring to Washington State University's Vancouver campus, where she majored in human development and minored in gerontology.
At first, she thought she'd major in sociology, but while at Clark, a counselor told her about WSU's human development program, a study of life from birth to death. With that, she could have concentrated on children or counseling, but after her Community Engagement Project sent her to Innovative Services Northwest, an adult day health center in Vancouver, she knew what she wanted to do.
At the adult center, she said, most of the clientele were older people whose children took care of them, and went to the center to socialize for a few hours. She played a game with clients that was tailored to work on fine motor and cognitive skills. She found herself enjoying the experience.
"For me, it was fun. You get to talk to them and see what they're about, where they're coming from, what they're doing," she said. "Playing that game, too, and seeing they were having a good time socializing and interacting … I thought, 'Wow, that's interesting, I really like this.'" When she went back to WSU, she got gerontology information, and eventually interned at the same facility.
"I loved it," she said. "That's when I knew what I wanted to do. It only took me 52 years to find what I wanted to do," she joked.
Working at Providence Down Manor is a wonderful experience, she said. She grew up in Portland and now lives in North Bonneville, Wash., but is quickly becoming familiar with Hood River with help from residents.
"If there's someplace that I don't know, or I need an idea of what they'd like to see, they'll tell me," she said.
She has residents from both coasts, as well as from the South, and finds the differences between regions fascinating — even though everyone is from the United States, there are clear differences in food and activity preferences depending on region, she noted.
"When they get together and tell their stories, it's just wonderful.
"I just think Providence Down Manor is a really wonderful community," she said.
When Lewis isn't planning activities for residents, she's thinking about the upcoming birth of her first grandchild, due Nov. 27. Her daughter lives in Pennsylvania, she said, and her son is in Pullman, Wash.
She has two stepsons with husband Bill Lewis, one who lives in Vancouver and the other in Hoodsport, Wash.