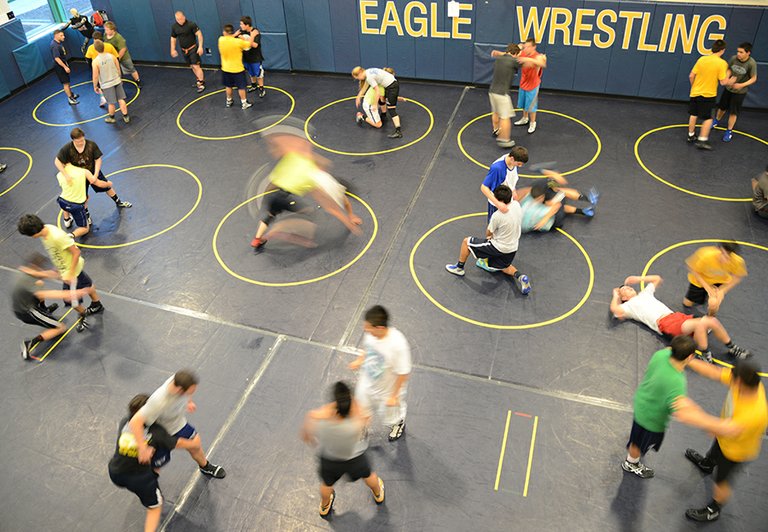 Wednesday, November 27, 2013
With 10 returning district placers leading the charge, Hood River Valley High School wrestling is gearing up for what is expected to be another exciting season on the mat, and with precious little time to spare, the team will be working hard over the holiday break to get in shape for the first round of competition in less than two weeks.
The team, led by head coach Trent Kroll, hosts its annual Blue and Gold inter-squad meet this Friday, 7 p.m. at Hood River Valley High School, where many will battle for varsity positions in stacked weight classes and others will get to experience their first-ever six-minute matches.
Of the 60 or so wrestlers on the roster, about 20 are freshmen, and of those many have never wrestled before. Contrast that with 10 who placed at last year's 5A Special District II tournament (an 11-school combination of the Columbia River Conference and the Portland Interscholastic Conference) and you have a mix that is both exciting and challenging for Kroll and his coaching staff.
"One of our goals is to involve as many people as possible in our program," said Kroll, who goes by the slogan, "A full room is a great problem to have."
While the future of the program depends on bringing new wrestlers into the room and keeping them there, it's also vital to have the returning varsity lineup engaged and pushing themselves hard enough be prepared for the state's best competition. It's a difficult balance to strike with everyone training in the same room, but with seven seasons with the Eagles under his belt, Kroll is making it work.
"We have six seniors this year who are all of state championship quality," he said after the first week of practice. Looking ahead to Friday, battles for a few of the middle weight classes are going to be hard-fought. In the same few classes, Chaz Peterson, Charlie Mallon, Andrew DeHart, Junior Rojas, Jeremy Fischer and Cesar Zarate will be wrestling for No. 1 varsity positions going into next Friday's four-way dual at home against Lincoln, The Dalles and Wilson.
Of that bunch, DeHart had the best season last year with a second-place district finish and a fourth-place finish at state. Also returning this year is junior Christian Marquez, who finished third in the state at 120 pounds and has his eye on a state title. Other returning district placers are Texx Spezia-Schwiff, Kyle Weseman and Steven Swafford.
Jessica DeHart and Payton Rigert will lead the charge for the girls team, of which there are two new faces this year. The girls will travel to five female tournaments this season. For (Jessica) DeHart, defending girls state champion and former girls national champion, her season will likely also include matches at the 106-pound varsity position.
After a second-place district finish last season, behind Hermiston, the Eagles brought 13 wrestlers to state and finished seventh — a result Kroll is hoping to improve on this season. The team will have plenty of tough competition between now and the end of February to prepare for that goal, including the Coast Classic in North Bend, the Oregon Classic in Redmond, the Reno Tournament of Champions and the Hood River Elks Memorial Tournament.