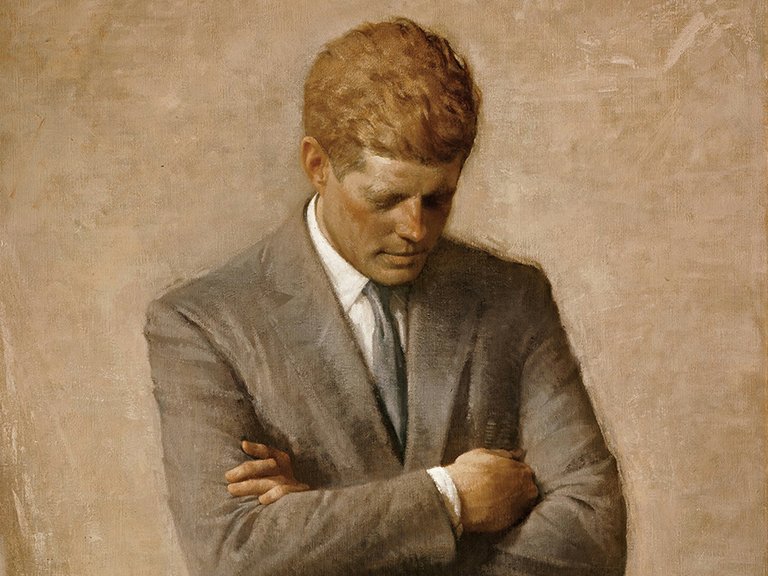 Wednesday, November 27, 2013
'A moment of terror and passionate chaos.'
These words from poet Robert Lowell capture the national mood after Nov. 22, 1963.
Dallas, Texas: President John F. Kennedy is assassinated while riding in a motorcade.
"And the word went out from that time and place and cut the heart of a nation. In streets and offices an homes and stores, in lunch rooms and show rooms and school rooms and board rooms, on highways and prairies and beaches and mountain tops, in endless places crowded and sparse, near and farm, white and black, Republican and Democrat, management and labor, the word went out and cut the heart of a nation, and husbands called wives and wives called friends and teachers told students and motorists stopped to listen on car radios and strange told stranger ... incredibly, in a time of great numbers, in a time of repeated reminders that millions would die in nuclear war, in a time when experts feared we were being numbed by numbers and immunized against tragedy, the death of a single man crowded into our souls and flooded our hearts and filled all the paths of our lives."
From the book "The torch is passed … The Associated Press Story of the Death of a President," published 1964
(Continued from Nov. 23)
Our question to readers was simple and direct:
"Where were you when you learned Kennedy had been shot on Nov. 22, 1963?"
Sixteen local residents told us their Kennedy Memories.
— Kirby Neumann-Rea
A birthday party canceled
On Nov. 22, 1963, I was sitting in my sixth-grade classroom anticipating my 12th birthday party which was going to happen after school that day.
All of a sudden the mother of one of my classmates walked quickly into the classroom holding her rosary beads and spoke privately to the teacher. The teacher then announced to the class that President John F. Kennedy had died.
All of the students began to talk and the next thing we knew the classroom was full of parents coming to get their children. My mom was there and we informed the class that my birthday party would be canceled. One of the other moms announced that there would be a special mass that evening and even if you were not Catholic you were welcome to attend.
Every classmate and their families were there that evening. For the next few days we did not have school and we all were glued to our televisions.
I remember my parents crying and saying how sorry they were for our country and the Kennedy family.
I know that Americans who experienced that day will always wonder how history would have been different if Kennedy had not been killed. I ask myself that question every year on my birthday.
— Sue Hukari, Hood River
Delivering the news
Nov. 22, 1963 I was on the air at KDOL Radio in The Dalles when I tore off a bulletin from the AP Wire Service that said the President had been shot in Dallas, Texas. I made the announcement and after that I was handed updated bulletins, one after another, until finally I was told President Kennedy was dead. I managed not to cry on the air, but tears flowed on my drive home.
— Bill Davis, Hood River
'Can-nadi-mati!'
When President Kennedy was assassinated, I was on the other side of the globe — in a remote venue southwest of Djakarta, Indonesia.
My dad was transferred from Taiwan to Indonesia in the summer of 1963, as he left his post as music advisor to Chiang Kai-shek to join the U.S. Foreign Service.
Our family and friends were on holiday at a then-rustic venue called Pelabuhan Ratu on the southwest coast of West Java. I was 9 years old.
She was lined with wrinkles.
She was Javanese.
She was horrified.
She was screaming: "Can-nadi-mati! Can-nadi-mati!"
I had learned Bahasa Indonesia, but this old woman did not make any sense. She had been harvesting in the dense forest and sprinting toward us shrieking, her arms flailing and her body shaking. She scared me to death.
Her shrill sounds led us toward the rustic clubhouse, a tropical hut with our only means of communication: a short-wave radio. Voice of America was hissing and crackling.
Ten of us were huddled silently over the sizzly, static radio. We held hands. Fear had permeated the room. Something was very wrong.
A voice over Voice of America, barely audible, announced (half-weeping): "President Kennedy is dead."
Then it became clear. The old lady running out of the woods was screaming, "Kennedy mati!" "Kennedy mati!" (Mati means dead in the Indonesian language.) This old woman couldn't speak a word of English and lived on the southwest coast of the Indian Ocean, far from civilization. Such an impact President Kennedy's death had on the world.
— Mary Jane Heppe, Hood River
The Pledge of Allegiance
I remember the day very well. It was lunch time and I was sitting in the cafeteria at Parkdale Elementary with my other first-grade classmates. We were honored that day to have our principal and fourth-grade teacher Ford Franks joining us at our table.
Sometime during our meal I remember the school secretary coming into the lunch room and whispering something into Mr. Franks' ear. A shocked look spread across his face as he heard the news of the JFK assassination. After quickly finishing our lunch all the students were assembled outside of the school in front of the flag pole where we recited the Pledge of Allegiance. We were then excused for the day and went home to find our parents and families closely following the developments on television.
Over the next few days I was able to witness the Oswald shooting and a funeral for a president. It was quite a historical lesson for a 6-year-old.
— Mark Johnson, Hood River
'He was a good president'
On my 16th birthday, Nov. 6, 1963, I got my driver's license. Nov. 22 was the first day I drove my folks' brand-new red Malibu Chevrolet stick-shift to school at Columbia High School in White Salmon. I was in English class when I got the news about the shooting. Half the class started crying. It was very sad. He was a good president.
— Mary Imagene DeHart
Sad birthday memory
Where was I on the day President John F. Kennedy was assassinated?
It was a chilly, but sunny morning near Sunnyside, Wash., as I was getting my three young boys up and ready for school. I was driving one son to a school in Grandview, Wash., and had the car radio on. The announcer interrupted the broadcast with the news about our president. I pulled to the side of the road to listen to the broadcast and I remember wondering what I would do that day for my birthday celebration? Yes, it was my birthday! It would a very somber celebration. I decided to celebrate with family and friends anyhow, even though the TV was on continuously. Also, I had decided a month earlier to help with the Nielsen TV ratings for the month of November. Needless to say, the company contacted me to ask if I would do the report for the month of December due to the fact the TV was all about the assassination.
Now every year when I am another year older on Nov. 22, it brings back memories of that fateful day in 1963.
— Judy Judd, Hood River
Shocked and saddened
I was working on the Navajo-Hopi Indian Reservation boundary survey project in Arizona.
I called my supervisor in Phoenix to inform him of our work progress. He asked if I had heard about our President? We had no TV and only a pay phone located at a trading post in the remote area where we worked. When I heard what he had to say I was shocked and saddened and then went to my 12-man crew and we then drove 125 miles to Flagstaff to watch the news on TV for the next two days.
— Leonard Murphy, Hood River
Soviets' condolences
I was stationed on-board the USS Wilhoite, DER-397 about 1,500 miles southwest of Oahu.
We were on a classified mission shadowing three Russian Missile trackers.
The ships were the Sibir, Suchan and Sakhalin.
The Russians were conducting long range ICBM tests and our mission was to intercept and record all RF telemetry from the bird and the missile trackers in the impact area.
The cold war was very real in 1963 and we had harassed the Russians for the previous three weeks by trying to disrupt their operation while gathering intelligence information.
I was a RD-2, Radarman, 2nd.Class PO with special training to operate the intercept gear.
On November 22, 1963 our ship received a radio message that Pres. Kennedy had been shot and killed.
About 10 minutes later, we were sent the following "flashing light message" from the Sibir ... "Sorry about your great loss".
We were all struck not only about the speed the Russians were aware of Kennedy's death, but they had quickly send us condolences.
— Dale Nicol, Hood River
(Editor's note: Dale Nicol's memory ran in the Nov. 23 with an inaccurate headline)