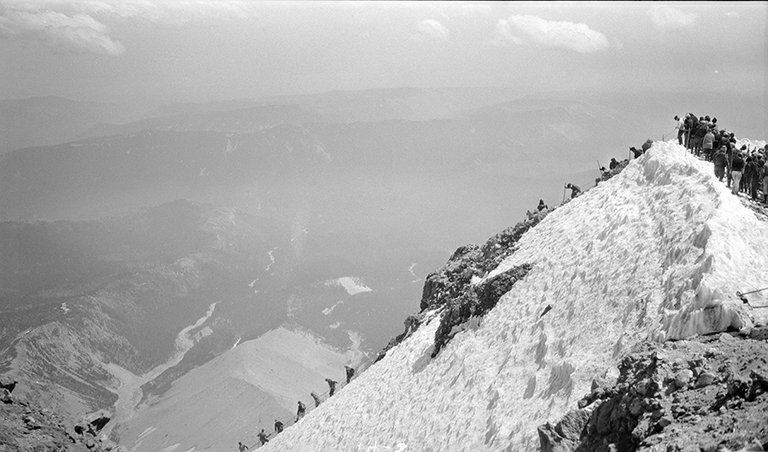 Wednesday, November 27, 2013
Photo Gallery
A snapshot in time
Museum exhibit reveals the photography and adventurous spirit of Alva Day
"Bear Wallow, 12:50, 11-6-39": so says the caption on the Autographic camera image of a smiling man clothing a hat while standing in a field. The rustic, plain-faced image befits its subject, the photographer Alva Day (born in Colorado, 1887, died in Oregon in 1955, and buried at Idlewilde Cemetery).
Alva Day's images — frozen rivers, trains on tracks and derailed, pilots, power workers, farmers, falconers, builders of Columbia Gorge Hotel — are an important chronicle of the Gorge and eastern Oregon in the early to mid-20th century.
The museum funded the digitalization of the Alva Day Collection through grants from Google and the Oregon Heritage Commission.
Visiting the exhibit
Get a close look at Alva Day's photos, see his cameras and others of the early 19th century, and have your photo taken at a replica of the avid hunter's tent camp.
All of this is part of the experience of "A Snapshot in Time" at The History Museum of Hood River County, a celebration of one of Hood River's most prolific photographers of the 20th century.
The museum is open Monday through Saturday, from 11 a.m. to 4 p.m. — closed on Thanksgiving Day.
Admission is free.
The museum is located on Marina Drive, in the Port of Hood River, accessible via Button Bridge Road and exit 64.
New permanent displays at the museum also include the Luhr Jensen gallery, chronicling the life and work of angler and businessman Luhr Jensen Sr.
"These images are a unique glimpse into everyday life in the early 1900s to the mid-1950s. The pictures depict fishing trips, hiking, and home life as well as an eclectic look at the electrical revolution," said Connie Nice, museum coordinator. "We had thousands of images to choose from and it was so difficult to narrow it down to just a few."
The museum possesses every negative Day ever shot and kept.
"He was remarkably good at framing the shot, at getting the exposure right, the focus right," said Arthur Babitz, who collated the exhibit along with photo collection manager Matt Carmichael.
"We have so many photos in our collections where the focus is terrible, but in his collection, almost none have bad focus."
The Day collection is also a celebration of a long-defunct Kodak camera system known as the Autographic, which enabled the photographer to inscribe notations about each image directly onto the negative frame. The camera and film were made from 1916-1955, and Day used it from 1917 to 1955. Babitz said, "Basically, the Autographic spanned Alva Day's lifetime. A lot of people bought the film but didn't use the function, but he used it all the time and it's almost like this is who they made the film for and it lasted his lifetime and they gave up when he died. I don't think they had any more customers."
For the gallery photos, Babitz cropped the notations out to maximize the size of the image, but the effect can be seen on the photo of H. Avery, this page. Photographs provided by History Museum, with special help by Arthur Babitz for this article. For more photos got to the photo blog at historichoodriver.com