Saturday, November 30, 2013
A 44-year-old Dee man was arrested on drug charges Nov. 27 in a multi-agency operation that culminated an investigation by Hood River County Sheriff's Office.
Gustavo Verdin was taken into custody without incident at his home on Alder Road. Verdin, who works as an orchard foreman, has been charged with delivery and possession of methamphetamine, child neglect in the first degree, theft in the first degree and reckless endangerment.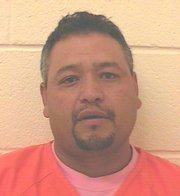 Verdin was arraigned at 11 a.m. Friday in Hood River County Circuit Court.
HRCSO, along with the Oregon State Police, Wasco County Sheriff's Office, Sherman County Sheriff's Office, Gilliam County Sheriff's Office, Oregon Department of Justice and The Dalles City Police served a search warrant at 5550 Alder Road.
Sheriff Matt English said the endangerment charge was added because children were present during the alleged drug-related activity.
English said four children and two other adults were present at the time of the arrest but the only arrest was that of Verdin. "It's been an ongoing investigation throughout this year, and it actually dates to when I was a detective," said English, who was elected sheriff a year ago.
The arrest occurred without incident.
"We knew he would be home, and the people opened the door and let (OSP SWAT) in the house," English said.