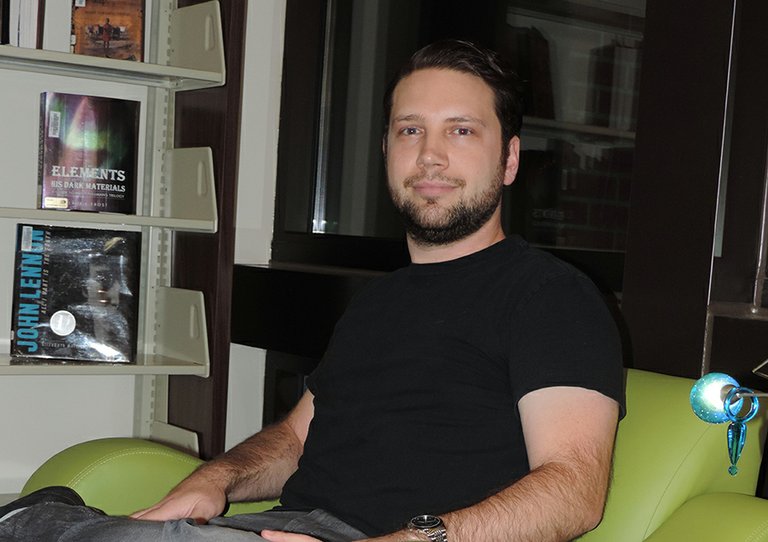 Saturday, November 30, 2013
A brand new teen area is up and running at the Hood River library branch on State Street, and with it, new Teen Services Assistant Harley Judd.
Judd began the position in May after several months as a substitute library employee. "I ingratiated myself into the Hood River Library," he joked.
Judd has numerous responsibilities at the library. "Everybody here works all over the place," he explained. Some of his responsibilities include purchasing all young adult reading materials, checking out books ("I really enjoy doing the customer service aspect") and manning the children's desk.
But his primary focus is to serve as a liaison between the library and the teenagers who patronize it. If a teen hasn't been to the library in a while, he encourages them to come check it out.
"I'm really committed to making (the library) the place they want it to be," he said, adding that teen library programs are "flexible and fun. There are lots of opportunities they can take advantage of."
Once such opportunity is Judd's latest offering: Free ACT, PSAT and SAT test prep, which runs Thursdays from 4-5:30 p.m. through April. He provides loose direction, materials such as practice tests, and helps "point them in the right direction." Right now, it's running on a drop-in basis.
The inspiration for the program comes from Judd's own high school days. He remembers college test prep as a stressful time, and his goal is to provide a causal, free service that will help improve test scores.
He's also continuing the Teen Speak program, started by former teen librarian Kathleen Joritz, which takes place the first Saturday of every month from 2-3 p.m. The open forum allows teenagers to have a voice in what happens at the library, from books ordered to events planned.
"We love to have new members," he said. He likes helping teens make things happen at the library, adding that he's "pretty open to changes" and appreciates all ideas.
"I love when kids are super enthusiastic," he added.
On Saturdays, Judd can also be found at the Cascade Locks library. The branch is smaller and has a different audience, but he tries to pay the same attention to teen programming there as he does in Hood River.
He has plans for future activities, but they are budget-dependent, so he's keeping quiet for now. What he can say is that he's hoping to improve technical aspects and access for teens.
He has a lot of training in various computer platforms (think Macintosh and Windows), as well as software (such as Photoshop and music-writing software), and wants to share that knowledge with his teen patrons.
It was a twist of fate that brought Judd and his wife, Johanna Nesse, to Hood River. Both have ties to the Gorge, although neither had been back since living here as children. Nesse grew in up The Dalles, where her father, a physician, ran a clinic, until she was in middle school, and Judd lived for a short period of time in Lyle when he was in seventh or eighth grade. Both went to high school in Coeur d'Alene, Idaho, and both went to college in Denver, Colo.; she at University of Colorado Health Sciences Center to become a nurse practitioner, and he at the University of Colorado Boulder, where he studied film and journalism.
Colorado is not friendly to new graduates in the medical field, Judd said, so they began visiting both small towns and big cities in various states. Eventually, they focused on Oregon. When Nesse interviewed for a job with Mid-Columbia Medical Center in The Dalles in May 2012, they visited Hood River for the first time since they were children.
Judd calls their trip "four perfect days. Low 80s and sunshine. It sold us." What also sold them was Hood River's proximity to Portland and the recreational opportunities of the Gorge.
His wife was offered the job, and the rest, as they say, is history.
You might say it was a twist of fate that brought Judd into library services as well. He worked "various junky college jobs in coffee shops and cafes" while attending the University of Colorado Boulder, until he moved into a neighborhood fairly close to a Denver library branch.
"I was thinking to myself, 'This would be a nicer place to work,'" he said. "I was sick of coffee shops." So he went in and asked how one went about getting a library job. The woman he spoke with — who eventually gave him his first job as a shelving clerk — advised him to simply fill out an application and, after passing a test and an interview, he slowly began working his way up through the ranks. He eventually ran the bi-weekly children's story time in addition to circulations and programming.
After he and Nesse moved to Hood River, he saw an ad for a substitute library employee position and knew he would apply. "I kind of came along for the ride (when he and his wife moved to Hood River), and I was very happy when I saw the position at the library open," he said. With his experience at the Denver library branch, he was ready when the teen services assistant position opened — one year after his first visit to the Gorge as an adult.
In addition to his position at the library, Judd has his own photography business — Harley Judd Photography. He takes photos of "all sorts," he said, including senior pictures, quinceañeras and weddings. He also does fine art and fashion photography, and can be contacted via his website, harleyjuddphoto.com.
Photography "is just something I've done," he said, since he was 7 or 8 years old. His father bought him his first camera as a birthday present, and later, his grandfather gave him some of his equipment. He has fueled his passion by taking lots of photography classes over the years.