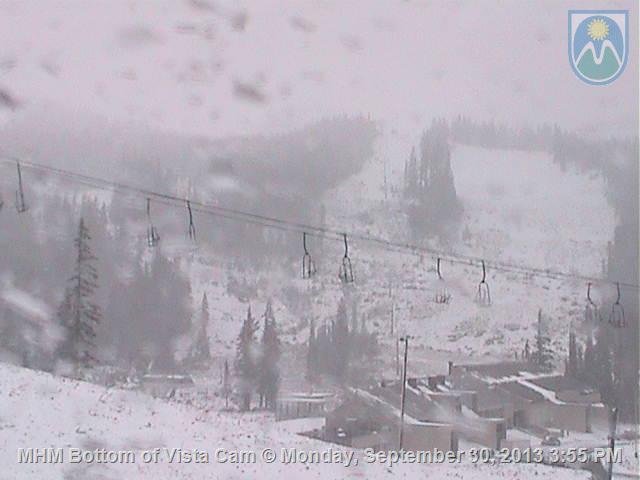 Wednesday, October 2, 2013
While this week's unseasonably foul weather meant wet jackets and soggy shoes in the lower reaches of the valley, up higher on Mount Hood a thick coat of white covered the ground in the first decent snowfall of the 2013-14 winter season. The snow will likely be gone in short order as weather returns to more normal early October patterns by the end of the week, but the teaser does beg the question, what is in store for this winter?
Offering an educated guess to that question is George Taylor, former state climatologist and president of Applied Climate Services. In an informal interview last week, Taylor said when comparing weather patterns this fall to past analog years, there's a good chance that Mount Hood will have a good year in terms of snowfall and winter recreation.
"What I do when I do my forecasts is I pick out other years that are substantially similar to the current year and then the assumption is that history tends to repeat itself," Taylor said in a video posted on Mt. Hood Meadows Ski Area's online blog. "If you have the same pattern developing that happened in another year, it's likely that you would have similar weather patterns in the upcoming season … I think right now the odds are it's going to be pretty good year. We're in a neutral El Niño/La Niña year, and those tend to be our snowiest years. I wouldn't really call it a prediction yet, but it certainly seems to be an indicator that it's going to be a very snowy year."
Based on past years with a similar lead up to winter, Taylor said it's likely Meadows will be open by Thanksgiving this year. Taylor found five "analog" years that are tracking similarly to this year leading up to winter and four of those five years saw snowfall totals "substantially above average."
A more official round of educated guessing will happen at the Oregon Chapter of the American Meteorological Society's 21st annual Winter Weather Forecast Conference on Oct. 26 at the Oregon Museum of Science and Industry, where meteorologists from across the Pacific Northwest offer their prognostications for the upcoming winter.