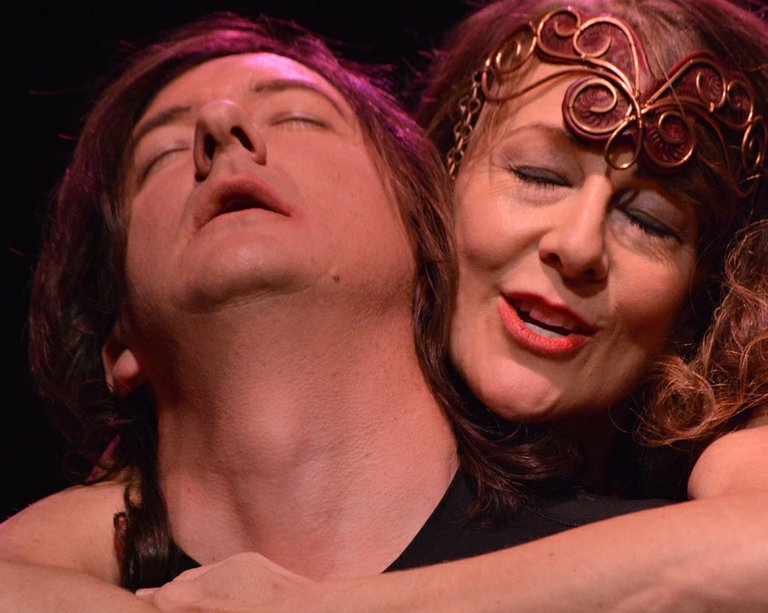 Wednesday, October 2, 2013
Work the room, Banquo.
Macbeth's former friend is about to fight two murderers in an exciting choreographed sword fight.
It culminates in an evil twist in casting, courtesy of "Macbeth" director Lisa Roth.
'Macbeth' essentials
A short summary, the main players, and tickets and times
Fresh from battle victory, the ambitious yet superstitious Macbeth (Joe Garoutte) meets a trio of Witches (Jake Camp, Katherine Morrow and April Griffith) who predict his rise to the throne. Macbeth conspires with Lady Macbeth (Desiree Amyx-Mackintosh) to murder King Duncan (Tom Burns) and become king. The plot leads to the deaths of friends and foes including faithful Banquo (Kim Robichaud) and Lady Macduff (Emma Spaulding) and her son (Sam Hannigan) before Duncan's son Malcolm (Brian Courtney) is restored to his right place as king.
n
William Shakespeare's Macbeth runs Oct. 10, 11, 12, and Oct. 17, 18 and 19 at 7:30 p.m., and Oct. 13 at 2 p.m.
All shows are at CAST Theater at Columbia Center for the Arts, Third and Cascade streets.
Tickets are $18 for adults, $15 for seniors and students, and $10 for children 11 and under.
n
Note: the production contains violence and adult themes and may not be suitable for all audiences.
Tickets are available at Waucoma Bookstore or at Columbia Center for the Arts.
The fight and Banquo's scene just before it make full use of the CAST stage. (This time, the audience might want to avoid those front-and-center seats.)
Swords drawn, Kim Robichaud as Banquo warily looks for enemies about the castle, and Roth gives Robichaud some advice.
"You're not confined here."
So Robichaud moves all over the stage, even peering over the theater rails and taking a step or two into the audience.
The fourth wall — the imaginary boundary between actor and audience — goes away for a moment. What awaits Banquo is all part of the entrancing tale of treachery and love that is Macbeth.
To draw from the words of the evil witch Hecate: "I am for the air; this night I'll spend unto a dismal and fatal end."
"The witches are certainly stirring the pot," said Desiree Amyx-Mackintosh, the actor playing Hecate. "There is manipulation all over the place."
There is no happy ending in Macbeth, but justice is restored in the Shakespeare play.
In the hands of Roth and her 17 actors, this rendition of Macbeth — CAST's first staging of a Shakespeare tragedy — is boundary-breaking rendition of the 1606 play. Roth chose to present the universal theme of love, loyalty, and tribal bonds, in the prism of a post-apocalyptic setting, though using Shakespeare's script.
This is a fresh interpretation, with Mad Max-meets-Steampunk costumes, original music written for the production by Danny Burns, grandson of cast member Tom Burns, and Roth's added layer to the Macbeth mythology: the slain King Duncan giving post-mortal life to fallen soldiers. Duncan solemnly bringing the dead to their feet, with a swath of tribal paint on the forehead, creates several moving, hear-a-pin-drop moments among the carnage.
Roth is a veteran trained actor and familiar face on the CAST stage, but this is her first time directing.
Fear Not the Bard: The accessibility of Shakespeare
The Macbeth synopsis (see sidebar, this page) might serve as a helpful guide to the layered story of intrigue, ambition, betrayal, love and murder.
But fear not, Shakespeare is not as puzzling as it's often made out to be. The rhythm and cadence of the language quickly draws you into the story.
That said, the Fear No Shakespeare website might be a good resource to check on, with its side-by-side comparison of original and modern texts. (Contains spoiler alerts.)
For example, there is real poetry in Scene 4 in Act 2, where Lady Macduff criticizes her husband, Macduff, for fleeing Scotland out of fear of Macbeth, and the attempt by Lord Ross to calm her anger toward her husband. Ross tells her, "You must be patient, madam."
Lady Macduff: "He had none. His flight was madness. When our actions do not our fears make us traitors."
(Fear No Shakespeare): He was crazy to run away. Even if you're not a traitor, you're going to look like one if you run anyway.
Ross: "You know not whether it was wisdom or fear."
Lady Macduff: "Wisdom! To leave his wife, to leave his babes, his mansion and his titles in a place from whence himself does fly? He loves us not. He wants the natural touch."
(FNS: He doesn't love us. He lacks the natural instinct to protect his family.)
A shorter FNS example would be when Macbeth speaks after murdering Duncan in Act 2 and despairs of his blood-stained hands.
"Will all Neptune's ocean wash this blood/
Clean from my hand? No, this my hand will rather the multitudinous seas incarnadine.
Making the green one red."
(FNS: Will all the water in the ocean wash the blood from my hands? No, instead my hands will stain the seas scarlet, turning the green waters red.)
It's a precursor when the treacherous Macbeth raises a toast to Banquo, with the other Lords, at the fateful Act 3 dinner party:
"Here had we now our country's honor roofed/
were the graced person of our Banquo present/
Who may I rather challenge for unkindness/
Than pity for mischance."
(FNS: We would have all the nobility of Scotland gathered under one roof, if only Banquo were here. I hope it turns out that he's late out of rudeness, and not because something bad has happened.)
"I love this play," she said. "I have been in two productions of it (as Lady Macbeth) and of all the shows I've been in I know this one the most. I love it for its passion and its intense supernatural element."
"I had worked with Lisa, but after one week with 'Macbeth' I could not have believed this was her debut as a director," said Tom Burns (Duncan). "She is doing an impressive job," he said, pointing to her interpretation as a post-apocalyptic setting.
To Roth, it's about showing people who had survived, and testing the deep bonds that they forged in order to survive
"It's a great concept and it's really working well," Burns said. This is fueled by the innovative makeup and costumes — as elaborate as CAST has ever seen — and the individual "back stories" written by each actor to give each a sense of how they have gotten to this point in the story.
"There are a lot of traditionalists who might not want to see Shakespeare staged in anything but the Elizabeth era, but I really enjoy Shakespeare set in a different era," Amyx-Mackintosh said. "Shakespeare's words can used in any period and be relevant."
It's a gory play, with multiple murders, some of them brutal, though the blood is mostly implied. There is also the suggestion of sex, with lead actors and good friends Joe Garoutte and Desiree Amyx-Mackintosh interpreting Macbeth and Lady Macbeth as devoted lovers, rather than antagonists or purely as co-conspirators.
n
Is the play about more than lust, greed and ambition?
"There's love and faithfulness — and integrity, in some characters," Amyx-Mackintosh said.
"There is no struggle in life that is not without conflicts and challenges to our moral fiber," Roth said.
Garoutte put it this way: "A lot of times we have a path that we're on, and you don't want to mess with a good thing, and then someone says, 'If you just did this, it could be better,' and you make that little bit of a choice that you shouldn't have made.
"So Macbeth gets into this position where it's prophesied where he will become Thane of Cawdor and become King, and then the soldiers show up and say 'You're Thane of Cawdor,' and he sends his wife a letter and says, 'Yep, I'm going to be king,' and he goes back to his castle and he thinks it's just going to be the next thing, and Duncan tells him, 'I'm going to give it all to — my son,' and he's got his hopes up and he's told his wife he's got his hopes up.
"It's like getting usurped at the last minute by the company you've always worked for and then you get waylaid by the boss's son, and you're never going to be the CEO of the company, and so it turns his otherwise good character into something bad. But then (Macbeth) even talks himself out of it and she talks him into it."
Amyx-Mackintosh picked it up:
"She says, 'Wait a minute — you've already told me this is where we're going,' he even tells (Lady Macbeth), 'I share you this to let you know what greatness is promised you; you're going to be the queen'… So she uses a variety of tactics to try to get him to follow through with the plan to off the king."
"Macbeth" is full of what-ifs, both Roth and Amyx-Mackintosh noted. What if the king made a different decision or a soldier followed a different loyalty?
What if Macbeth, the battle hero, having heard the witches' prophesies that he would become king, had never written the letter to his wife:
"They met me in the day of success, and I have learned by the perfectest report they have more in them than mortal knowledge … this I have thought good to deliver to thee, my dearest partner of greatness."
As a result, her hopes for greatness instantly increase.
"Lady Macbeth tells Macbeth, 'Thou wouldst be great,' but she also sees greatness in herself," Amyx-Mackintosh said, and alternately seduces and shames her husband into actions she intends to help them achieve greatness.
"But the fact is, she really does see greatness in him. It is a passionate relationship."
Amyx-Mackintosh called the role "a big challenge for someone who's never done Shakespeare."
"The challenge is the language, so you have to really analyze the script in much more detail than the typical script," she said. "With this you really have to do the research, 'What is she saying?' and then when you know what she's saying you convey the meaning through your voice, your expression, your movement."
"At first it's a little difficult; then you pick it up and get the rhythm."
"It's challenging to decide how modern to make it, how contemporary to go ahead and speak the lines," said Garoutte, who has played Marc Antony in Julius Caesar and Oberon in Midsummer Night's Dream on other stages.
"We as a society don't clearly enunciate very much, and often because (Shakespeare) is written in such a way that you have to wrap your mouth completely around the words, you have to stop and make sure the words are perfectly clear."
Garoutte points to one line where the root words "breach" and breech" are conveyed in several different meanings.
"Here lay Duncan, his silver skin laced with his golden blood, his gashed stabs looked like a breach in nature/For ruin's wasteful entrance, there, the murderers steeped in the colors of their trade, their daggers unmannerly breeched with gore."
n
The Shakespearean language is less arcane than you might think (but see sidebar on B1 for a few pointers) and in fact the play contains plenty of familiar phrases and dialog, some of it traveling through the lexicon in humored or altered form, such as the Witches' chant "bubble, bubble, toil and trouble ... by the pricking of my thumbs something wicked this way comes ..."
This is also the play with one of Shakespeare's most treasured Big Statements on Life:
"Out, out brief candle!" says Macbeth after he learns of his wife's death,
"Life's but a walking shadow, a poor player/That struts and frets his hour upon the stage/It is a tale told by an idiot, full of sound and fury/Signifying nothing."