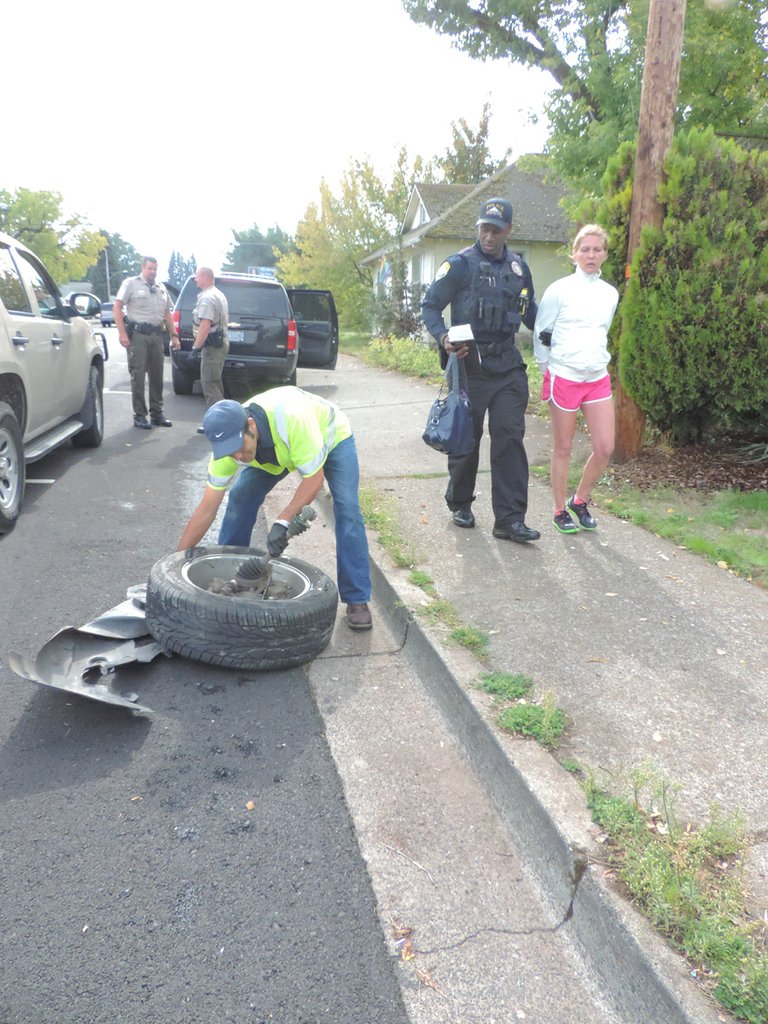 Saturday, October 5, 2013
Angie DeHart did not need to call her insurance agency Wednesday after her parked car was damaged on the Heights.
That's because DeHart was inside her workplace and insurer, American Family Insurance, 1108 13th St.
"Boom and a car alarm," DeHart said. "I came out, and saw my car and everything else."
Her car was parked on the street in front of the office when the Subaru and another car were hit by a vehicle heading south.
Greta Sanchez, 34, of Hood River, was cited by Hood River Police in the 1:10 p.m. crash.
"I first went to make sure she (Sanchez) was all right, and there were other people there," DeHart said.
Sanchez first sideswiped DeHart's Subaru Forester and then clipped the front left tire of Jonathan Alvarez's Honda Civic, which knocked the wheel off the Suburban. The wheel landed next to the curb about 40 feet south, and the Suburban ended up on the sidewalk another 40 feet down.
The trajectory of Sanchez's vehicle surprised DeHart.
"I'd think that after hitting my car like that she'd go back into traffic, but she just kept going (onto the sidewalk)."
People on the Heights reported hearing the crash sounds from a block away.
"It was loud – very loud," DeHart said.
Sanchez was arrested at the scene for driving under the influence, and she could face other moving violations as well, according to police officer Juan Pulido.
He estimated Sanchez's speed to be 25 mph. Both cars were undriveable and were towed to Apple City Auto.
Hood River Fire Department also responded.