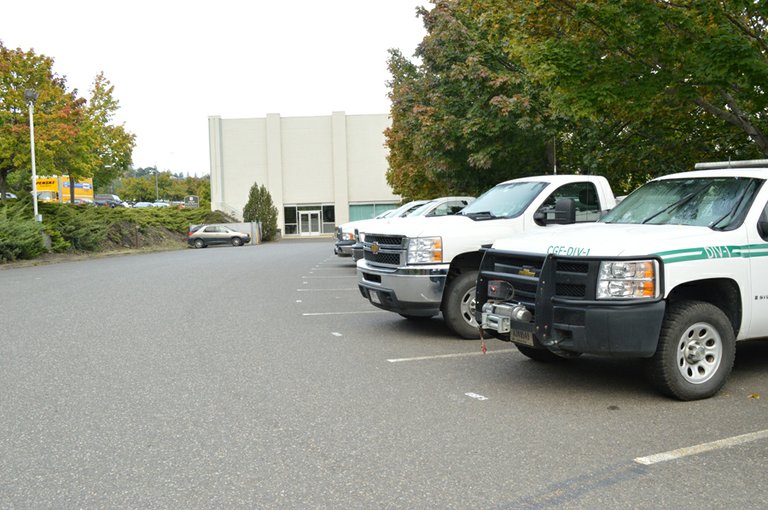 Saturday, October 5, 2013
As lawmakers squabble in Washington, D.C., the effects of the federal government shutdown that began on Tuesday are already being felt in the Gorge.
Numerous "non-essential" government employees were sent home Tuesday as federal agencies with offices in the Gorge began locking the doors and turning off the lights in accordance with the shutdown.
In downtown Hood River, the U.S. Department of Agriculture, U.S. Forest Service, and Columbia Gorge National Scenic Area building, located at the Waucoma Center, was still quiet Friday morning. A fleet of idle Forest Service vehicles sat on one side of the parking lot and provided a stark contrast to the other side of the lot, which, normally filled with the personal vehicles of government workers, was almost entirely devoid of cars Friday morning.
A paper sign posted on the darkened building's glass door greeted visitors.
"This U.S. Department of Agriculture office is currently closed, due to the lapse in federal government funding," it read. "The office will reopen once Congress restores funding."
The boilerplate message informing the public of the government shutdown cropped up in various forms in other locations. On the website for Bonneville Dam, users were informed that "parks, campgrounds and visitor centers operated by the U.S. Army Corps of Engineers across Oregon and southwestern Washington are closed until further notice, effective Tuesday, Oct. 1, 2013, as a result of the federal government shutdown."
On the Mt. Hood National Forest website, the message took on a Kafkaesque quality. Users were informed of "lapse in federal funding" that caused the shutdown, then redirected to the USDA website for more information, which, when accessed, displayed a white screen that informed users "Due to the lapse in federal government funding, this website is not available."
For agencies that don't employ government workers, but rely on federal agencies for services, the shutdown has also caused headaches.
Darren Nichols, executive director for the Columbia River Gorge Commission, which oversees management of the Columbia River Gorge National Scenic area, said the regional agency is funded by Oregon and Washington, but heavily relies on consultations and services provided by federal agencies present in the Gorge.
"Those other agencies that we rely on for technical assistance and on the ground enforcement are closed," he explained. "That affects our ability to do our jobs."
For example, Nichols mentioned that the Gorge Commission relies on Forest Service archeologists to help with archeological surveys that are sometimes needed for building construction projects in the Gorge. He explained contractors are supposed to notify property authorities if they uncover any artifacts, including human remains, when digging, and Forest Service archeologists are often called in to assess the find.
With the government shutdown though, Nichols said that federal service is currently unavailable.
"We're keeping our fingers crossed that nothing happens during the government shutdown," he said.
The real estate industry is even somewhat impacted by the shutdown. Real estate is expected to see minor slowdowns as Federal Housing Administration loans take longer to process, but clients should not see much of an impact unless the shutdown continues, according to broker and loan coordinator Ashley Nunamaker-Bello of Nunamaker Realtors. She said conventional and FHA and Veterans Administration loans are continuing uninterrupted, "though FHA loans may possibly be a little slow," she said. However, USDA loan applications are "at a halt" as agents can't get files back that have already been submitted. She said USDA loans comprise less than 10 percent of local loans, but she had to inform one client who had expected the loan approval to occur Thursday that it would be delayed at least more 20 days.
"This will affect a small percentage of clients if the shutdown only lasts a few more days," she said. One contributing factor is that Internal Revenue transcripts cannot be ordered because the IRS is in partial shutdown. Transcripts are not needed for FHA retail loans but they are required in case of "investor overlays," or multiple investors. Further, with Social Security offices in partial shutdown, Social Security verification is also at a standstill.
On the other hand, realtors are used to USDA running out of funds periodically, and it often happens at about this time of year, according to Nunamaker-Bello.
Other programs, such as WIC, don't seem to be affected much at all. "It's pretty much business as usual for all our clients. We are not anticipating any change," said Trisha Elliot, nursing supervisor and WIC administrator for Hood River County Health Department.
"Families are encouraged to use their WIC vouchers at grocery stores, farmers markets and pharmacies, and not miss out on healthy foods, and we are scheduling appointments for existing clients and taking new enrollments."
Other social services programs in the Gorge aren't impacted now, but will face serious issues if the shutdown continues for too long.
At Mid-Columbia Children's Council in Hood River, which is responsible, among other things, for administering Head Start services to kids and families in the Gorge and surrounding areas, the agency hasn't been impacted by the shutdown yet.
However, Matt Solomon, executive director of MCCC, said 75 percent of the organization's funding comes from the federal government, distributed by a grant at the start of the fiscal year, which for MCCC is Dec. 1. If the government shutdown lasts until then, Solomon said the money won't be distributed.
"I don't know how we would operate without our federal money," Solomon added.