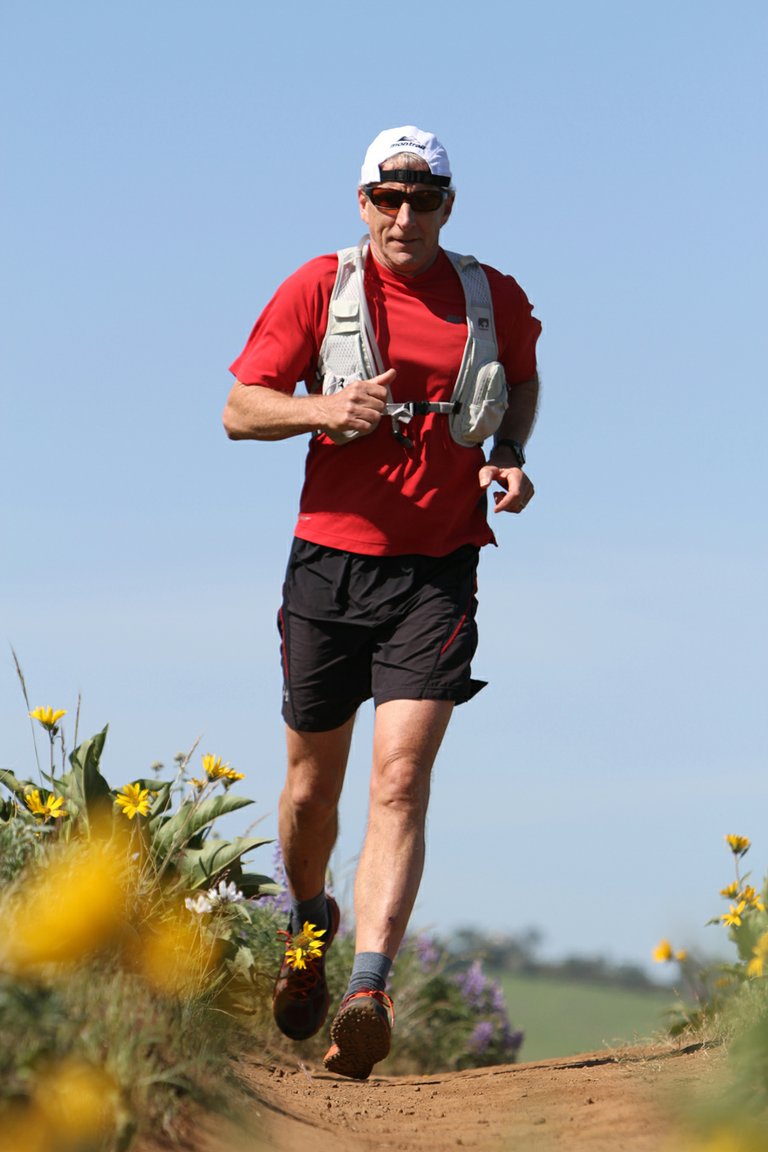 Saturday, October 5, 2013
Mark Chamley returned to his Hood River home this week after finishing 117th in the Bear 100. For many running events, 117th place wouldn't be much to brag about, but simply finishing this 100-mile, high-altitude ultra-marathon is a feat in itself, made even more impressive by the fact that Chamley is 60 years old.
The Bear 100 is an off-road race from Logan, Utah, to Bear Lake, Idaho. An elevation profile of the course looks like a Richter scale as runners encountered 10 peaks over 8,000 feet on their journey northeast through the heart of the Wasatch Mountain Range. Chamley, a sales associate and running specialist at Shortt Supply in downtown Hood River, completed the run in just under 33 hours to finish in the middle of the pack of 300 registered entrants.
"I wasn't the oldest guy there, but certainly not one of the young ones either," said Chamley, who was back at work Tuesday morning to the admiration of his employers and coworkers. "We started at about six in the morning Sunday, ran all day and through the night and finished at about three the next afternoon. As far as ultras go, this one was pretty tough. There was 22,000 feet of climbing and 21,000 feet of decent."
Chamley said this was the fourth 100-mile event he has completed and about his 75th ultra-marathon (50K or longer) since he started the sport 30 years ago. The course was mostly single-track trail, with about a third of it on jeep trails.
"It was a lot colder than most of us expected — in the low 20s at night and maybe the mid-40s during the day," he said. "There were aid stations about every six to nine miles with water, food and warming fires. It was a challenge to get up, leave the fire and get back out in the dark, cold forest to start running again."
He said about 20 miles of the course was covered in a dusting of fresh snow. Runners used headlamps through the night and Chamley ran with a light pack carrying water and a few essentials.
"It's a really cool experience and a great challenge," he answered when asked what he was thinking about for 32 hours straight. "It's a personal journey to get from point A to point B. You spend a lot of time just maintaining yourself — paying attention to how you feel, what you eat and drink and making sure you aren't running too fast or too slow. And you talk with other runners when they're around. You're never running so fast that you're out of breath; you can't maintain a pace like that for 100 miles."
Results from this year's event weren't available as of press time Friday morning, but last year's winner finished the same course in just under 21 hours. For Chamley, the only time that really mattered was making the 36-hour mark, when he would have been pulled from the course if he hadn't finished by then.
"I didn't care about time; I let the young guys worry about that," he said. "I'm just pleased about still being able to get it done. It feels pretty good to finish in the middle of the pack considering I'm 60 years old."
As a trail running and shoe expert at Shortt Supply, Chamley knows the importance of the right gear for such a long event. He had two pairs of shoes for the run; he started with a pair of Salomons and switched to a pair of Hoka's at an aid station about halfway.
"You could leave drop bags at aid stations with items you wanted and I left a change of shoes at one," he explained. "You also want to change your socks at least once in a 100-miler. This time it was pretty smooth for me. I didn't get a single blister and had no chafing."
As any runner will attest, chafing around the armpits, nipples and crotch areas can be an aggravating and painful consequence of logging long miles over rough terrain. To combat it, Chamley used a spray-on product called Silk Skin, which he said was a "life saver."
After training in earnest for about the last six months, Chamley says he's going to take the winter off from serious running.
"I'll take the winter off from running, do some winter sports and just chill," he said. "It's too hard to maintain that level of running fitness 12 months out of the year. I told my wife maybe I'll start fly fishing."