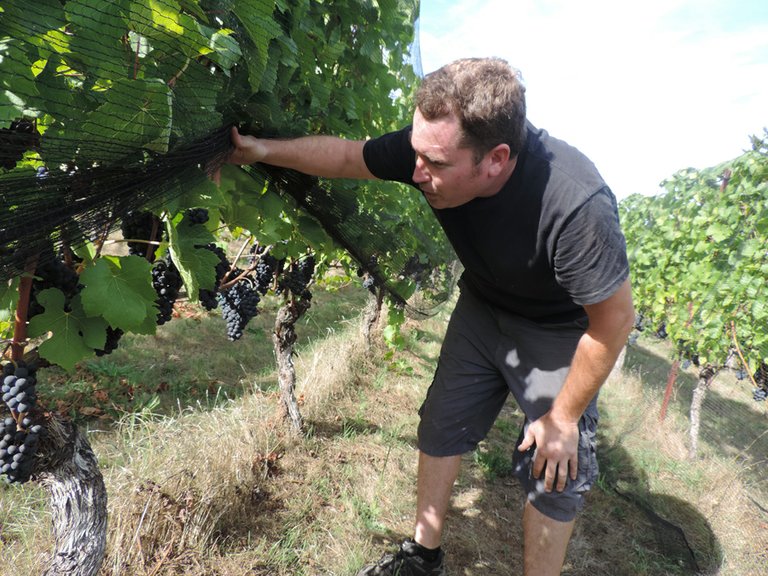 Saturday, October 5, 2013
"I make wine in the oldest house in town, down in the old mortuary," said Garrit Stoltz, a 1998 graduate of Hood River Valley High School who has charted a global path to where he is now, crafting unique wines, one barrel at a time.
Stoltz studied and later taught in China, worked on water projects in Palestine, and got his viniculture start at a winery in South Africa, then coming to work at Pheasant Valley in Hood River. The family started Stoltz Winery in 2008.
Stoltz is one of dozens of very busy men and women in the Gorge who make wine for a living. Like every vintner, he has his own way of looking at his art.
"I pretty much never do it the same way twice ... I am always looking for the perfect way," he said. Stoltz makes the wine and with his father, John Stoltz, runs a tasting room (open weekends) in "the old mortuary" at Sixth and State.
Stoltz strives for perfection and, to some minds, he has at a young age achieved "influential." He is one of five Oregon winemakers to make the list of "100 Most Influential U.S. Winemakers," a ranking by wine author Michael Cervin issued each August.
This is what Cervin wrote about Stoltz:
"Garrit Soltz makes wine in an old funeral home ... Stoltz vineyards is a winery and negociant in downtown Hood River, overlooking the Columbia River Gorge and producing single barrel lots of Pinot Noir and Chardonnay.
"To push the envelope and to create and influence his consumers they also produce exclusive blends and unique varietal wined such as Fernao Pieres and Zweigelt, and the public cannot get enough of these unusual, small lot wines from an unusual place."
Stoltz said, "People seem to like my ideas and in the tasting room they like my product. I didn't set out to influence people per se. I think this is the old world way to do it; the most gentle way to do it: no pumps, no stainless, nothing too crazy for the wine. It's all very gentle, but wine generally is a big production game.
"Per liter I'm putting in more labor per bottle in the valley. It'd be nice if I was getting more money per bottle, but we're (keeping it at) market rate, or whatever.
"A barrel at a time is what I focus on, and I think that lets me get really intimate; living in the winery and producing only a barrel at a time, bottling it when I'm ready for that one barrel to be bottled. It's different from what other people are doing.
"I can pull a barrel off the juice or any place in the harvest. I can just choose the best clones and different varietals and different sites, and put them into oak barrels. There are no pumps in my winery, nor steel vessels; it's all hand-bottled through gas displacement, (which involves) pushing the gas through the barrel and pushing liquid out the bottom.
"I don't even use electricity. It's very labor-intensive."
He said he has seen a slight increase in business that he believes is in part due to the "100 Most" listing.
"That's what I'm looking for ... it has picked up a bit, keeps gaining momentum."
Stoltz said, "It's a tight market, lots of new wineries popping up. Hopefully it'll get the higher-end people wanting to try the unique stuff."
He crushes red grapes at Pheasant Valley, with vintner Scott Acree, and whites at White Salmon Vineyard, with vintner Peter Brehm.
In addition to the Pinot and Primativo red varieties, there is the Stoltz's signature Zweigelt, which is now new in barrel as of September. Stoltz first used grapes from in Washington and now grows Zweigelt in the family vineyard in Parkdale, grafted to Sangiovese vines.
The whites include three barrel-fermented varieties of Chardonnay.
"My whites you almost drink like a red, at nearly room temperature," Stoltz said. "I keep it in barrels, and it's one of most labor intensive wines ... but worth it.