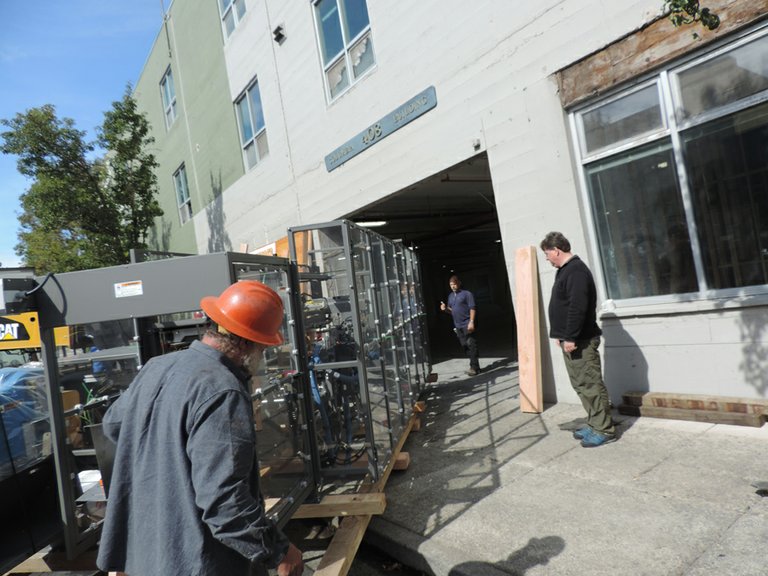 Wednesday, October 9, 2013
Call the east end of Columbia Street, at Fourth Street, "brewer's corner."
Full Sail Brewery's expansion is quietly taking form as the county's largest maker of beer expands into the former Dakine Building, nearly doubling the size of Full Sail's operation.
Called "The Session Building" in honor of Full Sail's signature ale, the 47,000-square-foot expansion includes a new office entrance and outdoor event space located across the street from Double Mountain Brewery.
With "Progress Report," we introduce an occasional series about significant capital projects that are either complete or in the works.
The Full Sail expansion is scheduled for completion in December, according to brewmaster and project manager Jim Kelter.
The Full Sail project will move the employee-owned brewery operations literally under one roof. It will give the company greater flexibility in manufacture and packaging. Full Sail will have a warehouse that provides space to store empty bottles in bulk and paper containers for use whenever they are needed, and a "box room," where newly installed equipment will allow Full Sail to erect packaging in-house.
It comes down to cohesive space and new equipment that will provide a lot more efficient way of getting the beer-filled glass into the paper and out onto the trucks.
"The overall timeline, if everything goes okay, is that we hope to start commissioning by the end of October, and hope to have it all on-line by the end of the year," Kelter said.
Viewed from overhead, the completed Full Sail complex will resemble the long triangle of a pilsner beer glass: the pub on the west end is the wide top, with the structure tapering through the brewing, bottling and packaging areas to the narrow base where the expansion is happening at the east end of the building. There, it meets the circular Cannery Park, a public space that will abut Full Sail's new outdoor garden.
Just adjacent will be the new Full Sail office entrance, at 506 Columbia. It's the portion of the historic building occupied until last year by Dakine.
No physical changes are happening at the brew pub end of the facility, 506 Columbia.
By the end of October the office staff is planning to move into the third floor, which will have some of the best views in town. With the north wall running at a diagonal, "it picks up great light in the morning," said Kelter. The windows look down on where Full Sail has been storing beer for five years, in the Port's Expo Center building. Contractor Tim Mencer calls it "a wall of glass."
Also look for plenty of glass on the south side, at street level.
"It should be quite a show for people walking down Columbia Street, where there are windows to see the bottling end of things; and down in the building next door, they'll be able to see all the assembly of cases going on," Kelter said.
Kelter said construction priority now is on the first floor, the majority of which is the box shop, where the assembly of carriers and cartons takes place.
"We have the ability to grow as our business grows, and the bulk glass operation provides us more flexibility than we've ever had, for planning," Kelter said. "We will have more of our materials in-house, and set them up as needed.
"It makes you a bit more agile; you can react to changes in the market place, in case we need more say, Amber, than you had planned on, you have that ability to adjust.
"As opposed to right now our operations manager, Mac Lee, has to think forward, and he works with the glass manufacturer and they have to look at manufacturing so many cases of Amber, and that becomes a bit of a challenge. This makes us that much more agile in response to market demands.
"We anticipate some savings there, and just from an operations standpoint you're not relying on your supplier as much. You gain more control," Kelter said. "What this requires is a substantial amount of warehouse space to store all this.
"We've owned this building five years, and been a landlord all that time, and prior to that we were a tenant in the warehouse space below, and a renter at the Expo Center, and for us this is an investment in our business and we're excited about it," he said.
Full Sail warehouse and offices will move from Expo Center onto the third floor of The Session Building. There, Mencer Construction doubled the 6-foot windows as part of a project that is a classic example of building reuse.
The shell of the former Dakine is being expanded and buttressed for a new industrial purpose. About 60 percent of the material taken out during reconstruction will be reused, including 100 percent of the metal. Fixtures and window frames were taken to Gorge Rebuild-It Center, and a rafting company took all of the carpeting.
"We went to a lot of trouble to recycle everything we can," said Darryl Ketch of Ketch Construction. "Even things that don't have a resellable value, we put online for free, including doors and windows." All that got tossed were chunks of sheet rock "or dust we swept up," Ketch said.
The angular structure of the building provided a slight extra challenge, according to Mencer. Ketch said his company did the roof and then he consulted with Mencer, "and we figured management-wise it would be a big project, let's gang up on this and do it together."
The contractors have emphasized local subcontractors, including Devco Plumbing, Gorge Electric, and local laborers.
"It makes it a little more time-consuming tying things in because the lengths varied a little, but the barrel vault (roof beams) was complicated, tying in new framing. Otherwise, it was a typical restoration, you deal with that. The biggest challenge was the weight of some of the steel and getting it up to the third floor. It's been a fun project."