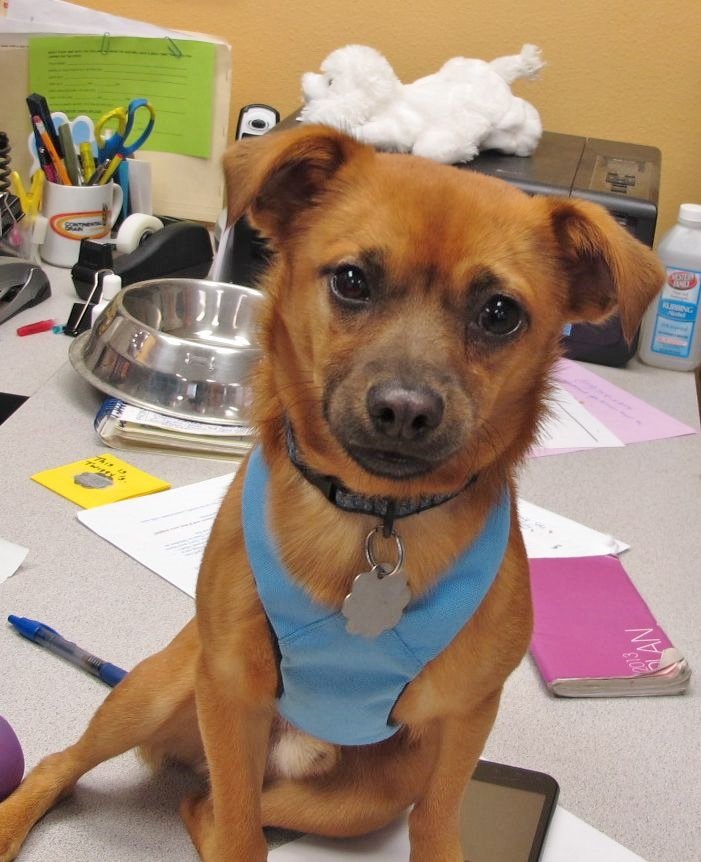 Wednesday, October 9, 2013
This week volunteers at Adopt A Dog have selected Lewis as the program's adoptable pet of the week. They describe him as follows:
"Lewis is about 2 years old, maybe 10 pounds, and definitely a playful, happy dude! He's probably a a Chugoxie (Chi-pug-doxie mix), but who really knows for sure? And he's so cute and personable, no one really cares!
"Lewis loves to play tag with the other dogs, and generally just run around and find things to do. He is still such a puppy and likes to chew, but we think that's just an excuse to get more toys and he's learned which things are 'toys' and which are 'mom's shoes,' so everyone in the foster home is happier!
"Lewis is very smart, too — he has already learned how to use a doggie door — and is housetrained. He's great on leashed walks, and enjoys long hikes wherever you want to go. He's got a lot of energy, so exercise is important to this little fella; but he's little, so nothing too strenuous. A good walk every day keeps him smiling.
"Lewis is fine with cats — OK, let's change that: Lewis is afraid of cats and won't bother them — and barnyard pets are scary, too! But other dogs and kids are A-OK. Lewis is a cuddler, and never misses an opportunity for a belly rub, either."
Lewis is current on shots, microchipped and neutered. His adoption fee is $165; cash or check only, please. The fee to adopt is charged to recoup standard veterinary expenses.
Since many of AAD's dogs are in foster care, please call ahead to meet Lewis at the Hukari Animal Shelter, 3910 Heron Drive, Odell; 541-354-1083. Adoption hours are Wednesdays from 5-7 p.m. and Saturdays from 9-11 a.m.
Applications may be downloaded at www.hood-riveradoptadog.org and faxed to 877-833-7166.
The Adopt A Dog program offers 24PetWatch microchips, which include free registration into the 24PetWatch pet recovery service. (For more information visit www.24pet-watch.com or call 866-597-2424.)