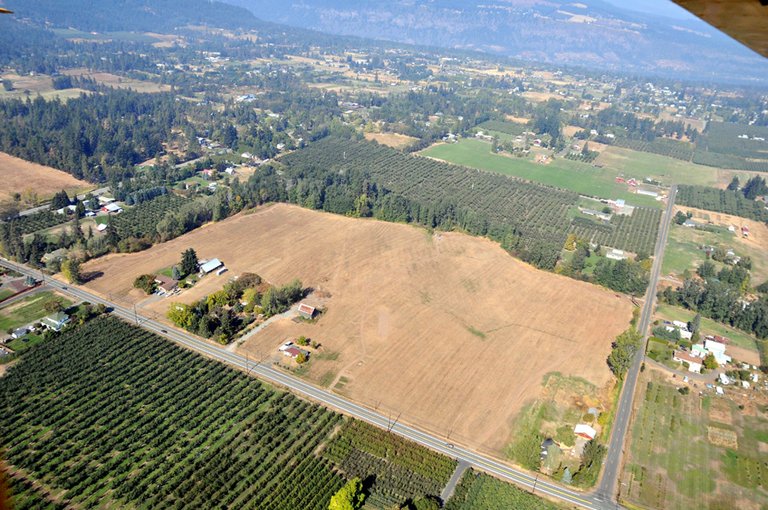 Saturday, October 12, 2013
The fate of Barrett Park now lies in the hands of the Hood River County Board of Commissioners after the Hood River County Planning Commission failed to make a decision on the park during a public remand hearing Wednesday night.
After nearly four hours of listening to staff reports, public testimony, and arguments from legal counsel representing both appellant and applicant, planning commissioners deadlocked in a 3-2 vote to approve the conditional use permit needed to develop Barrett Park. According to Will Carey, county counsel, a four-vote majority is required for a decision to be rendered.
Two commissioners, Peter Frothingham and Erick von Lubken, recused themselves from the hearing due to conflicts of interest, which contributed to the deadlock. Erick von Lubken explained he was related to one of the parties involved in the hearing, and Frothingham removed himself over a public letter he wrote years ago that he said took a negative stance towards the park.
Due to the remaining planning commissioners' collective inability to arrive at a decision, the denouement of the Barrett Park saga will likely be written by the board of county commissioners, who are now tasked with making a final decision on the park slated for development on the west side of town.
The remand hearing represents the latest installment in a series of public meetings and appeal hearings that have been held regarding Barrett Park over the past year and a half.
Hood River Valley Parks and Recreation District originally purchased the Barrett Park land — a 31.4-acre parcel of high-value farmland located near the corner of Alameda Road and Barrett Drive — back in 2007 with the intent of creating developed ball fields on what was previously a fruit orchard.
It wasn't until May of 2012, however, that the planning commission approved the conditional use permit needed to develop the park — albeit with the stipulation that formal ball fields could not be constructed there. The vote was a narrow one, 4-3, made by a planning commission that at the time did not include current commissioners Erick von Lubken or Jennifer Euwer.
Local orchardist Fritz von Lubken appealed the decision to the county board of commissioners, claiming that the construction of the park would unjustly take valuable fruit-growing land from farmers. Von Lubken lives less than five minutes from Barrett Park on Indian Creek Road and also owns 60 acres of orchard land along Indian Creek Road and Brookside Drive.
In early August 2012, county commissioners decided 4-1 in a preliminary vote to overturn the planning commission's decision to award the conditional use permit to HRVPRD. Then, HRVPRD appealed the board of commissioners' decision to the state's Land Use Board of Appeals in September 2012, fearing the loss of hundreds of thousands of dollars in grant money if the park's conditional use permit was not approved. LUBA issued a judgment in May 2013 and found the board of commissioners made several procedural errors during the appeal hearing in August 2012 and remanded the decision to the county, with the option that it could be remanded to the planning commission.
Per the LUBA remand, testimony during the Wednesday night hearing was limited only to whether or not the implementation of the park would force a significant change or would significantly increase the cost of accepted farm or forest practices on surrounding lands devoted to farm or forest use.
The board room of the Hood River County Business Administration Building was standing-room only as about 60 people showed up to hear, and in some cases, give testimony on whether or not the development of Barrett Park would have a significant impact on farming practices on surrounding lands.
Despite the hearing's limited subject matter, members of the audience had little trouble coming up with appropriate testimony, and for the most part, didn't drift into other matters concerning Barrett Park that were beyond the scope of the hearing.
After Planning Commission Chair Bob Schuppe laid out how the meeting would be structured, Principal Planner Eric Walker presented the Hood River County Planning Department's staff report, which recommended the park's conditional use permit be approved, again, finding that there would not be significant impacts to surrounding park practices. However, Walker did note that the staff report was largely based off an impact analysis and a traffic impact study provided by the applicant, HRVPRD, as the planning department initially had not received materials from the appellant, von Lubken, by the time the staff report was sent out.
Seth King, legal counsel for HRVPRD, was given the opportunity to speak first on behalf of his client. King reiterated much of what was in the staff report and cited the impact studies commissioned by HRVPRD, which downplayed the concerns raised by von Lubken, such as trespassing on farm properties by park visitors, harassment of livestock, pesticide spray from nearby orchards drifting onto park property, and increased vehicle traffic caused by park users, which could slow down fruit shipments.
"It's our stance that the testimony from opponents about potential significant impacts to their farm and forest practices is primarily speculative in nature and not rising to the level of significance and it's not supported by substantial evidence," King stated during his opening arguments.
Several people in the audience testified in favor of the park, many of whom also believed the development of Barrett Park was no cause for alarm.
Todd Sorensen, a Sherman Avenue resident who plays ultimate Frisbee, cited a number of schools in the Hood River Valley that have playfields adjacent to orchards. He noted that as far as he knew, there hadn't been any problems between field users and fruit growers.
"So, this isn't like this is some radical, new idea — as far as, you know, having a park that abuts an orchard," he told the commission. "I mean, the entire valley is an orchard. Anything everywhere is abutting an orchard. So, to try to single out Barrett Park in this regard as far as its impact against, you know, the orchards that are surrounding it, is frankly, kind of silly, you know, when you consider how many other locations there are already."
Bill Mellow, who identified himself as a farmer living on Riverdale Road, focused on the concern raised in regards to trespassing. As a farm owner, he noted that he has never been aware of anyone trespassing on his land and argued the potential for such a crime to occur at Barrett Park was "insignificant."
"The possibility of trespass on any of the orchard land in that area just seems to be completely remote and very unlikely," he said.
Additionally, Mellow believed there also would not be rampant "harassment of animals" by park users, particularly because he said he was "not aware of animals in that area."
For the opposition, von Lubken's attorney, Carrie Richter, spoke first, and began her argument by discrediting the applicant's study, accusing it of ignoring impacts to farming operations outside of its focus area, which was a quarter-mile radius around the park site. She noted von Lubken already "must largely shut down" most orchard operations when teenagers are travelling to and from the high school on Indian Creek Road, due to spraying or the need to use county roads to reach his orchard blocks.
Richter said the high school traffic already "represents a significant change in the von Lubken farming operation and significantly increases the costs" and that people using Indian Creek Road to get to the park would make matters worse.
"Most importantly, this is not about Mr. von Lubken adjusting his schedule to accommodate a park," Richter explained. "If Mr. von Lubken has to significantly change his farming operations or increase his costs, this cannot be approved."
During members of the public who testified against the park included, Reed Road resident Heather Staten, who found fault with the traffic study commissioned by HRVPRD, calling its estimates of potential park user traffic "implausibly low." She claimed the study indicated only three car trips by Barrett Park users would occur during weekday peak-use hours and noted a car count undertaken during afterschool hours at the Westside Elementary playfields yielded significantly higher numbers.
"I can tell you, from four to five in the afternoon, it's not just going to be three (cars)," she told commissioners. "It's a severe underestimate of the traffic the park is going to generate."
Mike McCarthy, a Parkdale farmer, testified that his wife worked at the Hood River County School District for 18 years and said there had been "numerous times there were incidents at the school where there were problems with farm practices and there were times kids were kept in from recess because of farm practices."
Von Lubken also took the opportunity to testify. He explained that having to change the time of day or time of year he sprays will cause markings on the fruit and in turn, cause a downgrade of the product from "extra fancy to fancy," which he said already costs him "$5,000 to $10,000 per year."
After the testimony, and after King and Richter were each given 15 minutes for rebuttal, it came time for commissioners to deliberate on the issue.
Euwer went first and said she wasn't sure about the level of use Barrett Park would see, but believed von Lubken's concerns were warranted. Identifying herself as a farmer, Euwer said she understood "what these impacts mean more personally than the people who aren't farming," and added that the potential "cumulative" effects caused by Barrett Park would be significant.
Kathie Alley said she could "see both sides" and understood the regulations orchardists face, to make sure their products were up to snuff, but still didn't feel the potential impacts were great enough to warrant a "no" vote on the park.
"The impact is there; we know there'll be an impact, but our decision making was, 'was it going to be a significant impact?" she said. "And that's what makes it hard to decide: is the impact significant?"
John Brennan was less ambivalent about the park's impact, and thought fears over traffic increases near the von Lubken residence were dubious at best.
"People coming from the west side of town are going to take Alameda; it's the most direct route," he noted. "People from the Heights and the east side of town are going to come right out Tucker Road and through Windmaster Corner and I don't think there's going to be any increase of traffic in the neighborhood of the von Lubkens."
Commissioner Stanley Benson characterized much of the testimony in opposition of the park as "speculation" and said he didn't think that "Chicken Little should be held up as the way to decide things."
Chair Bob Schuppe also viewed a majority of the evening's testimony as speculative, but from a different angle than Benson.
"We've heard an awful lot of speculation and in my mind, there has only been one set of testimony based on actuals," he said, "and that's the guy's farm that's lived through this with existing traffic, trespassing and the things I just named. I think those carry significant weight with me."
Brennan made a motion to approve the staff findings and that "the approval of this park will not significantly affect farming practices or costs on surrounding lands." Benson, Brennan, and Alley voted in favor of the motion while Euwer and Schuppe voted against it. Schuppe then made a motion that was the inverse of Brennan's, which resulted in Benson, Brennan and Alley voting against the issue, while Schuppe and Euwer voted for it.
With both motions failing due to a lack of a four-vote majority, the planning commission turned to Carey for advice. Carey said the decision would now be kicked back to the county commissioners, who are required by state law to vote on the decision by Dec. 16. However, he wasn't sure how county commissioners would deliberate on the issue, saying the board could either decide to have another hearing or simply take whatever testimony was given at the planning commission remand hearing and make their decision based on that testimony.
"This is plowing a little bit new ground for Hood River here," he said.