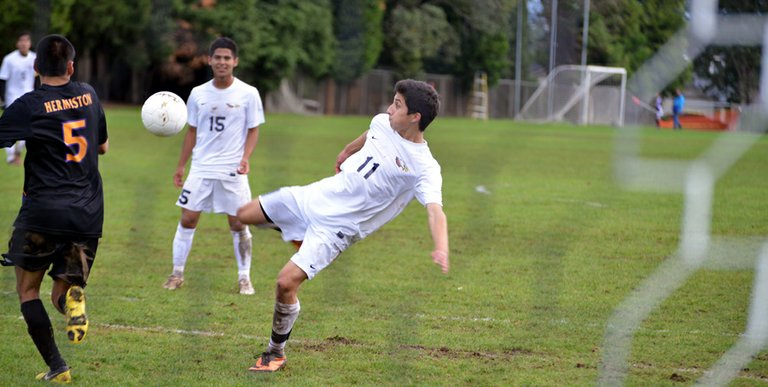 Saturday, October 12, 2013
In its second 7-0 blowout in a row, the Hood River Valley High School varsity boys soccer team showed no mercy Tuesday afternoon in a home match against the Hermiston Bulldogs. On the road, the same day, the varsity girls team played to a shutout win of its own, albeit by a narrow 1-0 margin. The results put the boys team (8-1-1 overall) as the Columbia River Conference's clear leaders with a 5A No. 5 ranking, while the girls (4-4-1, 5A No. 21 ) are in a fight for the conference's lead role after a 0-0 tie last week against Pendleton.
Both teams face The Dalles on Tuesday — the girls at home and the boys away — before taking one more shot at each of their three CRC rivals to conclude the regular season.
In this week's action, senior midfielder Joel Aberg and junior forward Alex Gutierrez split player-of-the-game honors with four assists and one goal for Aberg and a hat trick (three goals) for Gutierrez. After an exciting first-minute goal, the Eagles were fruitless in scoring for the rest of the half despite a relentless offensive presence. They blew the game open quickly in the second, however, with six more goals. Fabian Munoz, Luis Perez and Jaime Frias each scored once to add to the excitement.
Meanwhile on the road, the HRV girls didn't have quite the breathing room in their 1-0 win over the 1-5-1 Bulldogs. After an period of adjustment to get the feel for Hermiston's turf field, the girls settled into a rhythm and created several scoring opportunities. As a developing theme in the previous three games — all scoreless for HRV — the girls created plenty of scoring opportunities but were unable to finish.
Freshman Cielo Rivera, moved to forward for the game, scored off a diagonal feed by senior captain Miga McCurdy. Rivera took the pass, schooled a Hermiston defender and found the back of the net from about 20 yards off.
Although a positive result, not capitalizing on wide-open opportunities is something the team will have to fix as it faces the crucial stretch of the regular season. The girls host TDW on Tuesday and Hermiston Oct. 24 (both 4 p.m. at Westside) and are on the road Oct. 17 at Pendleton and Oct. 29 at The Dalles for the last game before playoffs.