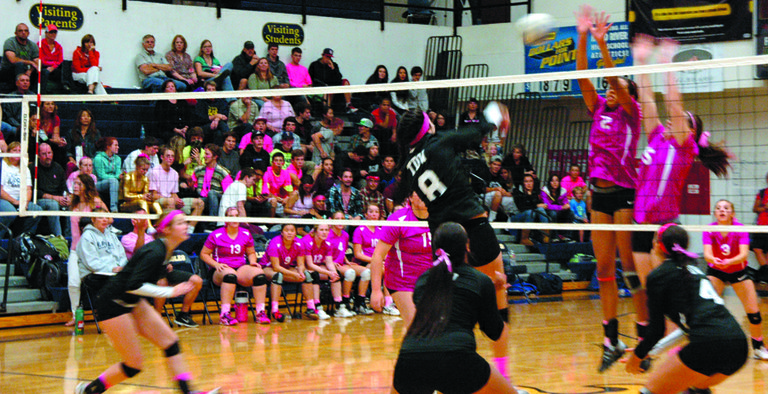 Saturday, October 12, 2013
The Hood River Valley High volleyball team regained some momentum just in time for the home stretch of its Columbia River Conference schedule with an exciting home win in four sets (24-26, 25-21, 25-14, 25-19) at home Wednesday over The Dalles-Wahtonka Eagle Indians.
The Eagles (3-3 CRC, 4-11 overall) overcame a rough start in the rivalry after the Eagle Indians (0-6, 1-11 overall) claimed the early edge with a 26-24 first-set victory.
CRC Standings
(As of Oct. 11)
Pendleton: 5-1 league, ranked 5A No. 18
Hermiston: 4-2 league, ranked 5A No. 23
HRV: 3-3 league, ranked 5A No. 31
The Dalles: 0-6 league, ranked 5A No. 38
The Eagles, guided by eighth-year coach Scott Walker, took control of the match by winning the next three sets to pull out their first home win this year. HRV is hoping its momentum will continue as it faces the league-leading Pendleton Buckaroos (5-1, 5-6) at 6:30 p.m. Oct. 15 in its final home game of the season, which is also Senior Night.
"We were trying to make some adjustments in the first game and then we just continued to play better as the match progressed," said Walker. "Our serving and passing was phenomenal and we had 17 service aces. We won because we did so well in those two aspects of the game and it was just a great team effort."
In the second set, HRV moved out to a 9-4 advantage, led by junior Jestena Mattson (eight kills), who served several points to help provide the Eagles with the lead. A service ace by senior Alyssa Rangel gave HRV a 15-9 lead, forcing a TDW timeout.
The teams then continued trading points until HRV was up 20-14. A 7-2 TDW run trimmed the margin to 22-21. Junior Jessie Karr tipped a ball to the floor and then an unreturned serve by Rangel gave HRV set point at 24-21. A TDW hitting error lifted the Eagles to victory, as well as Rangel's solid play at the service stripe as she served the final two points at the conclusion of the game.
The third set was tied four times, with the final deadlock at 5-5. An 11-4 Eagle run, highlighted by a kill by Tabitha Merten (team-high 14 kills) and an ace by senior Kayla Byers (team-high 25 assists, five aces), extended HRV's lead to 16-9. The Eagles took a double digit lead at 21-11 on an ace by junior JoJo Karr. After trading a few points, Merten's kill gave HRV set point at 24-14. An unreturned Merten serve included a TDW hitting error as a ball went out of bounds at the sideline at the end to seal the Eagle win.
"Jenny Packer (three aces) and Byers both did a good job serving and that was a big reason we won," said Walker. "I thought Tabitha played a great game, too. Tabitha and Jestena were hitting strong and it was just amazing to see how well they pounded the ball to the floor. Kayla was putting up lots of good balls and we were just hitting hard at the net, which is the way we want to play."
TDW faced a must-win Game 4 and fought back in the final contest, which included three lead changes and six ties, with the final one at 11-11. Packer's solid serving at the line helped HRV go on a 6-0 run to build a 17-11 lead. Packer served six consecutive points at the stripe to lead the Eagle offense.
TDW sliced the margin in half at 19-16, and after trading a point it was a three-point game at 20-17. Then TDW fell apart with three consecutive hitting errors as HRV took a 23-17 lead. Merten's hit to the floor gave HRV set point at 24-19. Byers served the final point and TDW hit a ball out over the end line to give the Eagles a 3-1 match win.
For HRV, the final three games are crucial. If the girls can win its last three matches and finish with a 6-3 league mark, then it has a good chance to earn an OSAA Play-in round spot following the conclusion of the regular season.
Following Tuesday's match against Pendleton, HRV concludes the season with back-to-back road games — at the Hermiston Bulldogs (4-2, 5-7 overall) Oct. 17, followed by the regular season finale Oct. 22 at TDW. The Eagles won 3-2 on Sept. 24 at Hermiston, which indicates that they'll have a chance to possibly duplicate that victory.
Earlier this season (Sept. 19, Oct. 3), HRV lost twice by 3-0 scores to Pendleton. The Eagles had close losses in two of the three sets though and had a chance to win, but they were just unable to finish well.
"Both games could've easily been a different outcome if we had just finished stronger at the end," said Walker. "Since it will be Senior Night, it's going to be lots of fun. I'm sure the girls will be playing with a high energy level and maybe we'll be able to go out with a bang."
HRV is hosting a six-team tournament Saturday with Stevenson, Rex Putnam, Klickitat, Parkrose and Columbia high schools.