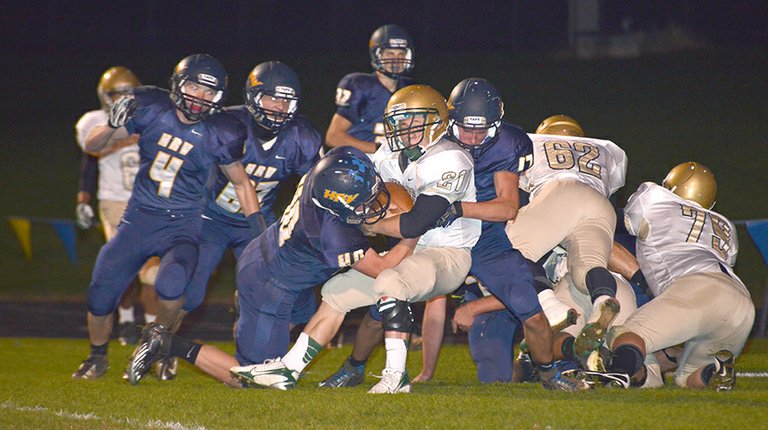 Wednesday, October 16, 2013
In their final home football game of the season Friday night, the Hood River Valley Eagles put on a high-energy show against the Pendleton Buckaroos. On senior night, HRV's 13 eldest players had hopes of upsetting the 6-1 Buckaroos for the last performance in front of a home crowd at Henderson Community Stadium. The visiting team used size and speed to its advantage, though, to finish with a 48-28 win over the Eagles, who go on the road this Friday to Hermiston and next week to The Dalles for the final game of the regular season.
Although another loss to their season tally, HRV (0-1 CRC, 1-6 overall) played with grit and determination and put on a good show for their fans, despite being outsized and having senior starters Alix Jimenez and Trevin Franks out due to injury.
The No. 15-ranked Buckaroos took the initial edge, going up 7-0 early in the first quarter. Pendleton threatened to extend the margin near the end of the quarter, but senior defensive back/receiver Wyatt Webber intercepted a pass thrown by Buck quarterback Chad McCoy deep in Eagle territory inside the red zone.
Webber's solid defensive play helped deny a scoring opportunity and limited the Bucks offense as it remained 7-0 after one quarter. As he has done all season, Webber proved to be a thorn in the side for Pendleton, as he again demonstrated why he's the Eagles' top offensive scoring weapon.
Early in the second, junior quarterback Riley Van Hoose (19-for-33 passing, 270 yards, three TDs) connected with Webber (four receptions, 133 yards, three TDs) on a 34-yard touchdown throw. Senior placekicker Martin Lanthaler kicked the point after TD, knotting it 7-7 with 10:07 left in the quarter.
The Bucks responded though, going ahead 14-7 with 7:40 left until halftime. On its ensuing possession, the Eagles' offense stalled and they were forced to punt after going three downs and out. Pendleton then took over possession and proceeded on another scoring drive to take a 21-7 advantage with 3:05 on the clock.
Both teams committed turnovers in the last few minutes of the half, which included an Eagle fumble that was recovered by Pendleton at the Bucks' 9-yard line. It was a costly mistake, but the Eagles reclaimed some momentum with 24 seconds remaining in the half as sophomore defensive back Kellan Duffy made a big defensive play to intercept a McCoy pass at HRV's 13-yard line. The play kept the score to 21-7 at the half.
The Eagle offense had trouble getting untracked in the third and was unable to move the ball on its opening possession of the second half. After senior Adam McCaw punted, the Bucks went on a scoring drive to increase their lead to 28-7 with 9:47 on the clock.
"It was kind of sad because this was the last home game for the seniors," said McCaw. "We won't have a chance to step out onto the field again and play another game to try and get a win here, so that's rather disappointing. Hopefully, next year's group of seniors will step up and help the team have a better season. I actually feel that if they continue to improve as much as they have this year, then they'll probably have a fantastic team next season."
McCaw, Webber, Lanthaler, Franks, Jimenez, Wyatt Vallejo, Jeremy Fischer, Alonzo Munoz, Andres Munoz, Andros Pereira, Jackson Hukari and Sebastian Lynch were honored prior to the game in the Senior Night ceremony.
Pendleton was able to control the line of scrimmage effectively utilizing a size advantage that included four big offensive linemen. Cole Carey (210 pounds), Tanner Carey (215) Travis Baltzor (270) and PJ Schubert (290) were able to help create room for the Bucks' passing attack and give plenty of time in the pocket for McCoy (31-for-41 passing, 442 yards) to throw to receivers.
To their credit, the Eagles fought hard against the odds, improving the margin to 28-14 with 8:20 left in the third off a a six-play, 53-yard scoring drive capped by a Van Hoose 8-yard TD throw to Webber and another Lanthaler PAT.
The Bucks then took control of the game by scoring late in the third for a 35-14 lead and then extended it to 42-14 early in the fourth.
Following Pendleton's kickoff and an 18-yard return by Fischer, the Eagles gained possession at their own 35-yard line. Van Hoose and sophomore quarterback Dallas Buckley then helped engineer a six-play, 65-yard scoring drive. Van Hoose went to the sideline and missed two plays after getting shook up when he was tackled hard by Buck linemen.
Buckley took over at quarterback and threw an 8 yard pass to McCaw before Van Hoose returned to action. A deep pass to Fischer put the Eagles 4 yards from the end zone and, on the next play, Fischer capped the drive with a 4-yard TD scramble. Lanthaler's kick made it 42-21.
On the Bucks next series, HRV displayed tough defense, including a sack of McCoy by Eagle junior linebacker Patrick Crompton that helped force a Pendleton punt. The Eagles took over possession at their own 9 after a good Pendleton kick. A costly fumble was recovered by the Bucks at HRV's 10 and they quickly capitalized on that field position with another TD, increasing the lead to 48-21 with six minutes left in the game.
The Eagles responded quickly and on their ensuing possession as Van Hoose connected with Webber on a 77-yard TD play. Webber caught a pass over the middle and cut to his left side to maneuver past defenders and then sprinted down the sideline for an impressive run into the endzone. Lanthaler kicked the PAT that made it 48-28 for the final score. .
The Eagles will now conclude the season with two road games, beginning with a 7 p.m. contest Friday against the 12th-ranked Hermiston Bulldogs (1-0 CRC, 4-3). The game will be broadcast by Mark Bailey on KIHR radio beginning with a 6:30 p.m. pregame show. Hermiston has lost two straight, including a 38-34 loss to the Southridge Suns (Kennewick) at home Oct. 11.
HRV ends the regular season with a 7 p.m., Oct. 18 road game at The Dalles-Wahtonka (0-1 CRC, 4-3).