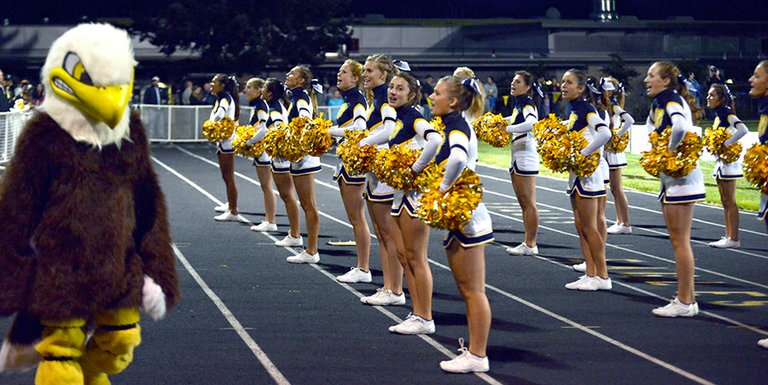 Wednesday, October 16, 2013
As stadium lights shine onto the football field for Friday night games, HRV cheerleaders are always there to pump up the crowd. But what the fans don't see are the hours of hard work each girl puts in at practice that leads to the success of the team.
The cheer squad at Hood River Valley High School has 26 cheerleaders, all between the ages of 14 and 18. Although there are many diverse personalities and ages, during practice everyone comes together as a team, ready to accomplish their goals.
Unlike most cheer teams, HRV cheerleaders have the privilege of having three coaches: Jennifer Schlosser, Janet Kawachi, and Lindsey Ewald. Kawachi has been coaching cheer at HRV for 18 years, while Schlosser started coaching with her two years later. After cheering for HRVHS and attending college at ASU, Ewald returned to HRV to coach her home team in 2011.
When most people think of cheerleading, they imagine the fall season when most sports seasons take off and football games begin. The HRV cheer team holds tryouts in April so cheer camp and practices can run throughout the summer.
Every single team dinner or event is always made exceedingly special because of the hard work put in by the coaches and parents, who are dedicated to the team. Learning respect, along with numerous other life lessons, is valued among the cheerleaders. The coaches have taught each girl how to respect their team, and their school, regardless of the situation.
"My favorite part about being a cheerleader is how the team bonds and gets along really well, and how it seems like we've all known each other forever," said Nancy Funez, a cheerleader at HRV. "I wanted to be a cheerleader when I was younger, but I never got to do the junior cheer clinic. When I got older I decided to try out, and finally made the team my junior year."
Funez also mentioned that the HRV cheer squad is unique because members don't wear their bows in front of their pony tails.
The team has an acronym called "STICKS" which goes with their motto "Sticks in a bundle won't break," which symbolizes how teamwork will make a team stronger; but if the sticks aren't together, they can easily break. Together the team has learned to trust that someone will always be there to catch you when you fall.
n
Junior Maddy Graham is a member of the cheer squad and intern with Hood River News through the Summit Career Center.