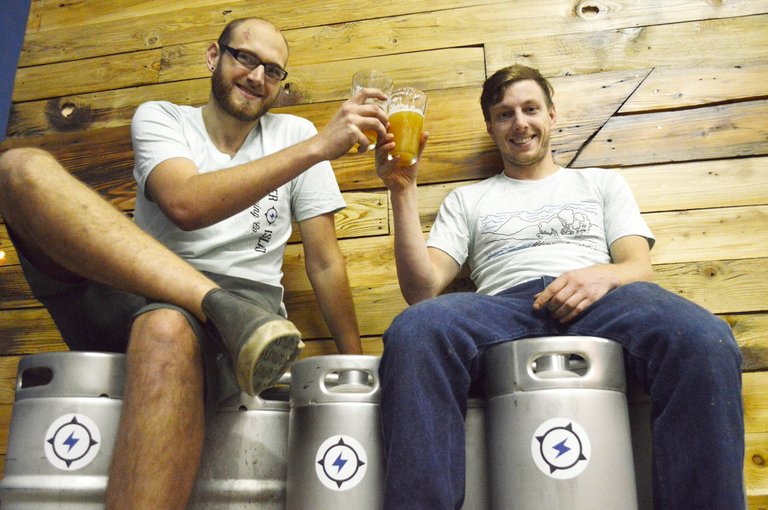 Wednesday, October 16, 2013
Hood River County's seventh brewery will preview its small-batch ales on Saturday in Cascade Locks.
Thunder Island Brewing Co., named for the scenic island just off Cascade Locks, opens its brewery and tasting room from noon to 11 p.m.
The facility is located in space rented from Port of Cascade Locks, at 515 Portage Road; to get there, enter Marine Park and take an immediate left after the trestle.
Founders Dave Lipps and Dan Hynes have spent the last few months renovating the industrial space along the Columbia River to house their brewing operation and tasting room.
"As the closest brewery to Multnomah Falls, visitors can now enjoy a locally brewed beer right here in Cascade Locks," said co-owner Lipps. "And with the Pacific Crest Trail, the Historic Columbia River Highway State Trail and the Cascade Locks International Mountain Bike Trail in our backyard, we look forward to serving beer to those exploring the area."
Thunder Island solidifies Hood River County's role as the county with the highest number of breweries per capita. It joins Logsdon of Mt. Hood, Solera of Parkdale and Big Horse, Double Mountain, and Full Sail, pFriem of Hood River.
Thunder Island Brewing Co. brews on a two-barrel system, which allows the brewery to be fully dedicated to producing quality handcrafted beers. The current offerings on tap include a pale ale, a Scotch porter, an IPA and a Kölsch. The brewery plans to offer additional seasonal and specialty beers in the future as well as increasing the number of beers available on tap.
Starting Oct. 20, beer will be available for purchase in the tasting room Thursday and Friday from 3 to 9 p.m., Saturday from noon to 10 p.m. and Sunday from noon to 8 p.m.
"From lending a hand with welding fittings to helping us paint the walls, the community here in Cascade Locks has been tremendously supportive of us," said Hynes. "We are really excited to celebrate with all of those who have been a part of this adventure so far, and we hope to see both new and familiar faces at our event."
The grand opening celebration will be hosted in the tasting room and will feature music, games, door prizes and craft beer. Pirates Fish and Chips of Hood River will be on-site offering food for purchase.
Minors are not permitted inside the tasting room; however there will be a family-friendly covered outdoor seating area and patrons 21 and over are welcome to stop inside for a tour and a beer.
For more information, visit thunderislandbrewing.com or follow Thunder Island Brewing Co on Twitter at @TIBrewing.