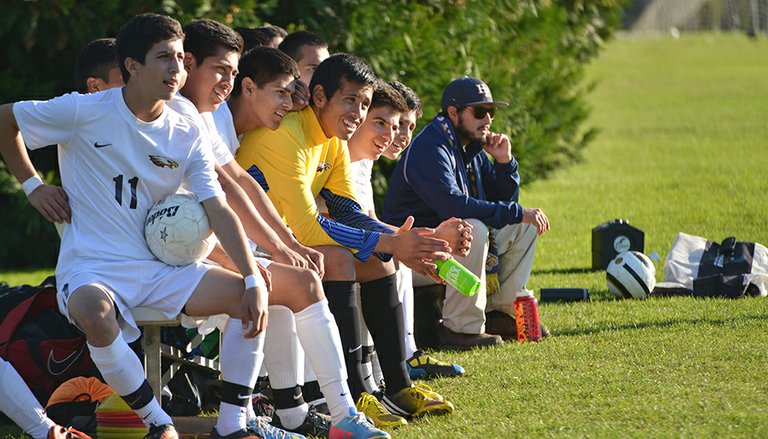 Saturday, October 19, 2013
Undefeated in league play, the Hood River Valley High School varsity boys soccer team continued its role as Columbia River Conference top dogs with commanding wins this week against The Dalles and Pendleton. The team (4-0 league, 10-1-1 overall) holds a 5A No. 5 ranking with two CRC matches remaining.
Giovanni Magana, Tuan Nguyen and Luis Perez scored Tuesday in the team's 3-0 shutout on the road vs. the Eagle Indians, while a solid defense and goalies Diego Vaca and Quique Rueda combined for the shutout.
The Eagles hosted the Pendleton Buckaroos Thursday in what would end up as a scoring clinic for the home team. Jaime Frias had a hat trick on the day, Nguyen had his second goal of the week and two assists and junior defender Oscar Munoz had his first goal of the season. Meanwhile the Eagle defense gave Pendleton zero offensive breathing room; a theme the backfield has maintained throughout the season. Pendleton's one goal, scored in the second half after coach Jaime Rivera subbed out his starting line, is the first and only scored against HRV in conference action.
"Our defenders don't always get a lot of recognition, but they have been playing very well," Rivera said after Thursday's game. "This week's wins certainly increases our confidence, but we're not taking anything for granted. We don't want any letdowns as the playoffs approach."
The No. 5 ranking puts HRV in good position for the state tournament early next month. If they win the next two games, they'll be among the top eight automatic qualifiers for the first round of the 16-team bracket.
After losing by a goal in last season's state semifinal against eventual champions, Woodburn, Rivera and the team have their sights set on revenge against Woodburn (5A No. 2) and anyone else standing in the way of the team's first state finals in school history.