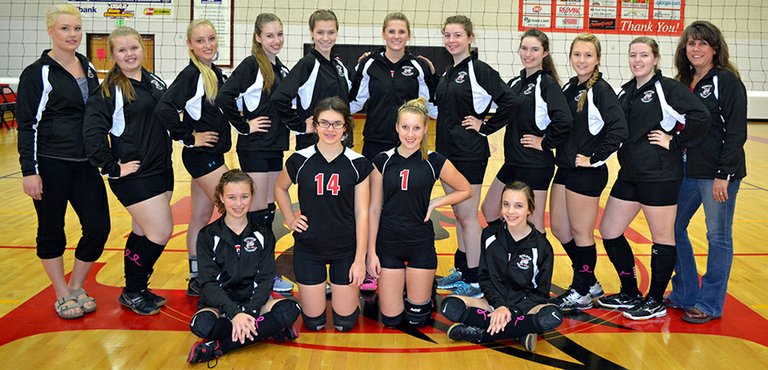 Saturday, October 19, 2013
Under different circumstances, a 0-16 record would be the sign of a pretty dismal season. For the Horizon Christian School Hawks volleyball team, though, this fall's winless season is merely the necessary cost of building the foundations of a new program.
A group of energetic and willing girls and coaches founded the Hawks' first-ever volleyball team last season. With most girls having no former volleyball experience, the team was winless, although greatly improved from start to finish. The story was similar this year, but with more players and several girls returning from last season to share their limited experience. This season the Hawks had a full team of 14 to compete in the 10-team 1A Big Sky League.
"More than half of our girls had never played before," coach Cynnamon Hawkins said this week after the team's last game Tuesday against Dufur. "So although our record shows no wins, we had a really great season when you look at how we played at the beginning to how we played at the end. We really came a long way this year, and with only two seniors we should have most of the team back next year."
Senior captain Brook Serdar echoed Hawkins' comments in her final season as a Hawk. "It was another learning year for us. I think in a couple more years once we get some experience we'll be pretty good."
Serdar started on last year's team with no former volleyball experience, and despite not winning a match in her two years with the team, she says "The experience was really a lot of fun. We were all at pretty much the same level, so nobody had to feel like we weren't good."
At such a small school, Hawkins says the introduction of the new team has had a positive effect throughout the Horizon community.
"It's great, even though most of our games weren't very exciting, and we knew what was going to happen, we had a lot of support," she said. "There were always people in the stands watching us and cheering us on. That's one of the benefits of our little school; the kids are there to support each other."