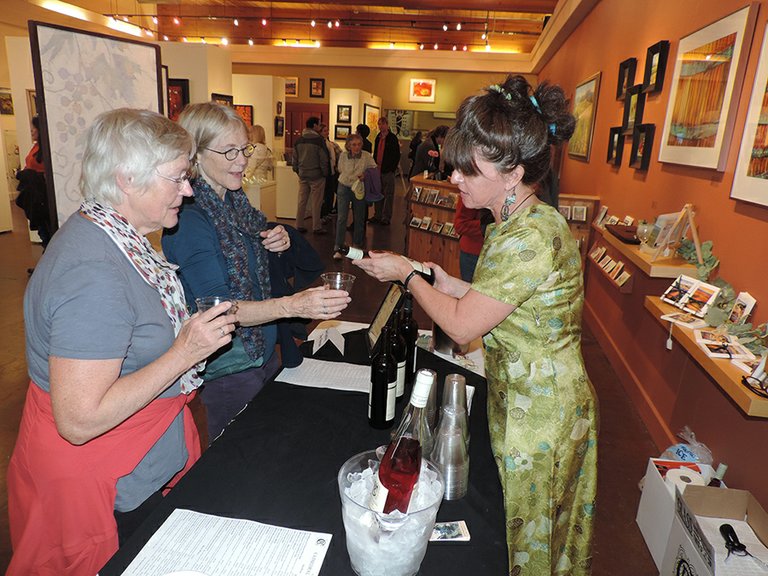 Wednesday, October 23, 2013
"The Crush" exhibit concludes this weekend with a conversation about one of the Gorge's favorite topics: wine.
Columbia Center for the Arts hosts six local wine-makers in "A Conversation: Wines of the Columbia River Gorge" on Friday about the art and science of making wine.
The 7 p.m. forum, which is free, is a joint effort of the CCA and the Columbia Gorge Winemakers Association.
The art in the gallery presents views of grapes, vineyards and bottled vintages in a variety of styles and moods, rather like the array of wines emanating from Gorge wineries.
Friday's panel discussion will connect the insights of wine makers to the artistic representations in the gallery.
"A lot of people come to a winery and don't know that much about how wine is made, or they might think, 'You just make it in the fall.' They might not know it is a year-round project," said Laurel Bushman, who co-curates the show with Sally Reichmuth.
"If we had a panel come and present, with some Q&A, people could come and ask questions and get educated about the process. We're a small region but we're growing."
Reichmuth said, "This is all about community involvement, making sure the community understands that there is an important wine industry and it is booming."
Viento and Cascade Cliffs wineries will provide samples, and sales, of their wines on Friday from 6-8 p.m. A total of 12 wineries were invited to pour on Fridays at CCA during "The Crush."
CCA Executive Director Gregory Smith said the wine-related programs fit CCA's efforts to reach out to the community.
"How do we expand the reach of the programming we do, whether it is something with the gallery of something with the (CAST) theater?" Smith said. "This is a prime example of what we are trying to do — as far as collaborating with other organizations that it may be atypical for a group or for a theater to combine with, but a way of deepening the perspective.
"We are looking for any way that we can take an event and open it more and make it a broader appeal to more people as we move forward."
Reichmuth said, "There are a lot of Hood River people who may have gone to a winery and gone tasting, but they don't know how it interfaces with the rest of agriculture, where we are statewide, nationwide, and even internationally."
Bushman, herself an artist, had wanted to curate a show at CCA and was trying to think of an idea in the summer of 2012 when the idea arrived.
"Coming up with the idea was the hardest part," she said. "Then one night I was driving home and thinking, 'What kind of wine should we have for dinner?' and I realized, 'That's it — a show about wine.'
"I had never curated a show, and I shared the idea with Bill Sturman (CCA board member) what he thought of the idea and he liked it and said he would find someone to help me curate," Bushman said. "He asked Sally, who is also a friend of mine, and she came up with the idea for the name, 'The Crush.' And it all just started coming together.
"We started early, picking artists, normally there is not so much lead time but we wanted to let the artist come up and paint while the leaves were in color.
"There were so many good artists to choose from, and we went a little crazy," she said, meaning that 11 artists is a large number for one show (there are six from Portland area and six from the Gorge) "but we wanted to have a lot of still lifes, a lot of landscapes, maybe a few plein air, and a lot of studio works."
The next thing was to contact Columbia Gorge Winegrowers Association, via board member Peter Cushman, and the vintners were invited, first-come, first-served, to pour at Friday night events at the gallery, the other main winery participation besides the Oct.25 forum.