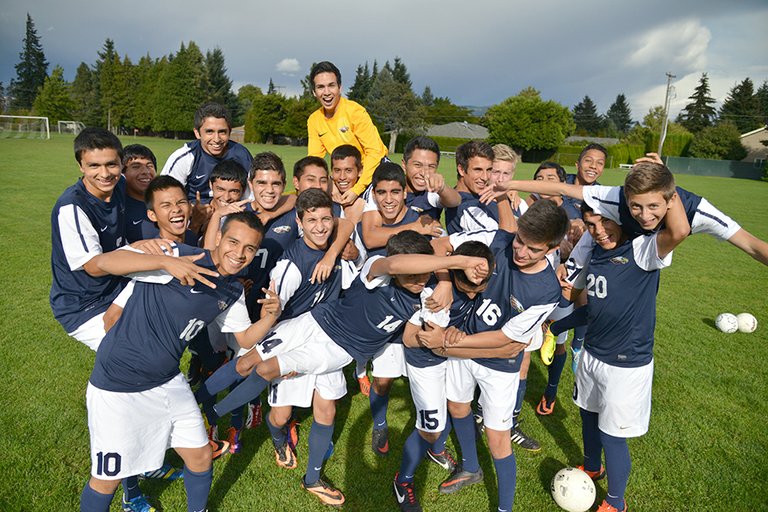 Saturday, October 26, 2013
At this point in the season, claiming the Columbia River Conference championship isn't much of a surprise for the Hood River Valley High School varsity boys soccer team, but it's still cause to pause and celebrate before taking aim at its grander goal of bringing home the first state title in team history.
The Eagles (11-1-1 overall) claimed the CRC title for the fourth straight year with a 3-0 win Thursday evening at Hermiston. The shutout was the fifth straight win for the team — ranked 5A No. 5 for the last several weeks — in what has thus far been the strongest season for the program in several years. A final conference matchup against The Dalles-Wahtonka is set for Oct. 29, 6 p.m. at Henderson Community Stadium (HRVHS), with a senior night ceremony before the game at 5:45 p.m.
"The guys are having ball; the comradery is great right now and they are extremely focused on their goal of being state champs," coach Jaime Rivera said after Thursday's win. He said that although the Eagles have already beat The Dalles (3-0 on Oct. 15), they're not looking past Tuesday's game. "At this point, we have to be fully prepared for every game and not taking anything for granted. Tuesday's game is going to be exciting. It's senior night, against The Dalles, in front of a home crowd; there'll be some emotions flying around; and the boys thrive on that."
Edgar Villegas, Giovanni Magana and Jaime Frias scored in Thursdays win at Hermiston, with Tuan Nguyen continuing his streak of solid play with two assists. Goalies Quique Rueda and Diego Vaca combined to earn the shutout.
The 5A soccer rankings freeze at midnight Oct. 29, and assuming they stay the way they are now, the Eagles will be among the top eight teams who are guaranteed a first-round home game in the playoff tournament against the winner of a play-in round game between two lower-ranked teams. Woodburn, Cleveland, Wilsonville and Summit hold the top four positions, respectively.