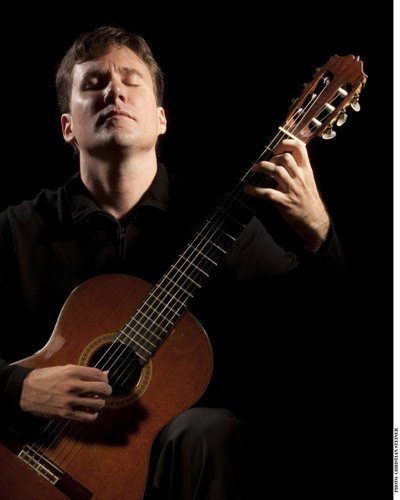 Saturday, October 26, 2013
Whenever I listen to classical guitar music, I always think about the time I saw Andre Segovia's guitar. It's in New York City's Metropolitan Museum of Art, in a glass case, in the musical instrument room.
One would think that an instrument featured on so many recordings — and belonging to a guy who changed the way guitar was perceived in terms of how it could fit into an orchestral setting — would stand out as a gleaming, highly polished, dazzling creation.
But, no, it's a very plain classical-style guitar. If you look close you can see some finger wear on the fretboard.
I probably spent the good part of an hour staring at what was behind the glass, trying to comprehend how those frail looking strings could possibly make the sounds that gave Segovia worldwide acclaim.
Jim's blog within a blog
Peter Fletcher is familiar with playing music on a large concert stage or in a library. In his show last year, what struck me, and still resonates with me, is how he conducted himself during the show.
When I mentioned it seemed like I was in Carnegie hall, I'm not kidding. He was dressed in a tuxedo. He stood up and bowed after the pieces were played, like you sometimes see members of an orchestra do. He really treats each show like a professional engagement.
That said, I'm sure the library has guidelines for cellphones, food and drink, etc., that could be potential distractions during the show.
Please keep in mind that this is an un-amplified acoustic concert, which may be, hopefully, a lot more crowded this time. If it is, let's do everything we can so everyone can hear and enjoy the show as much as possible.
Several web pages exist on classical music audience etiquette, and even I learned something from them that distinguishes this from a typical Rolling Stones concert.
For me, the mystery of classical guitar from Segovia dates back even further from that museum trip.
You see, he appeared in a film. It was high school, it was a Spanish class. It was black and white, from a noisy film projector. He was in some kind of beautiful Spanish villa, just sitting there in a chair, playing this amazing finger-style guitar.
I turned around to my friend in class, who was also impressed, and we both looked at each other like — "Wow, that was cool."
Did I see the same guitar in the museum all those years later?
Hood River has a unique opportunity to see a classical guitarist who is carrying on the tradition of masters like Segovia. His name is Peter Fletcher and he will be at the Hood River County Library on Wednesday, Oct. 30, at 7 p.m. It's a free concert.
I'm excited about this show, because as some of you may recall, Peter visited our library last year, and gave a mesmerizing performance. I remember thinking I had just seen a performance at Carnegie Hall.
But, no, I looked around and I was still in the library.
It was that good.
After the show, I gave Peter one of my cards and said please call me if you come back. And you know what? He did.
I recently spoke to him — he was in Indiana, of all places — with sketchy cellphone reception, traffic noise and even someone buzzing by on a loud riding lawn mower. (You never know what's going to happen in these interviews.)
We managed to talk about his new album, an inspiring visit to Spain and, oh, that comment about Carnegie Hall a minute ago? That wasn't really an exaggeration, because Peter has been a musical guest on the recital stage of the famous landmark.
If you own a guitar, if you like any kind of music, I urge you to open your mind, clear your calendar — and come hear what a guitar can sound like. Don't miss a note. Seriously.
Interview with Peter Fletcher
I'm really looking forward to your show and you playing Hood River again.
Well, the honor is mine, and I'm looking forward to the concert.
I read on your website that you were interested in trying to expand the number of composers that guitarists should be able to explore and play. What is your role in doing that?
Well, basically, the guitar has a small repertoire compared to the piano, violin and cello, and what I'm doing is transcribing pieces, mostly piano music from more composers, to the guitar.
I'm interested in making sure that the transcribed music sounds good. You can transcribe anything to the guitar, but the question is: Is it going to be a successful guitar transcription, and is it going to sound appropriate on classical guitar?
Every couple of years I like to have a living composer write a piece which I'll premier and play during my concert tours, and this year, I have a piece called "Diario dun Camiño," written for me by an American composer Jeremy Gill, and I'll play that piece in Hood River.
Please talk about the other program highlights for your upcoming concert.
The first piece, Courante, Ballet and Volte from Terpsichore (Greek Muse of Dance) is by M. Praetorius, a German composer, and this is from a collection he published in 1612.
And then we have a couple of pieces by J.S. Bach, Courante from Cello Suite No. 3, and Jesú, Joy of Man's Desiring from Cantata No. 147.
The main work in the first half is by a Spanish composer, Federico Monpou, with the Suite Compostelana. There are six movements, and the piece is dedicated to a holy city in the west part of Spain.
How does the Jeremy Gill piece fit in with your program?
The second half of the program will feature the new piece by Jeremy Gill, "Diario dun Camiño," and that ties in with the Monpou piece, because Jeremy Gill actually went to Spain and did the El Camino pilgrimage which ends up in Santiago del Compostella.
"Camino" is the name of the pilgrimage, there's different places to start, a route that people have been taking for hundreds of years.
So his piece was inspired by the holy city of Santiago del Compostella, that was the dovetail we were after — this piece is a sonic diary of the five-day pilgrimage that he did.
And you'll be including music from your new album of composer Edvard Grieg.
Yes, and I'll play a few pieces of Grieg, which is also from piano music that I transcribed to the guitar. And then the show will end with Caprice No. 24 by Paganini.
That's a whole lot of bases to cover.
It's music from four different centuries, a very integrated program, and so far it's gone really well.
In 2002, you devoted a whole CD to Federico Monpou. What drew you to do that?
I got a record deal with Centaur Records, and the demo CD I sent them had the Suite Compostelana that I had recorded on my own, along with some other Spanish composers.
And what I had to do was re-record everything in their studio. They wanted just one composer, so I decided to go with Monpou.
Monpou wrote Suite Compostelana for the guitar, and to fill out the album I had to transcribe 14 other piano pieces of his.
Why Monpou? I just really liked the Suite Compostelana. And I just fell in love with the music and realized how special it is. A lot of these pieces fit well on the guitar, these transcriptions that I did, they are songs and dances, each one is sort of a slower tempo song followed by a dance, and they play really well on guitar and I was able to play them in concerts, so it was a great project.
I had the good fortune to visit Monpou's widow in Barcelona, so I flew to Spain and spent an afternoon with her, which was a great experience. We talked about her husband, and she listened to my transcriptions, and I played the entire Suite Compostelana for her, and then I took a train to Santiago de Compostella, where the suite was dedicated, and I spent five days in this medieval city, which was also a great experience.
I looked at your tour schedule and you are booked solid for the next 2.5 months or so!
(Laughs). This is a good tour, it takes in quite a bit of states. I've got a concert tomorrow in Paynesville, Ohio; I'm in Indianapolis tonight; it's been an exciting tour, and I always love giving concerts.
(At this point, someone just started their riding lawnmower and is heading his way, so Peter needs to seek refuge in his car).
The tour started about a week ago, and I continue until Nov. 21. All concerts are important; I don't really make any distinction between Carnegie Hall or a library in a small town, they're all important. I play full-out for everything; a concert is a concert.
What is it like playing in New York City in such a well know venue like Carnegie Hall?
Carnegie Hall consists of three different halls, the main 2,000-seat hall, and when I play it's been at the recital hall, and that's about 300 people, so it's not a giant hall. But it is a very prestigious hall, and whenever you play an instrument in New York, there's always a rush of adrenaline; it's very exciting.
But, you really don't have the intimacy you have when you perform at the Hood River Library, where the people are right near me, and there's not a stage; there's a level of intimacy that you have.
When there's a stage, you have kind of a separation, sometimes that's good, and sometimes it's a little less intimate. It is kind of a different experience, other than that.
To be perfectly candid with you, every venue is different, none are the same, and it's always a different experience. I always tend to lose myself when I'm performing, so for me the venue seems to become less important; I'm just thinking about the music, and really thinking about communicating with the audience, and trying to connect with the audience.
It's all about connections. When people are hearing the natural acoustics of an instrument, which you don't get with a recording, the audience will forget they're an audience; I'll kind of forget that I'm a performer; we'll just feel connected and all feel like we're all part of the same thing.
And when that happens, it's really a special moment; when you have that connection and you feel like the audience is being swept away, or they're losing themselves. That's an indescribable feeling.
At this point, with all of your practicing and playing, when you dive into learning a new composition, how long are we talking until you are ready for that new piece?
That's a really good question, and it depends on the piece. Some I can learn really fast, like a Heitor Villa-Lobos prelude — I can really learn that in a week.
But the way things work for me now is, at this point in my life, is I don't really just sit down and learn a new piece and play, but I'm looking at music that I want to play in 2014, or 2015, so I'm reading through it, practicing the fingering, memorizing parts of it, so I can take several months or up to a year, until I can feel it becomes a part of me.
So if it's a Bach fugue, I like to spend several months with the music, playing the music with actual sight reading, spending time with the music so I can commit it to memory.
I like to spend a long time with the piece of music I'm trying to play for an audience, because I want to be able to lose myself in the music and have it become part of me, so I can play and not worry about anything else but the music, no technical things or memory.
For this concert tour I've got a 70-minute concert repertoire. So the music is learned, memorized and I'm basically just maintaining this repertoire and keeping up the practice for these current pieces.
When I was in college, I'd memorize a piece and play it for a jury, or memorize this piece and play it for a competition, or learn something and play it.
Now, everything's a work in process, I'm really thinking about what my concert program is going to be for 2014-15; I'm always juggling two balls: the music that I'm performing now, and the music in the future.
As you're probably aware, there's lots of different guitar players and styles and they like to get together to jam. Is there anything like that for someone like you, who plays classical guitar for a living? If yourself and some of your contemporaries were to get together, what would you play?
No one's asked that! That's a great question. I'm primarily a soloist, and I feel that plays into my strengths. I feel like I really understand the classical guitar solo concert, that's what I enjoy doing the most, so that's what I do. That's how I'm featured on the roster of my management.
However, what I really enjoy doing is when I'm home and not touring is getting together with musicians and playing music. I've got violinist friends, flute player friends, and what we do is sit down and read through violin and guitar music and we do it for fun; it's no pressure.
If you get lost, you just start over; it's just fun. We're good sight readers, and I have a collection of music for violin and guitar, and we spend an hour just playing through stuff.
If I meet a singer, we might get to do some stuff, and that's our jam session. It doesn't happen so much when I'm on the road, because logistically, it's pretty busy.
But sometimes I do play ensemble music (which is anything more than one instrument) which I love to do. In fact, I'm giving a concert in New York City next June that will feature two guitars and some guitar and violin.
So if you're asking, do we sit down and improvise ... then, not so much. But, I could. If I meet someone who is a guitarist who would want to do that, we would get a chord progression, and I'd get familiar with that, and we could trade off. But normally, what we do, is get music and sight read it.