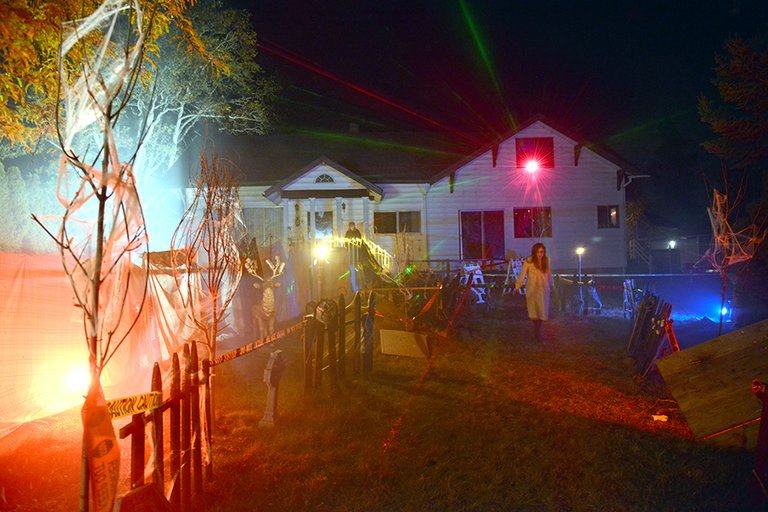 Saturday, October 26, 2013
Paul Henke, lieutenant of Hood River Fire, has helmed the production of the haunted house for the past several years, but for 2013, he's outdone himself.
At 1145 Alameda Road, the site of this year's haunted house, zombies lurk behind an otherwise pleasant scene of laundry hanging out on the line. A young, bloodstained girl seemingly appears out of the ether and crabwalks towards her victim — you — with a bloodcurdling scream.
Inside, the house, body parts, lots of them. The irate butcher in the kitchen is probably to blame. Aliens, baby doll heads, two pleasant young murdered girls watching television, and a room that will send those who have a fear of clowns on a one-way trip to the loony bin.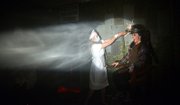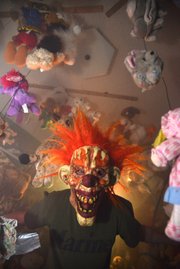 The house is full of some of Henke's classic, favorite tableaux, as well as some new ones. For this fall's production, Henke has partnered with Tracy Klas, a multi-faceted freelance art director who has worked on everything from album cover art to fashion shows who has tapped into her dark side to create a delightfully disturbing atmosphere at 1145 Alameda. She's responsible for many of the disgusting decorations and petrifying props that have been placed very deliberately around the property to instill maximum fear in her and Paul's guests.
Some of the props you may even recognize. Ricky Lepenski, a friend of Klas' and a Portland prop and stage creator who has worked on Grimm, Twilight, and other shows and films, donated leftover props from Grimm to be used again for the haunted house. Those who are faithful viewers of Grimm may recognize some of the names on the gravestones in the front yard.
Both Henke and Klas have volunteered their time and money to make this year's event bigger than ever, with the hopes of raising at least $10,000 to benefit children with muscular dystrophy. All money raised from the $5 admission charge to the haunted house will be donated to the Muscular Dystrophy Association.
Hood River and West Side firefighters have also donated their time to construct the house. The actors, many of whom are local students, as well as the Gorge Roller Girls, are performing for free. Local businesses too are helping out with props and advertising to make sure the haunted house is a success.
Unlike past events, this year's haunted house features a shuttle that will take guests from nearby Westside Elementary, which has ample parking, to the haunted house.
Henke advised the house is suitable for ages 10 and guests should be prepared to spend 30-45 minutes at the event, including time on the shuttle. (Please do not drive to the house.) The event runs Oct. 25, 26, 29, 30, and 31 from dusk (around 6:30 p.m.) until 11.