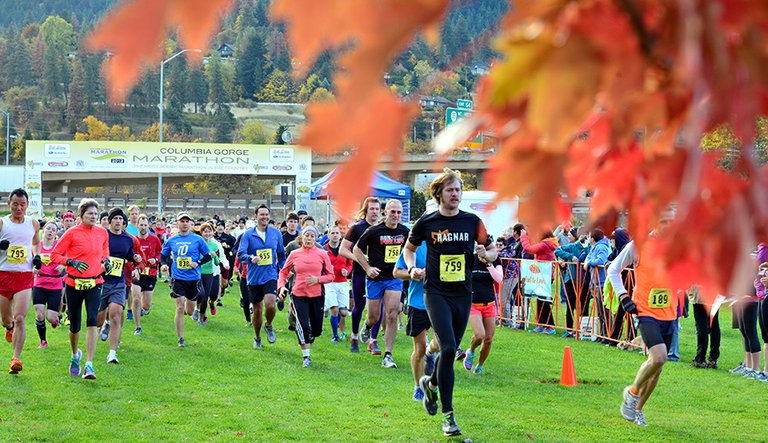 Wednesday, October 30, 2013
The fifth-annual Columbia Gorge Marathon and Half Marathon brought a record-breaking field of more than 1,300 runners to town Sunday for what has become a nationally known event based from the Port of Hood River marina park.
Under the direction of Breakaway Promotions owners Chad Sperry and his wife, Lori Waters, the event has continued to expand since its creation, drawing runners from 42 states this year.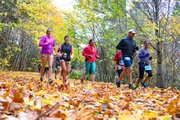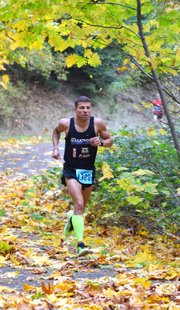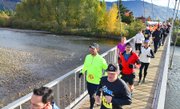 "I'm real excited about the fact that we have notoriety now nationwide with people from all over the country coming here," said Sperry, of The Dalles. "Runner's World, which is the largest running publication in the nation, listed this as the race of the month, which really helped build lots of interest for the race. I think that will translate to having an even larger turnout next year. People just love coming to Hood River and the Gorge in the fall."
The event is promoted as "The most scenic marathon in the country," a sentiment accentuated this year by the glorious autumn scenes that were present along much of both the 13-mile half and the full marathon courses.
"The colors of fall foliage are at the peak turning point, which really make's beautiful scenery and it was just ideal weather conditions for running," said Sperry. "The course itself is really the main reason we've attracted such a big crowd. I have to give lots of credit to the Oregon State Parks Department and also our primary sponsor, Bob Stone Freeway Autocenter. We couldn't hold the event without the help from those two groups, which provided a tremendous amount of support."
There were runners ranging from age 18 to 99 in the race. It was set up for competition by course director Jeff Lorenzen primarily on the Historic Columbia River Highway.
A large majority of runners traveled to Hood River from Portland, Seattle and outlying areas surrounding the two large Northwest cities. Two of the top-six runners were Portlanders, including women's race competitors Jennifer Herr and Stefanie Imig. Herr (3:09:06), 28, was runner-up to women's winner Molly Krehlik (3:02:36) of Anchorage, Alaska. Imig (3:25:40), 38, was the third-place women's finisher.
"This was my first time in the Columbia Gorge Marathon and I loved it," said Imig, in just her second marathon. "It's a small, scenic type of marathon, which is the kind I like to focus on. It's a beautiful course and they (Breakaway Promotions) did such a great job organizing it; I'll probably come back next year."
Men's race winner Chuck Engle came from Coos Bay for the event; he won with a time of 2:47:24.
"I set the course record in 2011 with a time in the 2-hour, 35 minute range and I was hoping to lower that standard today," said Engle, an elite athlete who has run an impressive 319 marathons — including 23 this year — and has won 162 of them.
"I think about halfway through the race, I realized the windy conditions would probably slow everybody down," Engle said. "That's typical weather for the Gorge, but sometimes you don't know what it's going to be like. It slowed me down, so I just started looking around at the scenery, which is absolutely gorgeous. The course is just beautiful and it's really an unbelievable atmosphere for the race. I like to run, I feel ecstatic to be here and I would like to consider Hood River as my home away from home."
Andrew Peltier 32, of Cambridge, Minn., was second to Engle at 2:56:00. Danny Connolly 35, from Park City, Utah, took third at 2:59:44. Peltier is married and has three sons, age 4, 2 and 4 months. He flew home to Minnesota Monday after arriving in Hood River Saturday.
"This is my eighth marathon and the others were mostly on flat courses in Minnesota and Wisconsin," said Peltier. "The hills kind of slowed me down a little and I actually had my slowest marathon time ever, but that's because this was the toughest course I've ever run on. The hills were tough, but it also gives you a chance to see the beautiful scenery. I only spent three days here because that's as long as I can be away from my family."
Several Hood River athletes also participated in the marathon, including women's participants Kathleen Rafish, 52 (4:31:01), Asalia Valdez (3:32:00) and Vickie McDonald, 60 (6:08:06). Valdez, 37, was the women's fourth-place finisher.
Hood River men's marathon top finishers were Philip Stenberg, 22 (3:34:56), who took 22nd place. Eric Larson, 37 (3:42:11), was 30th and Dan Dellit (3:42:11) and Michael Stenberg, 28 (4:02:30) also had good times.
Many athletes entered the event accompanied by friends and relatives, such as Mitch Moliter, 44, of Moses Lake, Wash., who was the men's ninth-place finisher at 3:12:07, eclipsing his previous personal best time by 10 minutes. Moliter's friend, Nick Doelman of Elma, Wash., took seventh (3:10:06), while lowering his PB by a whopping 20 minutes.
"By the grace of God, both of us were able to run and it was just perfect weather for a marathon," said Moliter, whose sister Ann Dunagan of Mosier, ran the half marathon. "It's just a beautiful course and everyone here is very friendly and I'm glad that I got to run with my best friend and my sister too. All the hills added to the spectacular scenic views and we just had a great time."
For Ann Dunagan, it was her first time ever running in a half marathon. The 47-year-old took 57th place in her age category with a time of 2:14:56. Ann's daughter Caela and son Mark are members of The Dalles-Wahtonka High cross country team. Caela, a sophomore, qualified with the TDW girls squad at the Columbia River Conference District Meet Saturday in Pendleton for the Class 5A state meet Nov. 2 in Eugene. It marks the first time in TDW history that a girls squad has advanced to state.
"My brother talked me into doing this by offering to pay my entry fee ($85), so I decided to do it," said Dunagan, whose husband John was cheering her on throughout the race. "This was just an absolutely phenomenal race, with gorgeous views of the scenery. There was even a rainbow at the beginning of the race. I'm so excited to be here and I'm glad that God gave me the strength to run today. I felt a little nervous, but everyone was encouraging me throughout the race."
Mike Puhr of Westminster, Colo., competed in the race after his sister Catherine Stone, of The Dalles, encouraged him to enter. Catherine's husband, Bob Stone, is the main sponsor of the event, which includes many others as well, such as Rosauers, Shortt Supply, Hood River Hotel and Providence Hood River Memorial Hospital.
"It was very nice at the beginning with sunny weather, but the wind made it more challenging along with the many uphill sections of the course," said Puhr, 62, a retired U.S. Marines major, who clocked in at 4:05:55 and was running in his 46th marathon.
"It's a very scenic and enjoyable course and I would love to enter it again next year," said Puhr, whose PB is around 2:57:00. "It's my first time in this event and we had a wonderful time here. We went to Timberline Lodge Saturday and I really enjoyed going to Mount Hood for the first time ever, so that was very nice to see. When you're in the Marines, you have to run a lot, because it's one of the training requirements. I've run in marathons all over the country and one in Japan. This is another one to take off of my bucket list."
Rick Randall, of Portland, had an interesting story regarding his participation in the half marathon. Randall, 42, was a last-minute replacement for another runner and didn't even plan to compete until the day before the race on Saturday.
Randall's wife Lynette, 41 and her girlfriend had originally planned to compete, but her friend sprained an ankle while training and was unable to run. Since there are no refunds of entry fees, Rick took the registration number and ran with it.
"That's the first time I've ever entered a race as a replacement on such short notice," he said. His 16K time was 1:53:14. "I was somewhat prepared, because I run a lot. It turned out to be a pretty nice day and we had a great time. We enjoyed the scenic views surrounding the course and we'll probably return for next year's race."
The husband/wife duo of Nick and Kaitlin Maddox, of Seattle, ran together in the half marathon along with their 1½-year-old Labrador, Sage. Nick, 29, timed in at 1:39:02, while Kaitlin ran with the dog and finished at 2:13:18.
"It's a beautiful course with lots of hills, but I think I did OK with my time," said Nick Maddox, who was running in his first half marathon this year. "All the people here were very nice and there was lots of support and encouragement from the fans. People cheer for you throughout the race and that helps motivate me to run faster. We were looking for a half marathon in a fun location that we could go to and we were really looking forward to coming to Hood River. There's lots of local support here and probably more than what you see at other events, so that's sure nice to see."
A notable runner who was surely one of the most distant participants was Marcel L'ortye of The Netherlands, who timed in at 2:19:35 in the half marathon. L'ortye has been working in Othello, Wash., since Oct. 21 and prior to coming to the U.S., he made plans to enter the race, which was his second half marathon of his career.
"It's such a beautiful environment here and so I just had to do it," said L'ortye. "This was part of my plan when I came here and I wanted to visit Oregon and spend some time in Hood River. This is such a gorgeous area and it's really a lovely place. Having a chance to run a half marathon in such a beautiful setting like this is just a great experience."