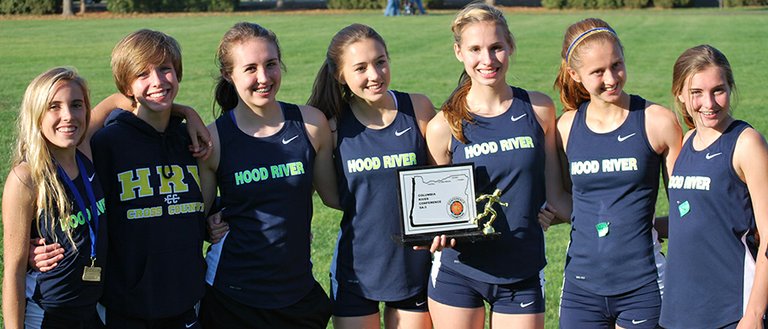 Wednesday, October 30, 2013
Nine Hood River Valley High School cross country runners extended their season another week by qualifying for the 2013 5A State Championships at Lane Community College in Eugene. Claiming the Columbia River Conference title, the HRV varsity girls squad of Sascha Bockius, Daisy Dolan, Lauren Robinson, Sophia Marble, Denali Emmons, Kailee McGeer and Althea Dillon will travel as a team to Saturday's state race.
Senior Ricardo Castillo and sophomore Justin Crosswhite will represent the HRV varsity boys at state after finishing fourth and fifth in the district race, while the varsity boys missed qualifying as a team after finishing third behind Hermiston and Pendleton.
Both HRV boys and girls junior varsity teams claimed conference titles on the same day.
As icing on the cake for the varsity girls, sophomore Sascha Bockius earned a district title with a time of 18:53.51. Pendleton sophomore Delaney Clem was second in 19:12.23 while the rest of the top finishers were a minute or more behind.
"My strategy was to stick with the leader, let her lead and get tired, and then kick in the last mile," Bockius said Monday. The time wasn't her fastest of the season, but it was the result she was looking for. "I wasn't going for a time in this race; I was just looking for first place."
On the boys end, Castillo finished fourth and turned in his fastest time of the season at 16:47.36. Crosswhite finished not far behind in 17:04.75, also a season-best. As top-five finishers, the two qualify for the state meet, while the rest of the boys team finished in a close pack at 14th, 15th, 16th, 18th and 19th in what would be their last run of the season.
"I'm especially happy for Ricardo, our senior captain for qualifying individually (4th)," coach Kristen Uhler commented. "He has trained hard, consistently for four years."
Castillo missed qualifying for state last season by seven seconds, as he finished in sixth place and the team finished third behind Hermiston and Pendleton. For Castillo and Crosswhite, qualifying for state means mission accomplished. They'll still have to run hard on Saturday, but just getting there was a major goal of the season.
The girls team faces considerably more pressure as it looks to improve on last season's fifth-place team finish and as Bockius continues the quest to establish herself as one of the fastest high school girls in Oregon.
"I know the girls from Summit are going to be the ones to keep up with," Bockius said, referring to sophomore Hannah Gindlesperger and freshman Olivia Brooks, who set the fastest two times in the state this season at the Oct. 12 George Fox Classic (17:37.9 and 17:56.5). "I'm just going to try to stick with the leaders and not let them drop me. My strategy is to hang with the leaders and then kick in the last mile. That means the last mile is the hardest. It's definitely a mental test at that point. You have to be able to handle the pain. It's not just about what your body can do; it's also a big mental test. That's what I like about it. I like to push myself. I think it's pretty cool to see what we can do when we set our mind to something."
Freshman Daisy Dolan and sophomore Lauren Robinson finished fifth and sixth last Saturday with sub-21 minute times — a goal Uhler set for the varsity seven going into the meet. Dolan's 20:37.16 was a career-best while Robinson, last year's CRC junior varsity champion, was fast on her heels at 20:41.53.
In junior varsity action, Madison Freeman took the individual title with a 22:34.1 time, followed by teammate and second-place finisher Abigail Kinoshita at 23:11.5. The top boys finishers were Nick Salter, Nicholas Poe and Torbjoern Joerstad, who finished fifth, sixth and seventh.
"Our goal was to sweep all the races, which we did except Varsity boys," coach Kristen Uhler said. "Coach Judah and I maintain high expectations for the runners both academically and athletically. We try to focus on the big picture: integrity, honesty, being a person of your word, and finishing what you start. All the athletes that ran at district exuded those characteristics. We are extremely proud of all of them, from the fastest to the slowest."