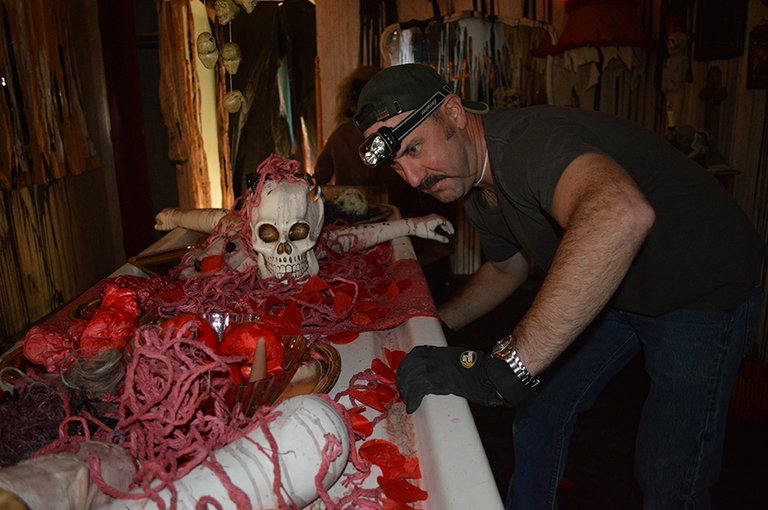 Wednesday, October 30, 2013
"Once you go upstairs, you're done."
An admonition from Paul Henke, lieutenant of Hood River Fire and mastermind of the annual haunted house that wraps up this Thursday. He cautions that the top floor of 1145 Alameda Road, the location of this year's haunted house, is where things get really scary and the last chance for the faint of heart to bow out of the ghoulish tour.
We urge you to press on and not miss a single one of this year's many terrific — in the literal sense of the word — tableaux.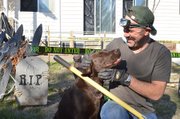 Haunted house important information
Oct. 29, 30, 31 from dusk (6 or 6:30) until 11 p.m.
Admission: $5. All money collected go to Muscular Dystrophy Association.
Age range: 10 and up.
Parking: Westside Elementary School. DO NOT PARK at the haunted house location. Shuttles will take guests to the haunted house.
Length: Be prepared to spend approximately 30-45 minutes, shuttle to shuttle, at the event.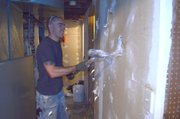 Document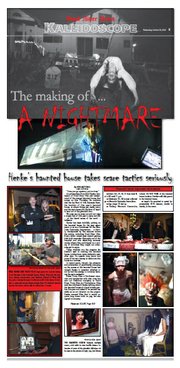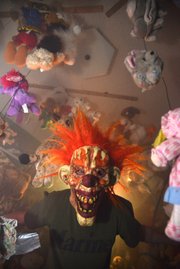 Henke has been dutifully putting on the haunted house for the past seven years or so as a fundraiser for the Muscular Dystrophy Association — a charity championed by fire stations across the nation, including Hood River Fire. Every dollar raised goes toward getting kids with muscular dystrophy out of the hospital and into week-long summer camps where they participate in a variety of activities they might not otherwise get to enjoy.
These children are the impetus for Henke's zeal in making the haunted house productions more elaborate year after year. He spends long hours and some of his own money to make sure the house is a success.
In recent years, though, the pressure and exhaustion of perennially pumping up the scares at the haunted house has caused Henke to question whether or not he had the energy to continue helming the eerie endeavor.
Enter Tracy Klas: a Northwest musician and songwriter who also runs her own art direction company in Hood River, Tracy Klas Art Productions. Klas said she overheard Henke talking about the haunted house at a local winery earlier this year and asked if he wanted her skills as an art director on the project. Henke warned Klas that it would require long hours with no pay, but she signed on anyway.
Klas said she has worked on everything from cover album art, to fashion shows, to photo styling, but that this was her first experience working as an art director for a haunted house production. It has required her to tap into what she described as her "Tim Burton side," a nod to the Hollywood filmmaker known for directing macabre movies such as Beetlejuice and Corpse Bride.
"It's different," Klas said of her experience working on the haunted house. "I'm actually the person who never went into haunted houses or watched scary movies growing up. It's nice tapping into my dark side."
When asked to describe what how her art direction has had an impact on the haunted house, Klas responded that "it's a way of making scary things pretty." She's responsible for many of the disgusting decorations and petrifying props — a good deal of which are homemade — that have been placed very deliberately around the property to instill maximum fear in her and Paul's guests. She has also handled the promotion of the haunted house as well as contacting local businesses to help donate money and materials for the event. The actors, the majority of which are local students, are also donating their time.
Some of the props are new this year, but may seem oddly familiar to some guests. Ricky Lepenski, a friend of Klas' and a Portland prop and stage creator who has worked on the television show Grimm, the film Twilight, and other productions, donated leftover props from Grimm to be used again for the haunted house. Those who are faithful viewers of Grimm may recognize some of the names on the gravestones in the front yard.
Remodeling of the Alameda Road home that would become the haunted house began back in early September and since the home is slated for demolition in the spring, Henke and Klas had free rein to do whatever they desire to the structure. For example, a sledgehammer was taken to the walls of the downstairs bathroom, allowing guests to peer through the holes at a gruesome shower scene. Much of the remodeling work was performed by Hood River and West Side firefighters who volunteered their time.
Henke said that though this year's haunted house isn't the largest by area, it has the most rooms out of any year's production, and each one has a different scene that appeals to a different fear. Are you afraid of zombies? Don't go get the laundry. Have an aversion to space aliens? Perhaps the attic is not for you. Not a fan of swamp creatures? It might be wise to stay out of the basement.
And by all means, if you can't handle clowns, don't go upstairs. The clown room, a perennial favorite of Henke's, is back.
"I've done the clown room for years," Henke said. "It's just so easy to do. People hate clowns."
Some of the scares are less obvious. A table in the dining room is covered in gore, place settings piled with body parts for a macabre meal about to be served.
However, the table itself is likely the creepiest item in the joint.
"It's an embalming table that was actually used in a funeral home in the '50s and '60s," Henke explained.
Many guests who have walked through Henke's haunted houses over the years may have gotten the sense they were being watched.
For once they're not paranoid.
New for this year are 16 infrared cameras planted around the house to catch the freak-outs of haunted house attendees as they visit each room. Klas plans to edit the footage into a movie.
In the spring, the home at 1145 Alameda will be torched by local firefighters for training purposes. And though the haunted house will be destroyed, the nightmares will go on…