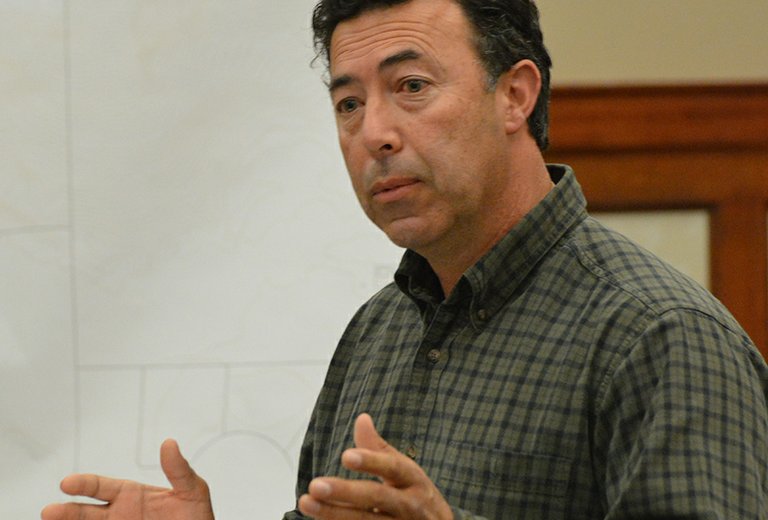 Wednesday, October 30, 2013
Hood River City Council was back in session Monday night to once again discuss a controversial deferment deal given to Ryan's Juice by former Hood River City Manager Bob Francis, who started working as the juice company's chief operations officer in July.
Staff, council, and Michael FitzSimons, attorney for Ryan's Juice President David Ryan, deliberated over a new written agreement drafted to outline the terms of the debt repayment.
Council deliberated on a different written agreement two weeks ago that was intended to secure a $419,000 debt owed by Ryan's Juice for back sewer charges. The debt is now down to $250,000, according to Interim City Manager Don Otterman, after Ryan recently came into city offices and paid $169,000 of the debt with his credit card.
According to testimony given during the last city council meeting Oct. 15, Francis offered Ryan deferment on the debt until his new facility at Riverside Drive was up and running. In 2012, Ryan began paying $10,000 a month, interest-free, per the terms of a supposed verbal agreement between Francis and Ryan, until the debt was paid off.
Council, however, concurred with Otterman and Mayor Arthur Babitz' opinion that terms of the debt should be secured, with interest, and memorialized in a signed agreement.
However, Francis and Ryan took umbrage with the agreement. Francis said he had deferred other payments in the past without interest and accused council of treating Ryan's Juice differently than other overdue sewer customers.
A new agreement was put before the council as well as Ryan's attorney, which provided more favorable terms for Ryan. The proposed interest rate was dropped from 6.75 percent to 3.2 percent, which would not kick in until April 30, 2014.
FitzSimons, however, did not approve.
"I'll tell you from my review, I have a hard time telling my client to go ahead and sign off on this loan," he told the council.
"We already had an agreement to pay $10,000 a month, which my client has done, and continues to do," FitzSimons added.
He argued that Ryan had kept up his end of the agreement and added there were minutes from a meeting that say Ryan was actually offered a credit on a portion of the debt, but City Attorney Dan Kearns dismissed the content of those minutes as "incredibly vague." FitzSimons added that other sewer customers, as Francis had argued in the previous council meeting, were not subjected to these kinds of arrangements and accused the city of treating Ryan unfairly.
Babitz asked City Finance Director Lynn Rasmussen for clarification on sewer deferments. Rasmussen said she was not aware of any customer that had a deferment fro a debt this size.
FitzSimons argued that the size of the debt should not affect the methodology for dealing with a delinquent sewer customer.
Council continued to deliberate and removed a stipulation of the agreement that denied Ryan's Juice from using a credit card to pay off the debt. That item had been added due to a substantial transaction fee that was charged to the city after Ryan recently paid off $169,000 of the debt with his credit card. FitzSimons argued this was unfair as other utility customers could pay their debts with a credit card. The provision was removed, but council decided to restore the 6.75-percent interest rate after learning of an ordinance that Kearns interpreted as giving the city the latitude to do so in this instance.
Council authorized Kearns to confer with FitzSimons and continue working on the agreement. Kearns noted that he was "not going to file a lawsuit before the next (council) meeting. I'm not going to shut off their water before the next (council) meeting."
Councilor Ed Weathers hoped the issue would be resolved to both parties' satisfaction as quickly as possible.
"We're all stuck in a really bad position," he said of the deferment, "that I sure would like to see go away."