Wednesday, October 30, 2013
This week volunteers at Adopt A Dog have selected Nellie as the program's adoptable pet of the week. They describe her as follows:
"Nellie — oh me, oh my! Nellie is a silly, fun-loving, playful, exuberant young girl! Just check out her video on our website to see for yourself!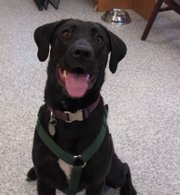 "Nellie's about a year old, a mix of Lab and mastiff; although way more Lab than mastiff. She's a very sweet, lovable dog and very food-motivated, but needs someone to show her the ropes. She is a strong-willed, determined girl with a dominant personality and a heart of gold.
"And as long as she has a good leader, she is very obedient. And active! Nellie is definitely full of energy and needs to go to an active home with someone who can lead her and help her on her road to being the best dog ever!
"And as long as there's a tennis ball in there somewhere, she's set! If you're too busy to come get the ball from her, she'll nudge it closer and closer to you just to give you the hint. On the other side of the fence? She'll push it under. Anything to help out.
"Nellie is very playful with other dogs as long as the other dog can keep up! Right now, she and Twiggy are doing their very best to tire each other out. And at the end of a fun day, Nellie is ready for a good long nap.
"Nellie knows many commands and is very obedient. Mostly, she needs someone to run with, or ski, hike, swim with to help her drain that energy. She's been around kids as young as 6, fine with other dogs and cats, loves to go on car rides, and really likes being with people — especially if they're throwing toys her way!
"She loves toys and tends to gather them all for herself — ya know, just in case there's a shortage someday, she'll be ready!"
Nellie is current on shots, microchipped and spayed. Her adoption fee is $165; cash or check only, please. The fee to adopt is charged to recoup standard veterinary expenses.

Since many of AAD's dogs are in foster care, please call ahead to meet Nellie at the Hukari Animal Shelter, 3910 Heron Drive, Odell; 541-354-1083. Adoption hours are Wednesdays from 5-7 p.m. and Saturdays from 9-11 a.m. Applications may be downloaded at www.hoodriver-adoptadog.org and faxed to 877-833-7166.
The Adopt A Dog program offers 24PetWatch microchips, which include free registration into the 24PetWatch pet recovery service. (For more information visit www.24petwatch.com or call 866-597-2424.)