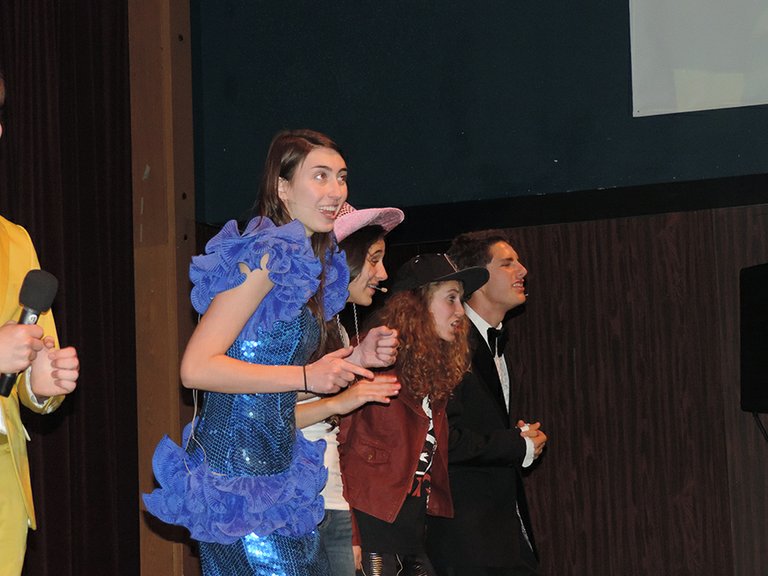 Wednesday, October 30, 2013
Fame and friendship and aspiration and disappointment take on large roles in "Reach 4 It!" an original musical production by the Hood River Valley High School performing arts department, opening Friday at Bowe Auditorium at HRVHS.
HRVHS music director Mark Steighner wrote the full-scale musical that depicts the on-stage and back-stage highs and lows of an "American Idol"-style televised talent show.
Dreams are raised and shattered, emotions are filled and drained, and tests of empathy and community are ...
Well, you have to see for yourself how the young people in the "Reach 4 It!" spotlight respond to the damaging and uplifting demands of reaching for your dreams.
TICKETS AND TIMES
"Reach 4 It!" is family-friendly and opens Nov. 1, running Nov 1, 2, 8, 9,15 and 16 at 7 p.m. and Nov. 2, 9,10 and 16
at 1:30 p.m.
Tickets are $8 for adults and $6 for students and children and are available at the door, Waucoma Bookstore, and ShowTix4u.com.
A real-time video feed projects the action onto two big screens on the sides of the stage.
"Reach 4 It!" is the third musical in a trilogy of shows about young women finding their identity.
"If you think about it, the protagonists of Ballad of the Pirate Queens (2010), and Avalon (2011), and now, "Reach 4 It!" are all rather reluctant heroes (are there any other kinds?) who must give up something of their former lives to achieve greatness ... or at least survive," Steighner said in his director's notes.
The musical is about the onstage performances and offstage drama at a rather distant cousin to the popular Idol, a show where the celebrities and sets are both a little faded and the contestants have reached the end of the line. Producers scheme, singers crash and burn, and there is always some doubt whether the show will even go on the air.
Steighner had planned to stage the musical "Shrek," but after spring auditions decided that the preponderance of young women in the cast called for a different show, so he pulled out an idea he had, dusted it off, and came up with "Reach 4 It!"
"We had a huge turnout for auditions, but not the right talent for 'Shrek,'" he said. "So, I thought the best thing would be to write something for the many students at hand."
A notable departure from past production is the band will be on stage, just as it would in an actual talent show.
That means a large section of seats, where the musicians typically sit, will be available to the audience.
"Reach 4 It!" brings familiar talents such as seniors Ben Dane as emcee Ray Richards, Noah Tauscher as Chris Ranier, Delane Barbour as "Tornado," Dhora DeLuz as Kellie Hatcher, Sophie Finstad as producer Jodi-Rene Hardwicke and Caitlyn Fick as Felicia Williams.
The production features nearly 60 student performers and, of course, a phalanx of offstage costumers, techs and parent volunteers, including the onstage band.
"Every show we produce creates a little community," Steighner said. " I love that so many people are willing to volunteer. Many of them no longer even have kids in our program."
Steighner has written many full-length shows but says that the process is a lengthy one.
"However, this time I only had two months to write the script, lyrics, and music and to score everything." Even working under the tight deadline, the show contains almost 50 musical numbers.
He called it "an opportunity to custom-fit a show to nearly 60 singers and actors."
"Full-length musicals can take anywhere from many months to years to craft, plus months and years of revision after the initial run," Steighner said. "Because Reach 4 It! was written in a very abbreviated two-month period, there are elements that are only just emerging and plot points and characters that yet to achieve fruition. This is a work-in-progress. I'm OK with that, and I hope you are, too."