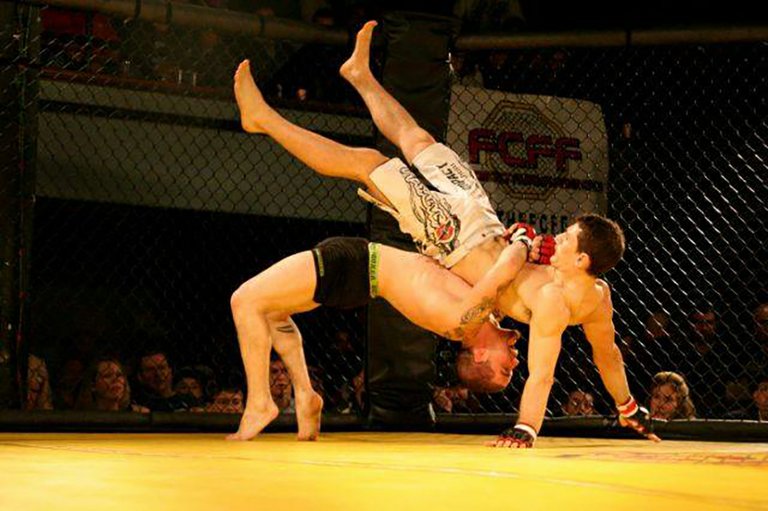 Wednesday, October 30, 2013
Representing Hood River in the arena of mixed martial arts fighting, Sean Baker travels to Spirit Mountain Casino Nov. 2 for a Full Contact Fighting Federation welterweight (170-pound) title fight. Baker, a 2009 Hood River Valley High School graduate, trains out of the Portland's Alive MMA gym, carries a 6-1 amateur record and brings a heavy wrestling and groundfighting style to the ring against Team Quest fighter and current FCFF welterweight champion John Constien.
Wrestling under coach Trent Kroll, Baker was a state champion and triple-crown winner in 2008 and has returned to his roots the last couple years to coach for Hood River Middle School and Hood River Wrestling Club programs.
"MMA is a way for me to use my emotions and energy in a positive way," Baker said this week while taking a break from his job with Rick Zeller Construction. "It teaches discipline, hard work, character — like wrestling did for me. And it's a way for me to keep competing at something. That's why I like it so much."
Baker started training to fight about a year and a half ago, after his brother Scott stepped into the cage for the first time at a FCFF event titled Rumble at the Roseland. Fresh off college wrestling programs at Montana State Northern and Yakima Community College, he exceled quickly, going undefeated in his first six fights before feeling the sting of defeat against opponent Bryan Nuro.
"That loss motivates me to train harder and stick to my game plan," Baker said. "I never should have lost that fight. I dominated in first round but made a mistake in the second and got caught. I feel good going into this fight. My strength and conditioning are where they need to be. I'm ready."
Battle at the Mountain features 12 fights — 10 amateur and two pro — with competitors from around the Northwest. Baker's fight will be the 11th of the night, right before the main event between 170-pound pro fighters Nick Gilardi and Tommy Leisman.
"There's no money in amateur fights; it's more about representing your gym and sponsors and maybe trying to pick up more sponsors," Baker said. "If I win the title I'll probably try to defend it a couple of times before trying to go pro."
Baker is currently sponsored by Headgear MMA, Max Muscle and Dirty Boxer.
Photos, results and write-ups from the night's fights will be posted on FCFF's website at www.thefcff.com.