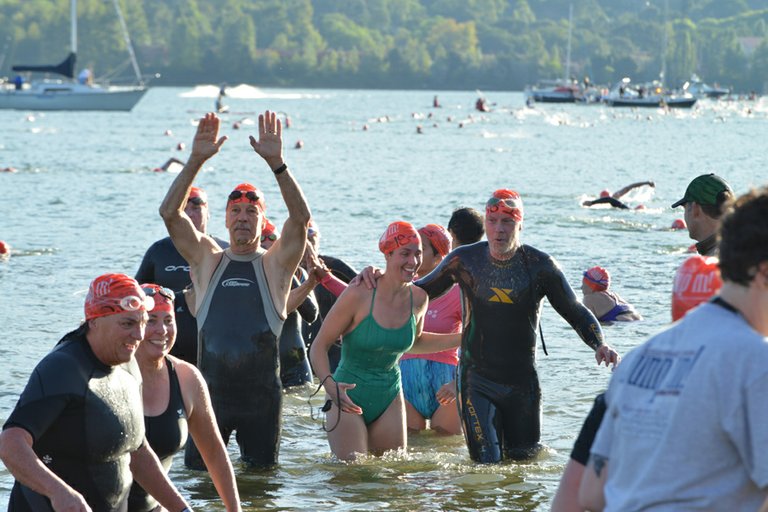 Wednesday, September 4, 2013
Many familiar faces dried off in the warm morning sun Monday after completing the 71st annual Roy Webster Cross Channel Swim.
Prime weather and smooth water made for an easy crossing for the 499 swimmers who made the 1.1-mile swim from Bingen where they jumped, 10 at a time, off the sternwheeler Columbia Gorge, and swam to the Best Western Hood River Inn beach.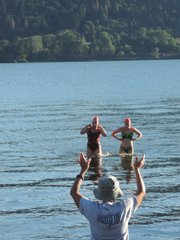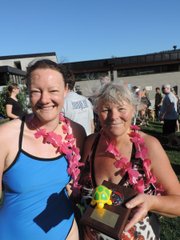 Dozens of volunteers with the Chamber of Commerce and hundreds of spectators welcomed the swimmers.
The ranks included members of the Webster family, returning oldest-male Joe Oakes, and "Fred" the gator, a full-sized inflatable who marked his 25th or so year crossing with his pal, Eric Zimmerman of Portland and his daughter, Stephanie.
First to cross were Livy Cox, of Goldendale, 15, who has finished first twice before, and her friend, Nadia Smith of Goldendale.
"The water was just great, really easy-going. It didn't take long to get used to it and then we just found our pace and made it across. It was a great swim," Cox said.
Oakes pledged to return in 2014 when he will be 80; oldest woman to cross was Helen Paulus.
In her first Webster swim, Carrley Kahler was the first to cross among the four 10-year-olds who shared youngest swimmer honors. Carrley is the daughter of Cross Channel veteran David Kahler of Vancouver.
"At first I was like freaking," Carrley said, "but at the end I got used to it and was having fun and not really thinking about like, what living things are at the bottom that were scaring me so much. And then I got the hang of it and at the end it was, 'yeah!'"
Receiving a plaque for farthest-traveled was Nelle Rose of New Plymouth, New Zealand, who swam with her daughter, Emily Miller.
"This water was warm and lovely," said Rose, an American who moved to New Zealand 30 years ago. "She got me into it," Rose said of Miller, who swam for the second time. "We do polar bear swims in July (winter in the southern Hemisphere) in the Tasman Sea, which is 'refreshing.'"
Rose and Miller and others in their party carried turtles, rubber ducks and other bath toys and tossed them back and forth on the swim and squirted each other.
"Last year the water was so warm I said, 'This is like bath time for adults,' so we brought rubber duckies," Miller said.
Webster's granddaughter, Lisa Zeigner of Hood River, said "It's a nice swim. I'm glad the tradition has continued all these years." She's been doing it "more years than I can say," since age 10.
"I love it. The excitement of the boat. We all hate that first jump in, but then ... it's so much fun talking to people along the way, and finding out where they're from, and it's just a good time," Zeigner said. Her husband, Luis, and their children also swam.
Event coordinator Ashley Huckaby thanked the Webster family and The Fruit Company for its sponsorship of the Chamber-organized event
"It's a really amazing community event, thanks to The Fruit Company," she said.
"We had couldn't have asked for better weather and the river was nice and flat," Huckaby said. "Everything went super-smooth, and I give credit to our volunteers and to our staff."
The safety picket line had 45 volunteers and another 40 people handled registration and checkout, including 35 adults and youths with the Hood River water polo team.
"Our event will give back to them as well," Huckaby said. "I started with the Chamber in January, and (former events coordinator) Nancy Carlson left a wonderful blueprint for a successful event."