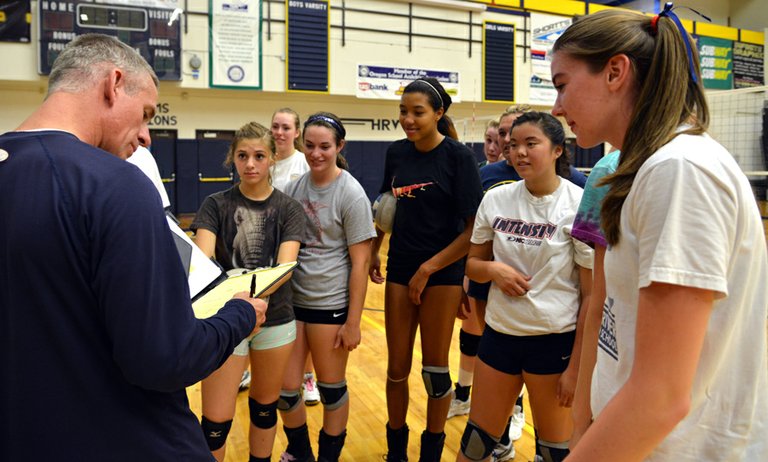 Wednesday, September 4, 2013
The Hood River Valley Eagles varsity volleyball team has something to draw on this year that it doesn't usually have much of: height. With a couple girls at or above the 6-foot mark and several others not far down the measuring stick, head coach Scott Walker says this year's lineup is the tallest he has had in his eight years with the team.
And if that wasn't enough, he has even more reason for optimism as the season gets started.
"Not only is this the tallest team I've had, it's also the most athletic," Walker said this week. "I think we're a lot more skilled of a team this season. When you add height and skill together, it gives us a lot of advantages."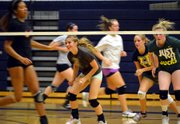 With 13 girls in the varsity lineup — including seniors Kayla Byers, Tabitha Merten, Mara Troxel, Sydney McHale and Rachel Lahti — Walker will look to his experienced juniors and seniors to provide leadership through a season that started Sept. 3 with an away match at 6A David Douglas (results not available as of press time) and will end, if all goes well, sometime in early November during the OSAA state playoffs.
Last season the team finished second in the Columbia River Conference with a 7-5 record and was eliminated in the state championship play-in round.
"I see us doing a lot better this year," Walker said. "Last year we finished ranked 22nd in the state, which gave us a pretty poor seeding for the play-in round. We're definitely looking to improve on that this season."
To Byers and Merten, both four-year team members, communication and teamwork will be one of the keys to winning more matches. The two seniors, along with several others on the team, have been playing together since middle school.
"I think that we will do well this season if we can work together as a team," Merten said during practice Thursday. "Teamwork and communication are two of the most important things in volleyball. If we didn't have that we would be running into each other all the time and getting in everyone's way."
Byers articulated her balanced attitude for the game; although winning is important, she said, so is having fun with her teammates and friends. "I'm looking forward to playing with girls I've known for a long time. Even if we are losing, we need to just keep our heads up and have fun together as a team."
The two seniors agreed that the team's strengths this season lie in its passing abilities; a point Walker echoed.
"We have a lot of girls returning who are really good passers," he said. "I think our offense and side-out efficiency is going to be really strong this year. What that does is help eliminate runs, which we have had trouble with in the past. If we can side-out well, we can eliminate those runs and hopefully create some of our own."
Walker said the CRC looks to be a pretty solid conference all-around; a detail that makes the schedule change this season all the more relevant. Last season each CRC team played one another four times, which meant playing conference matches almost immediately. This year each team will match up three times, leaving room in the schedule for more pre-season matches and allowing teams to work out the kinks before playing for conference standings.
"As a coach, that is huge," Walker said. The girls have four matches and two tournaments before hosting Pendleton Sept. 19 in the league opener.
"We haven't picked captains yet," Walker said. "We will vote on them after we've played a few games. I want the girls to see how everyone reacts on the floor and to choose captains who are going to be the best leaders through the season."