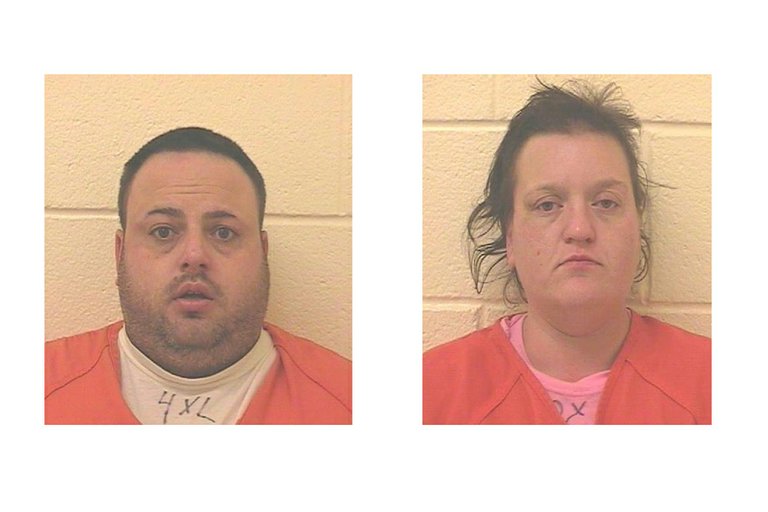 Saturday, September 7, 2013
Owners of retail stores are used to having goods returned to their businesses on occasion and oftentimes, it's store policy to ask for a receipt.
At one Hood River store, that policy and a quick response from the owner, employees, and a customer recently prevented some alleged scammers from bilking local businesses out of hundreds of dollars — and helped police find the suspects.
Travis Duddles, owner of the Gorge Fly Shop on Oak Street in downtown Hood River, said a man entered his shop around midday on Monday, Aug. 26, attempting to return a $400-pair of Simms GoreTex fishing bibs without a receipt. The bibs didn't smell fishy, but Duddles thought the man's story certainly did.
"He claimed his sister had bought them for him and they didn't work for him," Duddles explained. "He wanted $100 in trade and the rest in cash. I told him we didn't do that here."
According to Duddles, the man insisted on returning the bibs and identified an employee by name he said he had spoken to earlier who assured him the return would not be an issue. Duddles offered to contact the employee to see if he had indeed made that offer.
"He then got nervous and started changing his story, saying he was promised $200 in trade and the rest in cash," Duddles recalled. "I knew something was up then. I really didn't get a good vibe from him."
Duddles then suggested he scan the bibs' barcode to see when the man's sister had bought them. The results showed that not only had the pair of bibs never been sold, but no Simms GoreTex fishing bibs had been sold at the store in 12 months.
Confronted with this information, Duddles reported the man admitted he took the bibs off the rack, but only to show him what kind his sister had bought and informed Duddles that his particular pair of bibs were "at home." The man left the store, sans bibs, once Duddles told him there was nothing else he could do.
After the man left, Duddles immediately called the Hood River County Sheriff's Office to report what had happened. The sheriff's office informed him that a similar situation had occurred at around 10:30 that morning in the pro shop of the Hood River Golf Course & Country Club.
A man matching the description Duddles gave to police was seen on security footage allegedly pulling a pair of golf shoes off a shelf at the pro shop and successfully exchanging them for cash. The sheriff's office also reported the man had a female accomplice who would allegedly call the businesses beforehand, learn the names of the employees who worked there, and then forward that information to her male accomplice as a way for him to name-drop should things go awry during the return.
An employee at the Gorge Fly Shop informed Duddles she had a similar experience earlier in the day of a woman calling, asking for the manager's name, and then hanging up once she had received it.
At that point, one of Duddles' regular customers — a man he identified as a Seattle resident who frequents the Gorge — who had been present during the bib return came back into the fly shop and said the man was next door at Mountain View Cycles trying to pull the same thing.
"I told someone to call the police again," Duddles said. "I went next door and the guy was standing right there."
Duddles took a Mountain View Cycles employee aside as he watched the man allegedly attempt to return a load of protein supplements. The cashier handed over $150 in cash for the goods. The employee then alerted the cashier.
"He hollered at the guy, 'We have a problem,'" Duddles remembered.
He said he then walked up to the man, pointing his finger at him and accused him of trying to scam his fly shop. The man reportedly said it was a mistake and then returned the money to the Mountain View cashier and attempted to leave the store. Duddles stepped in front of him.
"I said, 'You might want to stay right here,'" Duddles said. The man stepped around him, walked out of the store, and got into a vehicle that had another person inside. The customer who had alerted Duddles ran outside and snapped pictures of the license plate and the vehicle before it took off east in the direction of Interstate 84.
The Hood River City Police Department reported they received the photos and Officer Anthony Frasier and Detective Mike Martin drove after the suspects, with whom they caught up at Milepost 78 near Rowena. Police reported the suspects claimed they had no knowledge of the incident.
The suspects were identified as Renae Wells, 34, of La Center, Wash., and Robert Tese, 33, of Streetsboro, Ohio. Hood River Police reported Wells was charged with criminal conspiracy, third-degree theft, and two counts of second-degree attempting to commit theft. Tese was charged with third-degree theft, criminal conspiracy, and two counts of second-degree attempting to commit theft.
Tese was also charged with second-degree forgery and identity theft, a Class C felony, for allegedly signing a false name on a return slip.
As of press time, Wells had been released on $1,000 bail while Tese was still lodged at NORCOR on $10,000 bail. His next court appearance is Sept. 11 at the Hood River County Courthouse.
Duddles, who opened the Gorge Fly Shop nearly 23 years ago, said thefts are becoming increasingly common at his business — a trend he attributed to a rise in drug abuse.
"In the first 15 to 20 years of business, I can think of maybe two, three things that were stolen," he said. "In the last year, I can probably come up with at least a dozen."