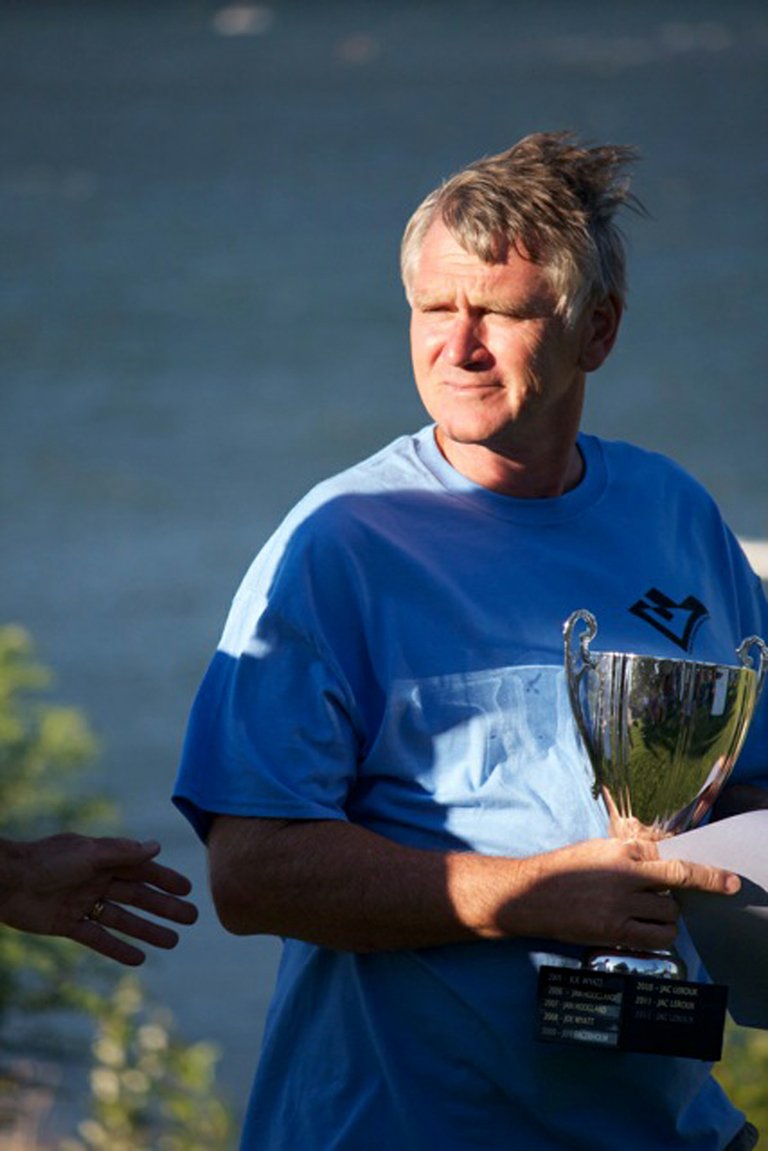 Saturday, September 7, 2013
Persistence finally paid off for Jac Le Roux.
After chasing the title for the last decade, the 59-year-old South African finished first overall in the 2013 Gorge Cup windsurfing series. Le Roux, who lives the "endless summer" by spliting his time between the Gorge and South Africa, beat out Bruce Peterson, Fiona Wylde, MacRae Wylde and Sam Bauer for the top five out of 53 in the six-race series that started in mid-May and ended with the season finale last weekend.
"I've been chasing Bruce for 10 years," he said this week. "He has always beaten me handily. Part of it is that I just got lucky because he (and Fiona) missed some races. I also managed to beat him a few times in light wind races."
Le Roux held a decent lead going into the final day of racing on Sunday, but any of the top five finishers could have won the overall if he didn't perform reasonably well. Tyson Poor was the man to beat Sunday as he won five of eight heats and was second in two others in what were prime conditions for the season finale. Peterson was fast on his tail in second, with three wins and four second-place finishes.
This is the first Gorge Cup Peterson hasn't won since 2006, when he finished second to Dale Cook.
"It has always been a dream to finally beat Bruce," Le Roux said. "He's an inspiration to sail with for a lot of people around here. Considering my age, this was probably the last chance I had to win. My window of opportunity is shrinking, so winning this year was particularly sweet."
Behind Peterson was Fiona Wylde, who, at 16 years old, left even the most veteran Gorge Cup competitors in her wake throughout the series. Her father, MacRae, finished fourth by a third of a point. Adding a shake of salt in the wound of losing to his teenage daughter, MacRae received the deprecatory "Ponytail" award, named the last few years to whoever finished behind Fiona in the standings.
Sam Bauer finished a close fifth with one point separating him from the Wyldes.
"Fiona is so consistent; she's going to be very hard to beat in the coming years," Le Roux said. "She will raise the game for everyone."
This year's series continued the small increase in participants over the last few years; a detail that event director Scotia Bauer is excited about.
"We had at least 10 new members join the fleet this year," she said. "And five of those were junior racers, which is an area we are really trying to build on since they are the future of our sport."
Bauer said this year's six race days saw a good mix of conditions, which is ideal for bringing out the best all-around racers. "We had one of the top three windiest race days ever, and some light days. That makes a great test for sailors to perform in all conditions."
Gorge Cup 2013:
Overall top ten
1st: Jac Le Roux, 21.7
2nd: Bruce Peterson, 26.4
3rd: Fiona Wylde, 29.7
4th: MacRae Wylde, 30
5th: Sam Bauer, 31
6th: Jay Salzman, 40
7th: Alex Nielsen, 51
8th: Andreas Macke, 55
9th: Toshi Kato, 56
10th: Jorge Arzola, 56