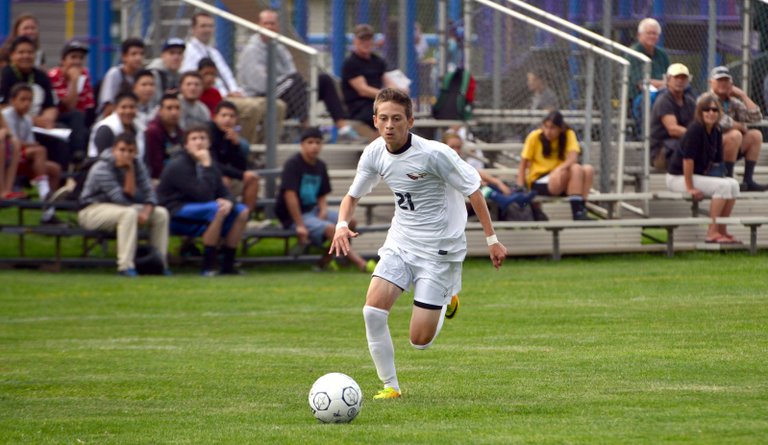 Saturday, September 7, 2013
Thursday evening's thunder-and-lightning storm looks to have saved the 6A Canby Cougars from an even tougher loss than the 3-0 lead the Hood River Valley High School varsity boys had built before the game was called partway through the second half due to violent and electric weather overhead.
The Eagles' home-opener was an early display of the offensive prowess the team expects to carry through the season.
Sophomore Giovanni Magaña was devastating at the right wing, carving or passing through multiple defenders every chance he got, creating scoring opportunitys for his teammates and putting two goals in the net himself in the first half. Armando Hernandez scored a third off a free-kick play to give HRV an even larger margin.
The story was similar in the Eagles' season opener Tuesday at Rex Putnam. Magaña had two goals and Jaime Frias had one in the team's 3-1 win.
Senior goalie Quique Rueda was credited with an outstanding game against Rex Putnam that helped HRV keep the edge.
Coach Jaime Rivera said that although the team still h­­­­­as a lot to work on, both games gave glimpses at the potential the team has this season to be one of the state's top teams.
The Eagles have six more games before their league schedule begins, including home games vs. Sandy Sept. 10 (4:30 p.m. at Westside), vs. West Albany Sept. 21 (noon at Westside), vs. Lincoln Sept. 24 (4:30 p.m. at Westside) and Sept. 26 vs. Wilsonville (4:30 p.m. at Westside).