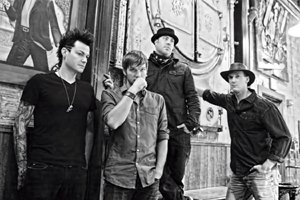 Tuesday, September 10, 2013
One From Many, a rock band from Portland, will be at the Columbia Center for the Arts on Thursday, Sept. 19. The band promises a unique experience, because in addition to the regular concert, One From Many will be offering a free community workshop starting at 6 p.m.
The workshop is geared toward kids who would like to talk to the band about music, what it's like to play in a touring/recording band, and the many opportunities in music that can lead to a potential career in the business. A ticketed, all-ages concert by the band follows at 8 p.m.
The band is touring in support of their new album, "The Alleged Album." The music is described as "a very real, 13-track blast of melodic, guitar driven alt-rock fire." The band also has released a full video production of the single "Retrospective." Their album is available on i-Tunes, CD Baby, and at OFM shows.
Hood River News's Jim Drake spoke with band frontman/founder Andrew Supina about the band and the upcoming workshops. The band's official press release, and a personal statement from Andrew regarding the workshops, is also available.
Interview with Andrew Supina
How did you guys land a gig in Hood River?
Since this is my baby, I personally made phone calls to venues I thought would fit that purpose, because obviously traditional clubs that we would play in wouldn't work for a family-friendly kind of thing, where we could do a workshop and do an all ages show. I made some calls to art centers and theaters, including Hood River. We are doing music workshops for young adults and kids coupled with the show, in conjunction with our album launch.
Document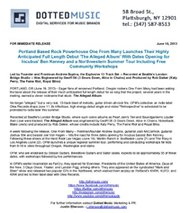 Your band has a pretty big modern rock sound. The arts center is kind of a small place. Will you be doing what you normally do, or is this going to be on the acoustic side of things?
Think of a "VH-1" kind of feel. This round of shows is going to be set up as an acoustic show. When I say acoustic, I don't want to give people the wrong impression, we'll still be plugged into a PA, but we won't have drums. We'll just be guitars, bass, and vocals, so it's more of an acoustic show, but it doesn't come across without a little bit of punch. We're not going to be blowing people out of the water here, but it's certainly not going to be a laid back show either, we get into it pretty good.
When did this band start and what is this band about?
The band started a long time ago, 11 years ago in fact, and was originally called Far Cry. The current lineup is two plus years, and we got signed for a record deal at the beginning of 2011. We went into the studio to record our first full length album and video, we released that in June, and this is our initial round of shows to launch that album.
If I was to give you a nutshell of what we're about, is that you're never going to get an "un-passionate" response from us, as musicians. We don't do this because of the want of money, or we're looking for fortune and fame, and the traditional "drugs and rock and roll kind of thing," we're doing it because we love music and sometimes people appreciate that. We're certainly about connecting with people through music. We think music is the ultimate way to communicate with others and through that, it's a pretty powerful thing and it's played a big part in all of our lives.
It sounds like most of these things you're talking about are going to show up in this workshop.
Absolutely, very much so. The reason we're doing the workshops is because a lot of these places we haven't played before, and it was just as important for people to know who we were and what we are about, as well as our music. So we wanted to make sure we went in and introduced ourselves properly, where they can get kind of an idea of that, and that was out front.
So if someone was going to attend your workshop, what should they bring and what should they expect?
To make it easy on everybody, ourselves included, as far as the workshop is concerned, we wanted to make it flexible, accessible and not require a ton of logistics. Essentially, the workshop is just to inspire kids to invest in music as a career, and give them some tips to do that. It might be with a band, but also there's a multitude of ways to get involved in music, if you don't happen to shred guitar. It's going to give them a lot of stuff that focuses the reality on music for a living
Document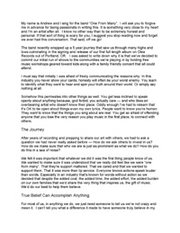 So this isn't a "let's bring an instrument and learn how to play it," it's to learn about what a band does and how a band functions.
It's to give them something that we never got, and that's for somebody to come in, at a young age, and kind of give us enough information and point us in the right direction, so you don't have to spend 15 years on their own, on how to make a living doing music. And there will be inter-action, it won't be just us standing up there.
Please talk about your new album –– how is it different from your other work so far?
It's done, it's out, you can get it on iTunes, at our website, at a show. It's our first full-length album with 13 songs. Before we got signed, we put out a couple of EPs, and those did well, but this is something that we finally got the opportunity to something in a manner that we didn't have to have any excuses for.
What I mean by that is, for an artist, especially musically related, typically what happens is because of time and money — you're never able to just do something where you can hand it to somebody and not make excuses for it. You know, "here's my album and we really wanted to do this, but this is good and we hope you like it." You're always not satisfied with something,
About 6 years ago, we had been a band for a while, and we kind of felt like that even though we had a lot of success, what we were doing wasn't going to work and we weren't happy with it.
So we essentially kind of started over and stopped playing shows, and stopped doing anything, really. At one point, we played 4 shows in 5 years. One of the key components of starting over from scratch, was if we're going to do something, we're going to do it the best we possibly can, so that if it doesn't work out, we don't have any excuses.
At least we know that we gave it everything we had. That's all we ever really wanted. Then we could look at ourselves in the mirror when we're 60 and not be upset about wasting an opportunity or giving it more, so we made that commitment right from the start.
We spent 3 years writing songs and then investing a bunch of money to get a demo, and shopped that around, and we were lucky enough to find an independent label that gave us the opportunity to really continue the mentality of doing things right, which meant we went back into the studio for 2 years polishing, writing songs and making it so where we were all totally happy with the end product.
There are lots and lots of contributions on this album from everybody in the band. Time gets in the way sometimes, but I'll bring something to the table, and someone else will be working on something, and an hour and a half later, we have a good start on a new song.
From a writing style standpoint, we appreciate albums that aren't so confined. I don't know anyone who listens to just one kind of music, so when we put this together we made a conscious decision that we wanted to make sure it didn't sound like one exact same thing over and over. Some records are the same song 13 times.
Where do you guys mainly play?
On the West coast, since the album has been released, we've done a little tour with Incubus bassist Ben Kenney in the southwest, and we're doing a bunch of stuff regionally. We just got back from Alaska, which was amazing. Before we got on the plane home, there was already a group of people trying to figure out how to get us back there. Alaska was great because none of us had been there before, and it's so different, beautiful, really. It was 80, sunny, and we had to fly around in a puddle jumper, which added to the experience. I didn't have my wallet on me for 4 days, and ever since I've owned a wallet, I don't think that's ever happened!
Is there a track to this album that you want to talk about?
Our single is "Retrospective," which is our best foot forward, in a lot of ways. But if I was to talk about one song, which probably means the most to me, it's "Tears We Cry All Alone," which is has a mix of rock, gospel influences, which is kind of my background — singing hymns is how I got started. At one point, we started to do a rock-gospel album, and that didn't fully materialize.
The song defines how I grew up and how I feel sometimes, and that's because being an artist and emotional person and wearing your heart on your sleeve, especially for a guy, it isn't easy. Does this pain that I know by myself ever find and audience? It's how I worked through and emotion, and telling a story of how I dealt with those kinds of emotions.
Will the concert be all original?
We're gonna concentrate on the new material. We're certainly not a cover band, but we like to do some, we've done everything from Black Sabbath to Otis Redding.
How did you come up with the band name?
One From Many basically means we don't' deserve all the credit. It has to do with everybody, whether they're directly related to it or not. It could be a photographer, video producer or a band member, or audience. Our success depends on this collective effort.