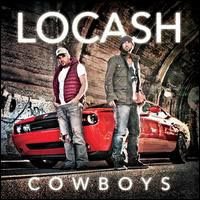 Wednesday, September 11, 2013
Locash Cowboys Preston Brust and Chris Lucas are excited about their upcoming NW tour, which includes a stop at the Columbia Gorge Hotel on Sunday, Sept. 15.
"We've got a long Oregon run coming up, including you guys, and yeah, we have been out there before, we love it, it's just beautiful country," Brust said in a recent interview.
Audio clip
Chase a Little Love - Locash Cowboys
Brust described his hugely popular country band as "the new guys" on the country music scene, but was more than happy to discuss what kind of music they'll be bringing to Hood River.
"We're a country music duo out of Nashville, Tenn., and this is our debut self-titled album. We're the new guys, we feel real good about our record label and project, it's kind of like a childhood dream come true. We both moved to Nashville a little over 10 years ago, and this album is a sign of hard work, it's a sign of believing in what we were doing and sticking with it.
"A lot of times at our shows, people get up on their seats to dance, with the hands in the air, they're moving around a little bit, and having a good time, The Locash show is very demanding of the sound system, the lights, and of the crowd. It's kind of a compelling thing, it makes you want to get up and have a good time. You're going to want to forget about your problems for a little while and have some fun!"
Brust said it wasn't easy at first working with the music industry, but the band finally found the right label with a company called Average Joe's Entertainment.
"We've been with several record companies, and we've been victims of the music business, but to stick with it the way we have, I'm really proud of us. And this album is a symbol of that."
And because the Locash Cowboys "stuck with it," some major country music stars decided to take notice and help out. One of those stars was the late George Jones, who helped the duo out on their new album with a song called "Independent Trucker."
"He was such a good friend of ours, and we were saddened by his passing. He was kind of like a grandpa to us at times. To have him on our album is special, it's unreal to me that we have George Jones on our album singing a duet with us. And because he's gone, it just takes it to a whole other level of special."
Preston said that attending Jones' funeral was "a powerful event," as numerous country artists and even former Presidents showed up. "We knew something special was on our record," Brust said.
The duo has also had a lot of songwriting success, notably with the song "You Gonna Fly," sung by country star Keith Urban.
"It's really tough to get a song on someone else's album because everyone is writing their own stuff these days, and to have a critically acclaimed artist like Keith Urban to say to us 'guys – not only do I love this song, it's going to be on my album and be a single, and be on the radio and be number one.'" There's a lot of steps to the dream-come-true scenario. It was special for both of us songwriters to share that success."
Brust said that being a part of that songwriting success helped them in so many ways: financially, musically, and establishing themselves as artists. But Brust still remembers disliking piano lessons at an early age.
"I was writing songs while I was on my paper route in Indiana, when I was 11 or 12. And for some reason, I could write these little melodies. My mom made me take piano, and I hated it. But now, there's a baby grand piano that comes out in the show, and whenever my mom can make a show, she sits on the stool with me when I play. And I always thank her for making me take piano. I love it."
Since the band is not a household name yet here in Oregon, Brust said there are things you can do to become familiar with the band.
"Go to our website, or i-tunes and learn some of the music. It'll be so fun. A lot of our songs are sing along kind of songs, like our new single, "Best Seat in the House," which actually goes to radio this week."
The song is about Chris Lucas's father, who passed away in 2011.
"Chris's dad had always dreamed about seeing us play at the Grand Ol Opry. He would call everyday, asking if they were going to play there. You know how we all get those calls from our parents."
"And sure enough, three months after his dad passed away, they did call. We had a great time playing with everybody, including the Gatlin Brothers. But Chris was in the shadows, with tears in his eyes, because his father wasn't there to see it. But I said to him, 'You know, he is here, in spirit, and he's got the best seat in the house.'"
And we both kind of looked at each other and said, "Uh-oh, we've got a song on our hands."
The Locash Cowboys and band will be at the Columbia Gorge Hotel on Sunday, Sept. 15. Tickets are $30 in advance. 5 p.m. Doors open; 6 p.m. Opening act; 7 p.m. Locash Cowboy concert. Columbia Gorge Hotel, 4000 Westcliff Dr., Hood River; 541-386-5566.