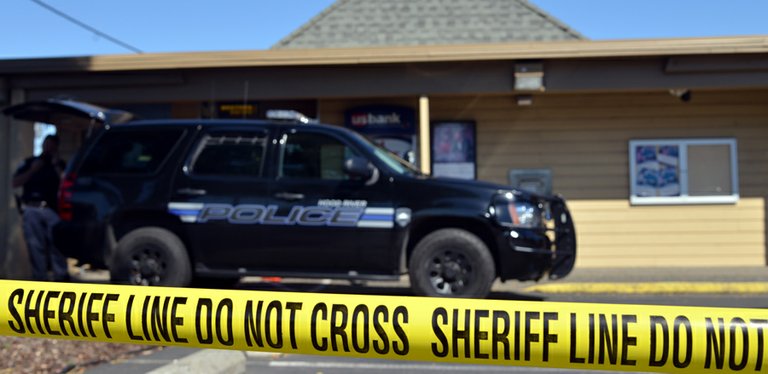 Saturday, September 14, 2013
A suspect wanted in connection with an armed robbery that occurred at the U.S. Bank Hood River branch Thursday morning is still at large as of Friday morning.
Local law enforcement agencies reported that a man entered the bank's Hood River branch, located at 1309 12th St., at 10:09 a.m. The individual, who was caught on the bank's security camera, presented a note to the teller and brandished a small, black handgun. The suspect then left with an undisclosed amount of money.
The Hood River County's Sheriff's Office described the suspect as a white male in his late 30s, approximately 5 feet 11 inches in height, slender build, with long brown hair and facial hair, wearing a blue long-sleeved T-shirt and tan pants. A still from the bank security camera also shows the man wearing what appears to be a baseball cap.
U.S. Bank Hood River Branch Manager Matt Stoneberg reported Thursday afternoon that "everybody is safe at the bank and unharmed," but didn't provide any more information about the incident due to an ongoing investigation. According to News archives, the last robbery at U.S. Bank occurred April 1, 2003, and the last bank robbery in Hood River was June 2, 2006, at Bank of America, located downtown.
Federal Bureau of Investigation officials collected forensic evidence and spoke to witnesses Thursday afternoon. Hood River Police is in charge of the investigation.
"We had three sightings that were probably bona fide, all in the same area (on or near Indian Creek trail) and that's where we're concentrating the search," said Sgt. Stan Baker.
Police, county deputies and state troopers fanned out through the Heights and the rugged Indian Creek ravine, three blocks from the bank. Searchers included Skamania County Deputy Russ Hastings and the search dog, Arie. State police used a helicopter to scan the ground from above.
The ravine and its woods are "the scene of lot of activity, and do a lot of search patrols, a lot of complaints," on a weekly basis, Baker said, referring to transients' encampments. "That's where we're concentrating most of our time. Because of the foliage it makes it tough, makes it easier to hide," Baker said.
"Thankfully, we had all the manpower we did today," he said.
While law enforcement searched for the robbery suspect, schools and local businesses went into lockin for the first time since a domestic disturbance in Odell in 2005.
Administrators at Providence Hood River Memorial Hospital, located just four blocks north of where the robbery occurred, made sure there was "appropriately placed security at all entrances," according to hospital spokesperson Susan Frost.
The lockdowns, which were in place at both public and private schools in the Hood River area, lasted from 10:40 a.m. until about 1:15 p.m.
"After two and a half or three hours and we can't find them, we're not going to keep people locked in," Baker said.
Hood River Middle School Principal Brent Emmons, a 10-year school employee, said it was the first lockdown he had experienced, but his staff and students benefited Thursday from having drilled for such an event. (See related story.)
By 2 p.m. the active search had been called off and the investigation moved indoors to the police station.
Thursday as law enforcement gathered in the shade at U.S. Bank, Baker said, "We're now doing an evidence search, which is why we called the radio station, and said, 'our guys are out, if you see people peeking in your back door, this is why. We don't want to get guys hurt."
Officers began looking throughout the Heights, Baker said, "in backyards and garbage cans, to see if he dropped anything, threw anything out, any evidence."
Asked if there were results of the neighborhood search, Baker said, "No, nothing."
Searchers thoroughly checked the Indian Creek ravine, which runs near the bank as well as close to May Street and Horizon Christian schools.
"We took the (Skamania) dog down there a couple of times, both directions," Baker said. County deputies patrolled the east section of Indian Creek trail, where the suspect was seen by at least one witness.
Melodie Davis, a veterinary technician who lives in Hood River, said she was walking by the Union Street substation at the west end of the east section of the Indian Creek Trail Thursday morning when she passed a man fitting the suspect's description. She said the man, whom she described as having, "long, dark hair," and wearing "a navy blue hoodie," didn't return her "Good morning," that she said to him. In friendly Hood River, the act of snubbing a greeting isn't exactly commonplace and Davis took note.
"I thought, 'That was rude,' but that was pretty much it," she recalled.
Davis also reported the man wouldn't look at her, but "wasn't rushing," as he passed her. She said the suspect walked north in the direction of Wilson Street.
Later, police showed her a picture of the suspect. Davis said it was "definitely" the man she saw earlier. Davis, who up until two months ago worked as a teller at the U.S. Bank Hood River branch, said she was surprised when she learned the man she saw earlier had just held up her former place of employment.
"He didn't strike me as someone who just robbed a bank," she said.
Miguel Gomez, who works at Murray's Furniture in Hood River, said he went to U.S. Bank this morning to get a cashier's check when an employee quietly told him the news.
"I was just getting a cashier's check and a bank representative whispered in my ear, 'We've just been robbed,'" he recalled.
Gomez said he and the other customer present at the time were asked to remain at the bank until police arrived. He said he then filled out some police paperwork and was on his way in about 30 minutes.
Having grown up in a "rough neighborhood" near Los Angeles, Gomez said he "didn't feel scared," when he learned of the robbery, but noted, "I was concerned. I was uncomfortable."
Though the active search for the suspect was called off yesterday, police are asking that anyone with information on the case please contact Hood River Police Detective Mike Martin at 541-387-5257 or Hood River County Dispatch at 541-386-2711.