Saturday, September 14, 2013
This week volunteers at Adopt A Dog have selected Leo as the program's adoptable pet of the week. They describe him as follows:
"Leo is a lion-hearted wire-haired Doxie mix, about 2 years old. We gave him such a brave name because he overcame some scary things in his past, and since he's found his courage, he's a much happier, calmer boy!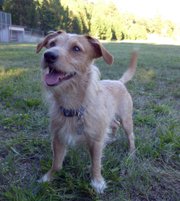 "When Leo first came to the shelter, he was a flea-covered, quivering, scared little fella afraid of his own tail and wouldn't let anyone near him. His tail was always tucked tight and his ears were always sad and sudden noises sent him hiding. But, just a few days with our wonderful volunteers, and a whole new world opened for Leo! You might say he found his happiness somewhere over the rainbow!
"Leo is now a lovable, affectionate, playful, happy dog. And boy, does he love to cuddle! Best spot in the world for him is a cozy lap. And that tail is always wagging, now!"
Leo weighs about 10 pounds, is current on shots, microchipped and neutered. His adoption fee is $165; cash or check only, please. The fee to adopt is charged to recoup standard veterinary expenses.

Since many of AAD's dogs are in foster care, please call ahead to meet Leo at the Hukari Animal Shelter, 3910 Heron Drive, Odell; 541-354-1083. Adoption hours are Wednesdays from 5-7 p.m. and Saturdays from 9-11 a.m. Applications may be downloaded at www.hoodriver-adoptadog.org and faxed to 877-833-7166.
The Adopt A Dog program offers 24PetWatch microchips, which include free registration into the 24PetWatch pet recovery service. (For more information visit www.24petwatch.com or call 866-597-2424.)