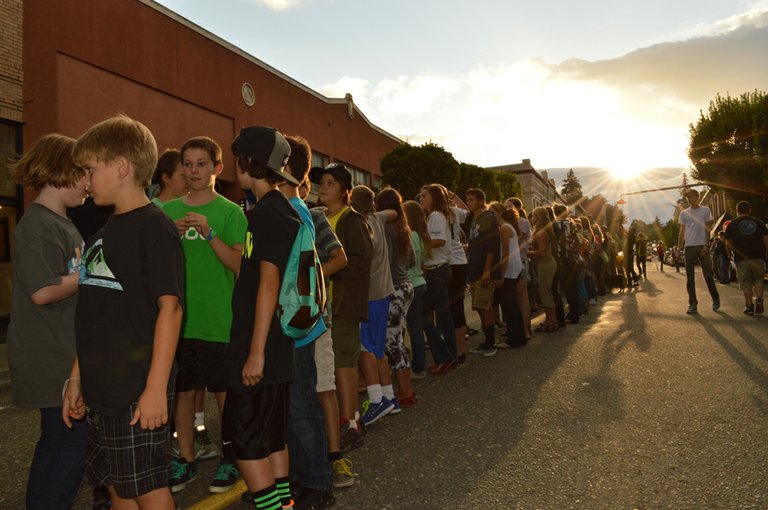 Saturday, September 14, 2013
Last week at the third annual First Friday Rock, Paper, Scissors tournament, dozens, nay, perhaps hundreds of people battled each other to win hundreds of dollars worth of prizes — and eternal glory. Winners stayed, losers walked, and the group of competitors was reduced exactly by half each round until only two players remained.
In the last edition, we ran a color photo I took on page A10 of two lines of competitors facing off during the competition, smacking balled fists into their hands before throwing down their weapons of choice. The first line of the caption I wrote for the photo read: "Dozens of people showed up to the third annual Rock, Paper, Scissors competition held on Oak Street during First Friday last week."
Seems innocuous enough.
On Wednesday afternoon, Kirby, our editor, received an e-mail from Chris Ellison, general manager of Andrew's Pizza — one of several businesses that sponsored the event. The subject line in the email read: "ouch… dozens of people????"
Uh oh.
It took the final two players eight rounds to make it just to the finals, Chris wrote. Counting back 4,8,16,32 (passed the dozens mark right there) 64,128,256,512. Roughly this amount of players jammed down the middle of Oak from the cross walk on 2nd street to the same on 1st started the game.
Chris wasn't asking for a correction, or for heads to roll at the paper, but was wryly pointing out that dozens may not have been the choicest word to describe the size of a group Chris estimated, using his exponential arithmetic, to be 512 people.
Oftentimes when journalists cover a large community event, they have to make estimates as to the number of people in attendance when exact figures aren't available. It can be a challenging task: how do you count all those people?
Before I wrote the caption Tuesday morning, I decided to look at multiple photos I took during the first round of the event and count (roughly) as many individuals as I could. That can be a challenge in its own right. Did I just count her? That sweater looks familiar. Does that arm belong to the same person or a different person? Did he switch hats in this picture?
As you can see, it's not the most exact science.
By my crude methods, I estimated there might have been over a hundred people in line, but I selected the word dozens, because I wasn't sure. I mean, hey, as long as you have a group comprised of 24 items or more, it can be divided into dozens, right?
If there were 512 people there, I should have written in the caption, "42.66667 dozen people showed up to the third annual…"
Oops.
I'd argue that most small-town journalists aren't necessarily the most skilled mathematicians around — that's how we wound up in the newspaper business. Many of us were journalism and English majors in college. I don't want to speak for everyone, but if we were any good at math, we'd be making more money as CPAs, architects, or engineers. Frankly, I simply don't have a great grasp of arithmetic — just ask my eighth-grade math teacher, Mr. Heinz. He'll tell you.
Journalists are supposed to be good at asking questions though and I could have just asked Chris how many people were in attendance. I didn't. That one's on me, and next year, Chris, I'll make sure to ask — or at least learn to use exponents.