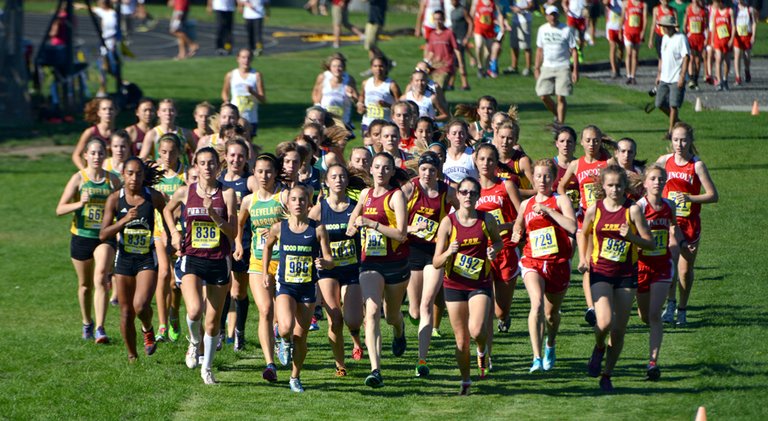 Saturday, September 14, 2013
Hood River Valley High School cross country hosted its only home meet of the season Wednesday afternoon, with teams from Ridgeview, Benson, Cleveland, Franklin, Madison, Roosevelt, The Dalles, Wilson and Lincoln in attendance.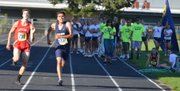 Hood River Invitational: HRV highlights
Varsity boys results:
1st: I. Stephens, Madison, 16:07.96
Ricardo Castillo: 5th, 16:43.49
Jorge Cuevas: 22nd, 17:54.85
Justin Crosswhite: 25th, 18:04.19
Nils Engbersen: 27th, 18:11.38
Carlos Chairez: 28th, 18:11.81
Quinn Fetkenhour: 29th, 18:12.17
Torbjoern Joerstad: 39th, 18:35.84
Varsity girls results:
1st: E. Wren, Cleveland, 18:39.88
Sascha Bockius: 2nd, 19:54.98
Lauren Robinson: 9th, 21:37.56
Sophia Marble: 19th, 22:21.98
Kailee McGeer: 28th, 23:28.27
Madison Freeman, 32nd, 23:52.76
Althea Dillon: 35th, 24:35.04
Varsity boys team:
1st: Lincoln, 46 pts.
HRV: 5th, 107 pts.
Varsity girls team:
1st: Lincoln, 47 pts.
HRV: 4th, 86 pts.
Lincoln, the only 6A team at the meet, won both varsity boys and girls events while the HRV girls came in fourth overall and the boys fifth.
In stifling heat, the varsity girls ran first and the boys second in the Eagles' first full 5K race of the season. Sophomore Sascha Bockius led the HRV girls with a second-place finish behind Cleveland junior Emma Wren, while senior Ricardo Castillo put in a personal best to finish fifth in the boys field behind winner Ian Stephens of Madison.
"The kids who did well are the ones who practiced over the summer," coach Kristen Uhler said Thursday. "Ricardo has been such an awesome captain for the boys. Our other boys packed well; they just need to get the pack up a little more."
On the girls side, Uhler said they're still ironing out who the team's top seven runners will be. Grace Grim, last year's 5A state champion, is recovered from leg injury and just recently got clearance to compete. Rather than switching the lineup at the last minute, Uhler ran Grim in the JV race Wednesday, which she won in 20:52:65, more than two minutes ahead of the closest runner.
Bockius, a sophomore, ran with inspiring grit through the nearly 100-degree temperatures as she chased senior Emma Wren, who finished fourth at the 5A state championships last season.
"Sascha wanted to win the race really bad," Uhler said. "I think she didn't really understand who she was chasing. She gave it her all."
Uhler said the depth of the team this season, particularly on the girls side, means the lineup will likely change throughout the season as runners compete for the seven varsity slots.
Next up for the team is the Sept. 21 Northwest Classic hosted by Lane Community College on the same course the 5A state championships are held on Nov. 2. This year's Columbia River Conference championships take place at Pendleton's McKay Park on Oct. 26.